Make Love Not War: Schisgall Documents the Terrors of the Syrian Conflict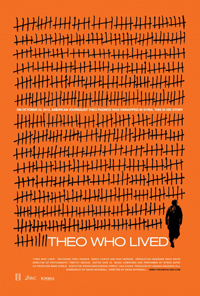 Any sustained ignorance of the last couple of years with regards to the conflict in Syria comes to a halt with David Schisgall's chillingly detailed and under told docu. Not only serving as an unsettling historical account of American journalist Theo Padnos' kidnapping by Al-Qaeda, Theo Who Lived has a profound message of embracing the notion of love in the wake of even the most dire straits. Compellingly convincing, emotionally wrenching and unrelenting; viewers are guided through worlds of the nightmarish present and hopeful futures.
As a camera crew retraces the pathway Padnos took in the Syrian landscape where he recollects the details of each significant step (and misstep) on his two year journey, Schisgall contextualizes those details by including interviews with Padnos' family and acquaintances. Inter-splicing relevant news footage all the while repudiating claims made by other individuals regarding certain aspects of Padnos behavior during his imprisonment and torture, this docu culminates with a series of sequences of Padnos speaking to others on his takeaway from this ordeal and what he does with his freedom, now that he has regained it.
As the documentary's validity and the effectiveness of its final message rests entirely on Padnos, it becomes clear that the accuracy of his account is left to interpretation. This isn't to say Padnos' experiences lack a certain credibility, but its focus is on emotional veracity over hard hitting facts — with the focal point being the fear and anguish of Padnos' experience, simultaneously diving into the mindsets of participants in the Islamic State and Al-Qaeda.
Dp Timothy Grucza's steady and fluid hand allows for a vantage point that generally consists of stretches where Padnos moves around the area and recounts all that occurred in each location, sometimes utilizing props such as chains, nooses and cables to further demonstrate how he was tortured. Instead of recreating these experiences in narrative form or as B-Roll; also without saturating each of these retellings with additional anecdotal information or statistical data, profundity exists in its simplicity. When musical selections appear, every choice appears rather appropriate and topically relevant, flushing out how Padnos' captors behaved (such as their inclusion of a refined and mastered version of the song "Our Front is Victorious") and how he reacted to this behavior.
At times, the film's attitude harkens back to Herzog's The Grizzly Man (2005) or even Encounters at the End of the World (2007). The Bavarian born filmmaker never minces words in how he directly instructs the viewer to think about a topic, not allowing differences of opinion. Though Padnos' narration does not possess this overt outlook, the audio resembles sound edits being pieced together. Though this was possibly done to cut out stumbles and deadtime, the whole truthfulness of this POV is called into question due to the manner in which others are interviewed in the film. They are presented without this editorial scrutiny, even sometimes allowed large gaps of silence between statements, thus reinforcing further the possibilities of a constructed narrative, in part or in full.
While Schisgall clearly intended viewers to reexamine foreign policy approaches to the Syrian conflict and global terrorism, he ultimately concludes that the conflict will unlikely be resolved through further force or by traditional means of diplomacy. He and Padnos present a clear ultimatum that if love and understanding between all involved cannot be embraced, then the conflict becomes a gapping sinkhole for everyone involved.
Theo Who Lived utilizes one man's capture, prolonged torture and release by Al-Qaeda as an odyssey of emotions, individuals, and faith. It presents an alternative perspective to the carnage visiting the people of these regions on a daily basis; utilizing that very carnage as a call for peace and understanding. As a docu it provides yet another introspective into one of the world's most destructive contemporary conflicts, and in the end, asks the audience if there is place for empathy in place of apathy.
★★★½/☆☆☆☆☆