Baby Boom: Swanberg's Pregnancy Drama Plays it Safe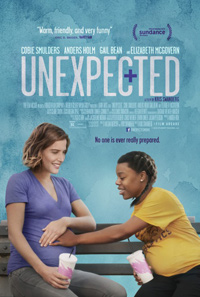 For a glaring portrait of the subtle audacity of subconscious privilege unawares, look no further than Kris Swanberg's latest feature, Unexpected, an indie Sundance premiered drama treading the expected tropes of unplanned pregnancy. Its set-up initially poses a provocative juxtaposition, a tale of two surprise pregnancies dealt to two very different women in one of the Midwest's most progressive cities, Chicago. Told from the perspective of its white, high functioning and hopelessly granola lead, whose life intersects with a black, socioeconomically compromised student in a similar situation promises to be an invigorating examination of taken-for-grantedness. Except, at every possible opportunity, Swanberg's screenplay (co-written by actress Megan Mercier) backs away from controversial points, instead reinforcing the frustrating obliviousness of its lead character. And that's not even addressing the narrative's conservative reinforcement of teen mothers giving birth to children they can't rightfully care for and keeping unplanned pregnancies solely to adhere to socially condoned rationale.
Samantha Abbott (Cobie Smulders) is a Chicago school teacher of science for inner city high school kids. Her school is about to close following the graduation of her latest class, and she will soon have to find other employment. Unfortunately, she's also just discovered she's pregnant, which couldn't have come at a worse time. Her boyfriend John (Anders Holm) reacts appropriately, and sweeps her off to the courthouse for a marriage certificate. Afterwards they reveal their act to Samantha's mother (Elizabeth McGovern), less thrilled about their rushed decisions. Meanwhile, Samantha learns her prized student Jasmine (Gail Bean) is also unexpectedly pregnant from a man just a few years older. Samantha decides to take Jasmine under her wing and guide her into the university she herself attended.
We've seen Smulders in notably atrocious studio fare (like Lasse Hallstrom's Safe Haven, and as an unnecessary supporting player in The Avengers films) as well as headlining recent titles from American indie auteurs, like Andrew Bujalwski's Results. Her turn as a no-nonsense school teacher is approached with the same sense of irresolute and overly determined inflexibility, and feels like a mere extension of a constantly recurring character she always inhabits. One gets the sense Smulders rolls up her sleeves before a take, doggedly diving in to her characterization with grim seriousness.
Curiously, Swanberg seems determined to make her Samantha Abbott rather unlikeable, as evidenced by the curt and hurtful dismissal of her mother, played by a lovely Elizabeth McGovern in a supporting role (whose presence recalls the 1988 John Hughes film She's Having a Baby—that film is about a newlywed couple…and they get pregnant…and they weren't expecting a baby so soon…).
The narrative is most infuriating with its depiction of Gail Bean's Jasmine, portrayed as very intelligent young black woman, whose interactions with every white character reek of stiff political correctness. A somewhat telling lesson plays out late in the film, when Samantha drags Jasmine to a college campus without having been properly informed about how the university handles family housing for pregnant students. It gives way to the film's only moment of honesty, wherein Samantha's unacknowledged privilege is revealed. Unfortunately, the fallout from this realization is sandwiched into the further development of Jasmine, who breaks down and confesses she's the child of a substance abusing mother.
Unexpected plays safely with its potentially sensitive issues, another American indie extolling the inarguable virtues of motherhood and carrying every pregnancy, no matter the social or economic cost, to term. Awarded by snagging a slot in the US Dramatic Competition at Sundance, it's interesting to compare this to another Sundance title, one slotted in the 'edgy' NEXT section, Gillian Robespierre's Obvious Child (2014). Starring an incomparable Jenny Slate, Robespierre bluntly and provocatively showcases a mature and refreshing take on a familiar, hopelessly conditioned perspective. Swanberg's nicely dressed indie is simply serving us the same outfit we've seen in narratives of countless shapes and sizes, but without the achingly grating dialogue of something like Jason Reitman's Juno (2007).
★½/☆☆☆☆☆