The Painted Bird | Review
Cruel Intentions: Marhoul Razes & Repulses in Torturous, Ambitious WWII Saga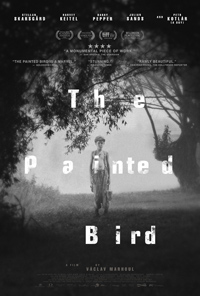 Czech actor/director Václav Marhoul mounts a sadistic nightmare of Holocaust horrors via his third directorial outing in seventeen years with an adaptation of Jerzy Kosinki's (supposedly) autobiographical novel The Painted Bird, which on film plays like Elie Wiesel's Night if Pasolini had his way with it.
While there was some noted discrepancy on the validity of Kosinski's text, whatever the case may be, there are happenings which transpire in Marhoul's film version which, once seen, cannot be forgotten, even amongst a litany of notable war-time dramas built explicitly on shock value and repulsion. Divided into nine chapters named for the characters a young Jewish boy encounters as he wanders the countryside while WWII rages around him, this velvety black-and-white endeavor unspools at a catastrophic running time of nearly three hours, and nary a peripheral animal or human remains unscathed by vicious atrocity. If there's one point which can be made in this searing, oft-belabored horror film masquerading as a historical drama, it's that yes, hell is indeed other people.

A young Jewish boy (newcomer Petr Kotlar) is hiding from the Nazis at his grandmother's home, his parents parting ways in an effort to protect him. But when his grandmother suddenly dies and her rural farm burns to the ground, he's left to wander the treacherous countryside of Eastern Europe, locked in the grip of Nazi occupation. In each village, the boy is somehow thrown under the guardianship of increasingly dysfunctional people, used, abused and endlessly traumatized as he's forced to confront their own various plights. No sooner does he adapt a strenuous foothold when violence strikes and carnage ensues, forcing to move onward. Though Europe becomes liberated, the entrance of the Russian front does little to ease his pain, and neither do the obvious avenues of respite, with the church as calamitous an organization as any other.
Kosinski's most noted appearance in cinema is Hal Ashby's celebrated 1979 adaptation of his novel Being There, which netted Melvyn Douglas a second Academy Award and has since gone on to be celebrated as a melancholic politically minded melodrama. Marhoul opens Kosinski's The Painted Bird up like a forgotten gate to hell, creating a film which, in at least content, rivals the likes of Son of Saul (2015) and Come and See (1985), films which dealt explicitly with cruelty exacted upon children (Andrey Konchalovsky's recent Holocaust drama Paradise is worth mentioning, but even he favors restraint compared to Marhoul). But its disposition also generates comparison to a perverse version of The Wizard of Oz (1939) spliced with Diamonds of the Night (1964), and even Janos Szasz's The Notebook (2013), films where fantasy blends to the darkest of nightmares (at the same time, for all its garish details, Marhoul never manages to transform the visage of lead Petr Kotlar into the effectively emaciated wastrel of the child at the center of Come and See—neither does he ever offer any sort of reprieve).
At its core, The Painted Bird, like other depictions of life during wartime, displays mankind at its basest, reduced to behaviors beneath even those of their animal counterparts. For those bothered by animal cruelty, Marhoul's film is certainly not for you, opening with one its most brutal sequences whereby our protagonist's pet is ripped from his arms and burned alive, its painful howls wringing in one's ears, its scorching body writhing on screen. And this is when there's yet a semblance of stability in the boy's life. Just when one believes it couldn't get worse, it inevitably does, which lends itself to showcasing the desensitization we as humans so quickly fall into. By the time liberation comes around, a new set of horrific parameters and fluctuating power plays ensue, and the surprise return of his father evokes Claude Berri's The Two of Us (1967), had that bittersweet tale taken a turn for the worse (which detailed an anti-Semitic grandfather who ends up bonding with the Jewish grandson he's sheltering in the countryside).
The horrific (for there's no better or succinct adjective to describe them) episodes involving the animals are eventually mirrored in the boy's responses to his various foster abusers—a maudlin mating sequence with cats finds itself repeated in an abjectly cruel murder of a village prostitute. Likewise, a lame horse who's dragged by the neck until he's dead provides the template for what happens to Julian Sands' malicious pedophile. And of course, the titular bird, a tiny sparrow ravaged by its peers thanks to a vicious prank whereupon its wings are painted and therefore, a pariah worthy of destruction confirms the metaphor for the five-pointed stars (there are some crows one could talk about here, too).
As such, restraint is not an interest for Marhoul, which eventually tends to make The Painted Bird a castigating, masochistic exercise in miserabilism. A surprisingly diverse supporting cast, including Stellan Skarsgard, a dubbed Harvey Keitel and Barry Pepper, and a formidably insane Udo Kier (because, how else would he be?) are minor (though welcome) points of distraction in this prolonged carnival of barbarities. While Kotlar's face and eventual fall from grace recall something like a Bresson scenario on paper, Balthazar seems the luckier character by comparison.
Reviewed on September 5th at the 2019 Toronto International Film Festival – Special Presentations Program. 169 Mins.
★★★½/☆☆☆☆☆