Where Is It?: Sud Mines the Ethical Decay of the Privileged in Familiar but Fashionable Debut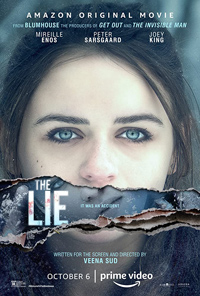 Resorting to a continual, if varied tradition of remaking European neo-noirs in English, Veena Sud (producer/director of television series "The Killing," itself a remount of a Danish property) refashions an ethical dilemma for her debut The Lie (originally titled Between the Earth and the Sky), a remake of the 2015 German film We Monsters.
At its core, this is another exercise of privileged white families manipulating the system to ensure their wayward children won't have to pay the price for a heinous crime, something obsessively documented across a variety of languages (and almost always remade in English instead of celebrating the foreign origination). A finely tuned cast assists Sud in allowing us to assume we know exactly what's going to happen before a late-staged twist upends expectations, actually justifying a certain complexity in its simplistic re-titling (also a rarity in contemporary marketing strategies which eschew poetically resonant titles by dumbing them down to vague attenuations).
Kayla (Joey King) has never quite gotten over the divorce of her parents Rebecca (Mireille Enos) and Jay (Peter Sarsgaard), both who have embarked on committed relationships with other people. Splitting her time between them, Kayla arrives at her father's one wintry day so he can take her to a dance camp. Along the way, Kayla spies her best friend Brittany (Devery Jacobs) at a bus stop and she aggressively insists they pick her up since she's making her way to the same camp. But when Jay pulls over to let the girls relieve themselves along the side of the road, tragedy strikes when Kayla pushes Brittany off a bridge. Unable to locate her body, the panicked Jay drives to Rebecca's work, and together, the three of them decide to pretend as if nothing ever happened. However, Brittany's dad (Cas Anvar) begins coming around in search of her.

Strangely, Peter Sarsgaard finds himself on familiar ground with the The Lie, seeing as he played a familiar (if more sinister) role in Human Capital, the 2019 remake of Paulo Virzi's superior 2013 original. But Sud's film is more comparable to something like The Dinner, a 2013 Dutch film remade in Italian in 2014 and then in English by Oren Moverman in 2017. Purportedly, the inspiration of the original German film cuts closer to reality in its take on issues highlighted by the Amanda Knox case (which also inspired 2018's The Accused from Argentina and 2019's The Girl with the Bracelet in France). Additionally, this seems to be a project packaged by and for the team behind "The Killing," showcasing the skills of Mireille Enos, who presents the most complex player in this scenario, and cinematographer Peter Wunstorf.
Enos, who bears resemblance to the chiseled facial structure of early Faye Dunaway, is persuasively frustrating, especially as an intelligent woman who ends up being woefully inept at deception. Rebecca's machinations lead the film to its other most interesting presence, Patti Kim as Detective Kenji, an ex-colleague who is played in such a way it suggests the knowledge of an unstated crush between them, enforcing a dual manipulation on the part of Enos's Rebecca, an attorney who believes she knows better. Certain details pertaining to the physicality of the characters played by both Sarsgaard and Joey King suggest their casting may not quite reflect how either were written. Although not distracting enough to make too much difference either way, one wonders how different actors might have assisted in making certain character choices more authentic.
Overall, it's a solid debut hinging on an intriguing twist, even as it steers clear of highlighting just how insidious the juxtapositions of white privilege vs. racial other are most certainly a reflection of culturally conditioned ideas on hierarchy and entitlement.
★★★/☆☆☆☆☆