The Brain That Wouldn't Die: Osei-Kuffour Explores Emotional Resonance in Savvy Medical Thriller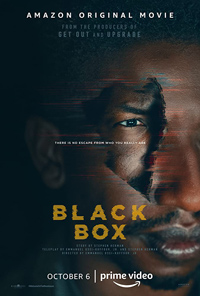 Horror and science-fiction have often been stomping grounds for exploring fantastic ideas with miraculous medical and technological breakthroughs, often displaying a suspension of disbelief in B-movie trappings which sometimes eventually seem prescient.
From Jules Verne to Paul Verhoeven, what were once lofty incredulities have either been surpassed or are morphing into helpful or insidious advancements. In the case of Black Box, the assured directorial debut of Emmanuel Osei-Kuffour, the experimental treatment at the heart (or, perhaps 'head') of the narrative seems eerily plausible, even if previously explored in something which once seemed more frivolous in Total Recall (1990), for instance. Mamoudou Athie elevates a troubling scenario in yet another finely crafted performance as a man who has lost his memory…and as it turns out, likely a lot more.
Having lost his wife in a tragic car accident which has also claimed his memory, Nolan (Athie) must depend on his young daughter Ava (Amanda Christine) and best friend Gary (Tosin Moronhunfola) to fill in the considerable blanks. However, he conceivably remembers nothing about his life. Once a distinguished photographer, even his new work reflects the absence of the creative instinct he once had. In the mounting wake of Nolan's anguish, Gary, who is a physician, suggests they consult with Lillian (Phylicia Rashad), a neurologist who has been keenly to lasso Nolan as a patient to test an experimental new recovered memory procedure through hypnosis and a contraption she calls the Black Box.
Immediately, Black Box feels like a breath of fresh air, not only for what's still considered a novelty (a genre film focused entirely on Black characters), but for giving Phylicia Rashad a delicious and complex turn. While she'll always likely be synonymous with her iconic role as Clair Huxtable, her later period has included a variety of under-the-radar characterizations, whether it be in Tyler Perry's For Colored Girls (she'd pop up as a baddie in his somewhat more shoddy A Fall From Grace, 2020) or as Michael B. Jordan's underutilized grandma in the Creed franchise. Here, Osei-Kuffour plunders her presence as the mysterious Lillian, an aggressive physician desperate to finagle Nolan as the latest patient to experience her 'black box,' a contraption which eventually ends up being as menacing as it sounds.
Rashad walks the fine balance of guiding us through complacency with just the vaguest suggestion something is a little bit off in her enthusiasm (think Dr. Frankenstein). Athie, who was equally graceful as the lead in this year's Uncorked, relies on subtleties having to convey the innate differences between the man he once was and formulating a new identity from the blank slate, or tabula rasa, he's become. As the twists unfold, a shared scene with Charmaine Bingwa's Miranda slyly pivots from poignance to the disastrous revelation of what Black Box is all about.
The visualization of the contraption is reminiscent of the sunken place in Get Out (2017), but Osei-Kuffour's scenario is comparable to Brandon Cronenberg's recent Possessor (2020). Lensed by Hilda Mercado, the hypnosis sequences conjure anxiety and terror (our initial forays into his memory recalls Adrian Lyne's Jacob's Ladder, 1990), and as scripted by Wade Allain-Marcus ("Insecure") and Stephen Herman, Black Box is more of a successful drama/thriller hybrid.
If there's any quibbling to be had, it's perhaps with Amanda Christine's Ava, a child who has had to grow up quickly in the wake of losing both her parents, in one form or another, where precociousness sometimes plays a bit more twee before it pivots back to a composite of a child's behavior following significant trauma.
★★★½/☆☆☆☆☆