Blame it on Fidel: Breathnach Circles the Boiler Plate with LGBT Coming-of-Age Flick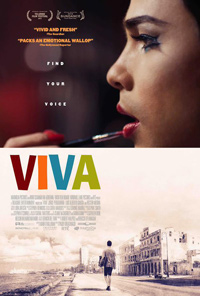 A Havana set coming-of-age tale concerning a young, gay hairdresser, Paddy Breathnach and Mark O'Halloran craft mundane dramatic tension around the weathered stereotype of trenchant machismo inherent in Latin American cultures and corresponding conflicts with homosexuality. With Viva, it seems they've pondered the basic tropes of a few too many similar narratives with this offering, though it proves to be an alluring recycled scenario for audiences who love to navigate such familiar, uncompromising material (and is comparable to the Irish director's foray into the US market back in 2001 with Blow Dry, except now with gay characters taking the center stage instead of hanging around the periphery).
An intriguing co-production with Cuba, where the film is actually set, and written by actor/screenwriter O'Halloran (who penned Lenny Abrahamson's first two features), and was Ireland's official submission for the Best Foreign Language Film race following a critically applauded premiere at Telluride.
Jesus (Hector Medina) spends his time as a hair stylist in Havana, mostly styling wigs for the drag queens at a popular night club run by the affable Mama (Luis Alberto Garcia). Living alone in his apartment left to him after his mother passed away, Jesus struggles to make ends meet, desperate to avoid selling his body as several of his peers do. Influenced by the performers at Mama's club, Jesus finds himself attracted to drag performance. But just as starts to develop his own stage persona, Viva, his violent father Angel (Jorge Perugorria), an ex-boxer, is released from prison and is intent on living with his son. Disgusted at Jesus' drag, Angel forbids him to perform instead showing Jesus the tricks of his once lucrative trade. But Jesus must make a decision to live life for himself or to please a father he barely knows.
Considering Breathnach's been producing B-horror films for the past several years, including titles such as 2008's Freakdog and 2007's hallucinogenic themed Shrooms, the emotionally centered character study of Jesus is an impressive about face in terms of narrative dexterity. But nothing about Viva, so named for Jesus' makeshift drag persona, is worthy of celebration.
Newcomer Hector Medina lacks the requisite emotional register to transcend the kind of familiarity evident in every twist of O'Halloran's scenario. The monotony of his performance stunts the sort of transition we need to believe his transformation into Viva, while the film also cripples his bond with bar owner Mama, who is initially a promising formidable force, reduced in stature by the clichéd favoring of the father/son relationship. Luis Alberto Garcia, an actor who's been in films since the early 1970s, manages to convey the larger-than-life staple of this loving caregiver, but he's stuck in a superficial cul-de-sac of general expectations.
The development of the relationship between Jesus and his ex-convict/boxer father Angel is borderline ludicrous, fast-forwarding through the re-building of their relationship by saddling us with a hackneyed terminal illness routine to hasten the finale (replete with a melodramatic, tear soaked lip synch from Jesus' Viva, who has finally learned to 'emote'). Curiously, Angel is played by Jorge Perugorria, a Cuban actor who starred in the Oscar nominated Strawberry and Chocolate (1993) as a young gay man who falls in love with a heterosexual Communist. Had Viva been more emotionally sound, perhaps Perugorria's noted casting would seem more relevant.
As U.S. restrictions against Cuba have lessened over the past several years, we've also seen a growing number of film productions hailing from within their Republic, perhaps most notably Lucy Mulloy's debut, Una Noche (2012). Mulloy's film, along with Antonio Hens' underrated 2013 title The Last Match, showcase the struggles facing young gay men in Cuba, often relegated to sex-work to survive. Breathnach glosses over this unseemly topic without examining the logic or necessity behind such an inevitability for gay youth.
While DP Cathal Watters does capture the crumbling exteriors and faded interiors of these characters' living spaces, the look of Viva never feels authentic. Compared to other recent offerings from Cuba, which equally capture the beaten down facades of Havana's inner city, Breathnach loses a real sense of local color, instead presenting uncharacteristic and cloying scenarios when paired with the leading score and monumentally predictable narrative.
Global representation of queer lives remains an integral cinematic necessity, but continuing to shackle their perspectives into these crowd pleasing, saccharine sweet confections conveying fashionable sentiment is ultimately a disservice. All members of the LGBT community live beyond their 'coming-of-age' moment to lead incredibly complex and fascinating lives not mirrored by their heteronormative counterparts (and, therefore, cinema at large—at least among the examples receiving 'awards buzz' during any given year). Where are those kinds of queer narratives and the critical entities championing them?
Reviewed on January 22nd at the 2016 Sundance Film Festival – Spotlight Program. 100 Min.
★★/☆☆☆☆☆