There's Always Tomorrow…Maybe: Fidell Explores the Familiar Predicaments of the LTR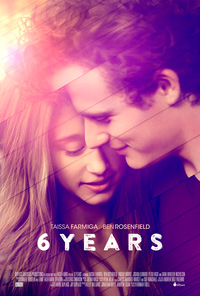 Director Hannah Fidell follows her 2013 debut A Teacher with concisely minded 6 Years, another intimate exploration of a central relationship pushed to critical juncture. With her previous film documenting the sexual liaison between a teacher and her student, Fidell turns to less provocative waters this time around, focusing on a more familiar, socially acceptable scenario—the disintegration of a heterosexual long term relationship. Effectively capturing an empathetic and heartfelt portrait of how breaking up is hard to do, there's an honorable level of realism established here that Fidell maintains throughout the film. The only trouble is, the film never feels like more than a comprehensively detailed, entirely foreseeable, forgone conclusion about a mundane, privileged couple hit with a cold, hard dose of reality.
Dan (Ben Rosenfeld) and Melanie (Taissa Farmiga) have been together for six years, having originally dated in high school. They seem comfortable in Austin as she pursues her career as a teacher and he hopes to eventually leave behind his internship and be offered a position at the record label he works for. Friends and family members seem surprised they're still together. "Aren't you bored? Do you watch porn?" ask her friends. Meanwhile, one of Dan's co-workers (Lindsay Burdge) seems quite flirtatious with him, and at a time when the couple seems to be having significant communication problems as concerns future goals and current bad decisions, like Melanie's penchant for partying.
Many have probably seen a couple much like Dan and Melanie, high school sweethearts still staunchly committed to one another and unable to see the potential limits of such a relationship at such a young age. Fidell approaches them almost like a case study, replete with all those usual red flags of the impending separation both parties seem irritatingly blind to because of the resulting discomfort and heartbreak. But their downfall is presented with unflinching inevitability, tinged with several episodes of overblown yet quickly quelled emotional outbursts reminiscent of the soapy melodramas from someone like Douglas Sirk. They just aren't ready to give up the benefits of having one another or admit they're no longer in love.
Fidell punctures the rosy tinted glow almost immediately. No sooner does Melanie converse drunkenly with a friend at a party about her picture perfect six year relationship to Dan before we next see her engaged in a belligerent, drunken brawl with him after he realizes she drove under the influence. Melanie easily lets her emotions override logical thought, resulting in a troubling predilection for physically abusing Dan—something socially acceptable because she's female. With the appearance of Lindsey Burdge, the star of A Teacher, and apparently Fidell's muse for liberated desires run amuck, we immediately know what course this is all going to take.
Salutations are in order for the believable performances from Rosenfield, and particularly for Taissa Farmiga, who is as simultaneously moving as she is horrendously obnoxious as the oblivious, immature Melanie. One can't help but feel a certain dread for her whenever Dan's mother, played by Dana Wheeler-Nicholson, shows up, a woman who watched Melanie grow up with her son but realistically regards her as a mere passing phase in her son's life, like a toy that needs to be left behind. A handful of other notable names converged for the making of 6 Years, including cinematographer Andrew Droz Palermo and film editor Carlos-Marquet Marcet, who have both recently seen their own directorial debuts hit theatrical release (One and Two and 10,000KM, respectively).
Executive produced by the incredibly busy Duplass Bros., 6 Years premiered at the 2015 SXSW Film Festival, though following its festival run, will be made available via digital platforms rather than a traditional theatrical release.
★★½/☆☆☆☆☆