A Most Wanted Man: Swicord Hangs Doctorow on the Snide Shoulders of Cranston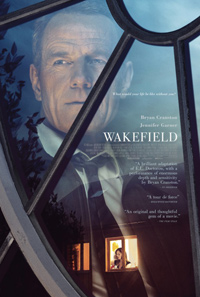 For evidence of Bryan Cranston's ability to carry a film, look no further than Robin Swicord's sophomore film Wakefield to catch him as a sneering sociopathic suburbanite taking bizarre flight from his bourgeois bubble. More entertaining than it sounds, Swicord, whose first film was 2007's The Jane Austen Book, ascends to hallowed ground with her latest, one of the few adaptations of celebrated author E.L. Doctorow (Ragtime).
While this monotonous one-man show may be a testament to Cranston's talents (even more so than the glossy biopic Trumbo), the film becomes a tedious exercise considering we're stuck in a garage attic for nearly two hours with a manipulative businessman who stages his own disappearance while peeping at the family, doggedly maintaining his stubborn nose-dove through his mid-life crisis.
One day, on the way home from a work, Howard Wakefield (Cranston) an unhappily married man, recounts an argument with his wife stemming from their recent consensual psychologically related sex games which they've used to spice up their marriage. Licking his wounds as he pulls up into his dark driveway, he shoos away a raccoon. He peeks into the garage attic and chases out another such scavenging creature, and then falls asleep gazing out the attic window at his house, mulling the state of his marriage. Waking in a fright in the morning, he scrambles to figure out a way to explain the situation to his wife Diana (Jennifer Garner), knowing full well it looks as if he spent the night with another woman. Instead, he decides to return to the attic and watch how his family reacts to his disappearance. But as days turn into weeks and months, it's clear Howard Wakefield has a few things he wants to retreat from beyond the rhythm of a banal marriage.
Cranston manages to makes his sordid character more-or-less appealing in a feature standing on stilts outfitted for a short form narrative. He laughs derisively as he watches his wife weep during the wee hours of his disappearance, and as his prank quickly turns into something much darker, we piece together the history of their marriage. The trouble is, the more we learn, the less likeable he becomes, to the point where the main frustration becomes tangential to their white, suburban privilege—doesn't anybody ever enter their garage attic?
Jennifer Garner has a doubly thankless role, as an actress who is an ungainly mismatch for Cranston, and playing a character as equally hapless, at least according to how she's painted as a trophy wife conquest for Wakefield. As he grumbles about having to live by rules again, cleaning up the caveman wreckage he's allowed himself to devolve into, dusting off his car and surprised he still knows how to drive, Swicord's film can't quite manage the right cinematic landing for this Doctorow matrimony parable. Instead, it ends at the moment this scenario reaches a compelling zenith, and perhaps a jumping off point into something much more devious than a mere glaring close-up of another white, heterosexual male's cracked psyche.
★★½/☆☆☆☆☆