Reviews
Waste Land | 2014 TIFF Review
Fear in a Handful of Dust: Van Hees Completes Trilogy with Dark Metaphor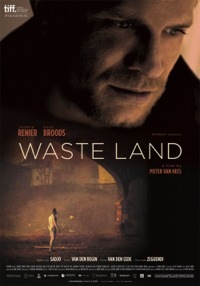 Belgian director Pieter Van Hees completes his thematically connected "Anatomy of Love and Pain" trilogy with Waste Land, exploring the idea of 'soul' with a neo-noir tinged mystery concerning the unraveling of a relationship and the loss of love. So named for T.S. Eliot's famed 1922 poem, Van Hees has crafted a surreal nightmare that contains some profound mutations concerning historical atrocities from Europe's colonialist past, a dark blight which Belgium was also intertwined with. A director whose previous titles haven't been able to tap into the offbeat English speaking audiences that are sure to embrace his bizarre flavor, the international renown of star Jeremie Renier should afford Van Hees' latest work a higher visibility.
Detective Leo Woeste (Renier) is a high strung, yet effective homicide detective happily in the midst of a committed relationship with his partner, Kathleen (Natalie Broods), whose five year old son from a previous union Leo fosters. Recently, Kathleen has discovered she is pregnant with Leo's baby, but she is unsure if she would like to keep it due to Leo's occupation. She's already experienced being a single mother and has no desire to be in that situation with two children. Leo wants them to keep the baby, though his relationship with his own father, a retired member of the police force now suffering from Alzheimer's, wasn't exactly loving. At the same time as this personal dilemma, the corpse of a Congolese-Belgian man is discovered floating in the river, and as much as Leo claims he will quit his job to rear the baby, he finds himself falling deeper into this new case than ever before. It doesn't help that he's attracted to the dead man's sister, Aysha (Babetida Sadjo), but Leo discovers a compelling yet insidious world in the Congolese idol trade and stumbles onto a trail he has to follow to the end.
It isn't necessary to see the first two chapters of Pieter Van Hees' trilogy to appreciate Waste Land as they're related only through the notion of theme and motif. Fans of Belgian star Matthias Schoenaerts may be familiar with Left Bank, about disturbing happenings in an Antwerp apartment complex. And if you are familiar, you'll realize that Van Hees weaves a subtle spell and it is necessary to watch and listen closely.
This last chapter doesn't contain that same WTF feeling as the finale of the first chapter, and perhaps feels more similar to the identity disorder at the heart of the second installment, 2009's Dirty Mind. On the surface, Waste Land plays like a basic narrative concerning psychological disintegration, replete with an engaging and consuming ambience. Cinematographer Menno Mans should receive considerable recognition for his seedy vision of Brussels, and there's an underlying unease to the film that only quickens with Leo's loss of sanity.
Separated by a series of weekly intervals, beginning with Week Five, which refers to Kathleen's pregnancy status, the weeks clip along and the fetus grows as Leo loses more of himself. So it's really no surprise that Van Hees seems unconcerned with confirming several of our suspicions early on. Instead, Van Hees is exploring something much more psychologically complex in Waste Land.
Of course, knowledge of what Eliot's poem is all about enhances a deeper reading, as it concerns the notion of a central consciousness. But the poem's title is an allusion to the wounding of the Fisher King (of Arthurian legend), which resulted in the sterility of his lands. Van Hees seems to be hinting that the historical wounds of colonialism have irreparably polluted the collective consciousness, currently in a state of denial by the white majority. Van Hees uses the bizarre trade of Congolese idols as an entryway into what we can assume is Leo's conditioned, internalized racism.
We get clues of this before the central murder investigation begins, as we learn that Leo's father (currently in a nursing home suffering from Alzheimer's) claims that the family descended from Leopold II, the second King of Belgium, a man best remembered for the exploitation of the Congo Free State during his reign. Like Armond White's persuasive reading of Marlene Dietrich's famed "Hot Voodoo" number in Blonde Venus, Leo's obsession with the idols and his developing relationship with the sister of the victim, Aysha, seems to indicate a similar reading of Caucasian envy for the African culture. It's a dilemma that hints at the creation of an internalized civil war, furthering the distance he feels from his own heritage. The abuse he suffered at the hands of his own father creates the deflection of his impending fatherhood, forcing the psychic shift that has him reexamining notions of heritage. Several times, he's placed literally in the shoes of 'the other,' including a very tense homicide reenactment that sees Leo act as the victim. Whether or not this is exactly what Van Hees is going for, Waste Land is a highly intelligent examination of blurred social divisions cloaked in a pulpy murder mystery that isn't compelled to solve itself neatly, but collapse unnervingly into the possibility of varied readings.
Reviewed on September 6th at the 2014 Toronto Int. Film Festival – Vanguard Programme. 97 Mins.
★★★½/☆☆☆☆☆