Mind the Gap: Nicholson's Intimate Divorce Story Drama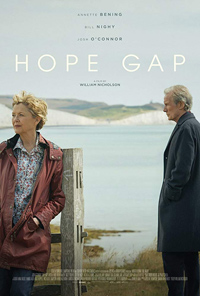 The emotional devastation of a divorce girds the intimate dramatic underpinnings of Hope Gap, a quiet and unassuming new drama from writer William Nicholson, who returns to the director's chair over two decades since his 1997 debut Firelight. Better known as a celebrated scribe, who penned Ridley Scott's award-winning Gladiator and a slew of other notable motion pictures, including the underrated C.S. Lewis drama Shadowlands, he returns to a significantly personal arena with his latest, based on his own play The Return from Moscow.
Considering the pedigree of his leads, including the continually underrated Annette Bening and Bill Nighy, his latest is both a painfully blunt and significantly poignant of unconscious uncoupling usually reserved for overblown melodrama. Instead, this is another showcase for Bening's supreme abilities to find the authenticity in even the most unappealing of personifications of a wounded woman reeling from the cold reality she's spent a lifetime avoiding.
While Nicholson does a superb job elevating his theatrical intentions to a cinematic realm, its few faults lie mostly in the administration of the youthful apex in the form of the couple's adult son. But still, this is a rare quiet drama deserving of an acclaim and attention it's unlikely to receive from an overstuffed deluge of louder, more extravagant fare in the art-house market.
Caustically married couple Grace (Bening) and Edward (Nighy) seem to have developed a normalized but problematic pattern familiar to many long-term relationships. But their three decades of marriage is about to come to an end when Edward uses a visit from their adult son Jamie (Josh O'Connor) to reveal his plans to leave Grace for another woman. As Grace reels from the shock of the situation, Jamie must serve as a go-between for his sparring parents, which in turn takes an emotional toll.
Nicholson's aim, which was meant to be somewhere on a spectrum between classics such as Brief Encounter and Who's Afraid of Virginia Woolf? doesn't quite rise to the emotional zeniths or galvanizing agony either of those couples exert, but for the most part it's a sobering, well-balanced exercise of perspective, if not just a bit eclipsed by a supremely moving performance by Bening's impossible but understandable Grace, a namesake which suggests a quality she could both use more of herself as well as be afforded more by the hand she's dealt.
Nighy is pitch perfect as the passive foil for Bening and there's strength to be found in the narrative's familiarity. Between them is Josh O'Connor (God's Own Country, 2017) who, despite his age (an older actor might have sufficed considering Bening/Nighy) shines in his shared sequences with his parents while his episodes involving co-workers tend to seem a bit treacly. Overall, a winning performance from Bening should be enough to generate the attention Hope Gap deserves.
★★★½/☆☆☆☆☆