The Most Capitalist Game: Zobel Skewers Class Consciousness with Ribald Satire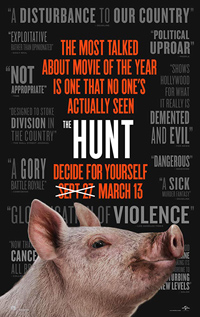 Social satire is perhaps the only conducive way to narratively navigate the ills of capitalism in a world as addicted to its fruits as it is critical of its consequences. Director Craig Zobel, he who favors extreme social situations which finds human behavior reduced to instinctual baseness, finds a fitting home with Blumhouse Productions for the now-infamous The Hunt, which was all set for release in September 2019 before being unceremoniously shelved in response to another mass shooting just prior to its planned premiere.
Funny, how we can collectively agree on certain matters of poor taste regarding the depiction of uncomfortable topics but do little to actually solve them—but then, this is the sentiment at the heart of Zobel's film, scripted by Nick Cuse and Damon Lindelof, who have turned The Most Dangerous Game on its regressive little head, because all boiled down, all the moving parts of the system play a part in contributing to the problem. Featuring a new tagline, "the most talked about movie of the year is one that no one's actually seen" also highlights the inadvertent positive publicity it's delay conjured. Luckily, it's a finely performed satire which engages quite bluntly with the times and provides a star-making platform for lead Betty Gilpin.
Twelve strangers are selected at random from various parts of the United States. They are all white but from varied backgrounds, each waking to find themselves gagged and deposited in the middle of the woods. In the midst of a clearing, a giant storage container houses an arsenal of weapons. Just as they discover how to remove their bondages and select their weapons, they find themselves ruthlessly hunted by an unknown number of killers. As survivors flee to the perimeter of the forest, they discover something much larger is going on and they mull the realistic possibilities of a news story known as "Manor Gate." But the extent of the hunters' powers is unclear, but Crystal (Betty Gilpin) seems to have a knack for turning the table on her assailants.
Lindelof and Cuse have no qualms in baring the thought process behind the film's obvious metaphors, including it's poster child, the pig Orwell, so named for the author of Animal Farm, whose text features strongly in a climactic deliberation between Swank's Athena (Goddess of the Hunt, get it?) and Gilpin. But The Hunt isn't so much about making each character a representative of a 'type'—this is more teams pitting 'us against them,' or the working class vs. the elitist one-percenters (here defined primarily as 'neo-liberals').
The script is peppered with the superficial progressiveness of a staunch (but markedly privileged) liberal mindset which, of course as the film astutely depicts, becomes so rigid they become the very conservative 'deplorables' they hate. At the same time, the slippery slope of how fake news can be churned into actual news is a crux which becomes paramount to the third act, and which elevates the film beyond another reconfiguration of tropes we've seen recycled in a number of genre films, from The Hunger Games series to The Purge films.
Violent, funny and featuring a fiercely committed performance from Betty Gilpin, Zobel makes the best use of casting since something like Executive Decision (1996)—meaning the film immediately asserts its unpredictable pattern of who will live and who might survive by playing with our expectations. Some highlights in the supporting cast include Amy Madigan, Macon Blair and Ike Barinholtz while Swank proves to be incredibly well-cast. For those familiar with Zobel's last two features, including Compliance (2012) and Z for Zachariah (2015), the misanthropy of The Hunt shouldn't surprise—but then, this time around, Zobel is playing with such extremes he actually forges into territory which could be construed as life-affirming.
★★★★/☆☆☆☆☆