Whisky Galore: Affleck Shines in Character Study on Regret & Retribution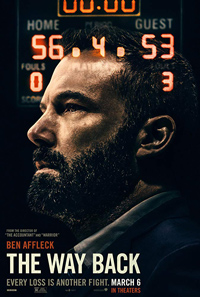 Reception theory often dictates a morbid confluence when consuming entertainment which reflects a kernel of perceived reality, and such is the case which elevates the arrival of The Way Back (not to be confused with the last film directed by Peter Weir in 2010), a subtle star vehicle for Ben Affleck as an alcoholic basketball coach battling personal demons. A wonderfully lowkey script from Brad Ingelsby (American Woman, 2018; Out of the Furnace, 2013) gives its lead protagonist room to breathe in a narrative of compulsion and addiction which gravitates towards the celebrated humanity of a Frank Capra than it does something like 1945's The Lost Weekend (and we're a long way off from the lavish dramatics of The Man with the Golden Arm, 1955). Director Gavin O'Connor proves his abilities (and passions) seem to lie within winnowing into the depths of the dangerous isolation of masculinity through sport (such as in Miracle or Warrior) and even when its narrative rhythms become familiar, he eludes the clichés geared towards audience gratification.
Jack Cunningham (Ben Affleck) is an unhappy, alcoholic construction worker who has isolated himself from his family and estranged wife (Janina Gavankar) due to the death of their preadolescent son two years prior. A chance phone call from his alma mater offers him a job as a basketball coach since he was their one and only star basketball player two decades prior. Reluctant to take the job, Jack meets the team and begins to wade back into the glow of his glory days. But just as he whips the team into potential shape for the play offs, his additions and emotional triggers come roaring to the fore, threatening the newfound chance at retribution he's been offered.
Affleck hits all the right notes as a functional but beaten down alcoholic, the symptoms of which are often exaggerated for cinematic extravagance. As such, The Way Back is a long way off from the last union of O'Connor and Affleck with the silly popcorn thriller The Accountant (2016) and more along the lines of O'Connor's underrated boxing drama Warrior (2011), which navigated similar strained familial issues. However, O'Connor and Ingelsby put everything on the back burner here, even downplaying the characterizations of the vibrant performers on Cunningham's team.
A slew of notables in the supporting cast are all warmly empathetic, from Michaela Watkins as Affleck's sister, to some brief but noteworthy moments from both Glynn Turman and T.K. Carter. The Southern California setting tends to feel a bit downplayed by DP Eduard Grau (A Single Man, 2009; Buried, 2010), but overall, The Way Back is a pleasant surprise and conversation piece just as it is a reminder of Affleck's abilities in the right material.
★★★/☆☆☆☆☆