Time After Time: Haynes Captures Wistful Tone of Bygone Eras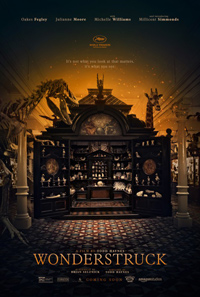 American indie auteur Todd Haynes explores dual cinematic pastiche in his most family friendly film to date, Wonderstruck, adapted from the novel by Brian Selznick (of The Invention of Hugo Cabret). Much like Scorsese's earlier effects laden extravaganza of Selznick's work, much of the visual wonder lies in the textured minutiae of two distinctly juxtaposed periods of 1927 and 1977 New York. The narrative follows a precocious young boy in rural Minnesota who loses his hearing soon after the death of his mother. He sets out to solve the mystery of his father's identity while a young deaf girl in the late 1920's makes a similar journey to reach a silent film star she's obsessed with.
Constantly shifting and aligning motifs makes for generous subtext in this sweet, poignant film which takes pains to solve all of its mysterious wonders nice and neatly before delivering an ultimate fade out.
Longing for his mother (Michelle Williams) after she's killed in a car wreck, preadolescent Ben (Oakes Fegley) discovers an odd book in her belongings with a private note from a bookstore in New York City. Just as he begins to call the number, lightning strikes his home, rendering Ben deaf. Resolutely determined to follow the clues in the book, which advertises a cabinet of curiosities, he runs away and gets on a bus for New York. At the same time, Ben's story is intercut with that of Rose (Millicent Simmonds), a young deaf girl in 1927 who is keen on meeting silent film star Lillian Mayhew (Julianne Moore). Rejecting the dismissive cruelty of her father (James Urbaniak), Rose runs off to New York to find the actress during rehearsals for a new major stage play.
As Haynes cuts freely back and forth between Ben and Rose, we know inevitably their threads will intertwine. But Wonderstruck is more about the journey, as Haynes, who taps into influences which graced early titles like Poison (1991), takes great care to evoke the dueling periods.
Rose's story plays like a Chaplin adventure, the city looming around her via impressionistic cityscapes while people hustle and bustle about in accelerated throngs, the soundtrack soaring along with them. Late 70's New York has a distinctly yellowed flavor, edified by and characterizing with the marked filth of the period, the porn houses interspersed with the museums and their curatorial wonders. Haynes retains his early muse Julianne Moore (here playing a character meant to evoke Lillian Gish mixed with a moniker from Hush Hush Sweet Charlotte), pulling unique double duty in what stands as her fourth collaboration with Haynes. Michelle Williams, as a brief accent, also returns to the fold, having appeared in 2007's I'm Not There. And like Hugo, there's plenty of time spent in wondrous, secret spaces occupied by children and their imaginations.
Comparatively, Wonderstruck is also Haynes' least 'queer' film in style, tone, and substance, focusing on development and discovery, communication and reconciliation. Haynes' returning DP Ed Lachman does pronounced wonders of his own between these slickly edited moments from Alfonso Goncalves, reaching a finale which manages to have a bit of tension thanks to pronounced communication barriers (particularly in a compellingly staged sequence between Fegley, Moore, and Tom Noonan).
Haynes makes use of notable soundtrack selections, such as a mournful repeat of Bowie's "Space Oddity" and a jubilant aside with Sweet's "Fox on the Run." The presence of Urbaniak brings to mind another peculiar time traversing narrative, Hilary Brougher's The Sticky Fingers of Time (1997), but despite the ambitious twinning going on in Haynes' film, it's not as robust or daring as it would first appear.
Reviewed on May 18th at the 2017 Cannes Film Festival – Main Competition. 117 Mins.
★★★/☆☆☆☆☆