Axes of Fulfillment: Williams Explores the Lives of Malcontented Young Adults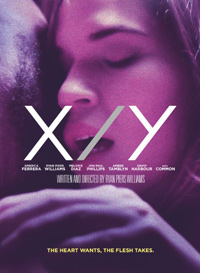 There's a certain way to make multiple, intersecting storylines breathe life into a narrative structure, though it's a rather abused formula of narrative free form often masking the lack of substance at hand. To be certain, director Ryan Piers Williams makes better use of this structure than a variety of recent examples, giving us a quiet, simplistic approach of four interrelated early thirtysomethings in Manhattan instead of bludgeoning with caustic twists a la Paul Haggis. If the material isn't innately virginal, Williams takes some unexpected turns (not to mention the added attraction of having his wife, actress America Ferrera starring as one of the main characters). At the end of the day, some of their stories in X/Y are stronger than others, but even throughout the more familiar tics, it's a well-acted quartet, divided into segments named after each character.
Mark (Ryan Piers Williams) and Sylvia (America Ferrera) seem to be failing to communicate properly. An awkward bout of intercourse culminates in a tense discussion of something that happened earlier that evening in a restaurant while they were out with friends. Sylvia rebukes Mark for being immature. As things get more heated, Sylvia reveals she has slept with a co-worker (Common), which forces Mark to leave, staying over at his friend Jake's (Jon Paul Phillip). A model and DJ, we learn that Jake has gone through a recent break-up which he hasn't seemed to have gotten over, leading him into demeaning acts of sex with women. And, yet, there seems to be some additional unresolved tension between Jake and Mark. Meanwhile, as Sylvia continues her dalliance with her colleague (even though he doesn't seem to really like her as a person), she visits Jen (Melonie Diaz), an out of work friend who seems unable to stop herself from spending money and sleeping with guys after the first date.
America Ferrera tends to lend her name to a variety of unexpected and unconventional film projects (with the exception of Our Family Wedding) and she's generally a striking onscreen presence. Her performance here is no exception, though, truth be told, she's got the least compelling storyline as Sylvia, an often unpleasant character. Williams' Mark, at first equally disenchanting, manages to become more alluring, culminating in what's bound to be the film's most talked about moment when he has sex with the Phillips character. As interesting as these turn of events are, it's too bad Williams didn't devote more time to let this resonate, include any potential ripple effects.
Even as it ends on an utterly hopeful note, X/Y leaves one wishing there had been a bit more. And not only on that front—Williams casts the superb Melonie Diaz (an actress that's had a memorable presence in film for years now, and not just in Fruitvale—go back and check out her scene steals in Hamlet 2 and Be Kind Rewind), and her characterization here as Jen is compelling enough to wish for a feature devoted entirely unto her character.
A nuanced and expertly developed melancholy seeps into X/Y during the 'Jen' segment that isn't quite matched in the others, and we're eager to return to her to the end credits. A host of other supporting cast members make impressions, including Common in an interesting role, while Dree Hemingway (Starlet, 2012) and Maria Dizzia (The Happy End; "Orange is the New Black") both get noticeable scenes. As far as the Cartesian plane theme goes, Sylvia and Mark end up on the positive side of the same axis from where they began, but the four main players sometimes feel too neatly locked into their allotted quadrant, unable to reach an even greater potential. But at the very least, X/Y tends to leave you wishing for more rather than less.
Reviewed on July 12 at the 2014 Outfest Los Angeles LGBT Film Festival – U.S. Dramatic Features – 82 Minutes.
★★★/☆☆☆☆☆