Reviews
You'll Never Be Alone | 2016 Berlin Intl. Film Festival Review
A Lonely Way to Die: Anwandter Explores the Elements of a Hate Crime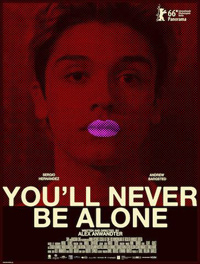 The 2012 murder of openly gay Chilean Daniel Zamudio provides the basis for Alex Antwandter's elegiac directorial debut, You'll Never Be Alone. Recalling a legion of cinematic examinations concerned with the aftershocks of homophobic violence, similarities to the Matthew Shepard tragedy (turned into 2002 film The Laramie Project) or the skinheads responsible for the savage murder of Frenchman Francois Chenu (examined in the 2005 documentary Beyond Hatred) are irrefutable. Rather than focus on the motives of the malefactors or the societal prized machismo and misogyny which continues to allow these cycles of hatred to flourish in each new generation, the film's focus is the creeping devastation to those directly and irreparably affected by such despicable barbarism. Sans answers or resolution, it's merely an unassuming tale of loss, frustration, and combatting helplessness.
Eighteen year old Pablo (Andrew Bargsted) lives alone with his preoccupied father, Juan (Sergio Hernandez). They share an amiable relationship, but Pablo's sexuality remains an unspoken reality between father and son. Experimenting in drag and hanging out with his bestie (Camila Hirane), Pablo confesses to entering into an explicitly sexual relationship with his childhood, friend Felix (Jaime Leiva), a young man who doesn't identify as gay. An acquaintance of theirs takes it upon himself to straighten Pablo out and curb his increasing flamboyant tendencies, with Felix becoming complicit in a violent beating which lands the young man near death in the hospital. Juan is devastated, feeling guilty for being too wrapped up in a job he's been trying to become partner at for the past twenty-five years. Worse, a caveat in their insurance means he cannot afford to pay for his son's hospital care. As his world crumbles around him, Juan makes a desperate choice to ensure his son is properly cared for.
Anwandter unspools Pablo's naive perspective in customary beats, a hopeful teenager just beginning to discover and examine his identity and surrounded with enough compassionate avenues to reflect the recent strides of acceptance in a country which only very recently came out of a particularly dark historical period and a regime infamous for its atrocious human rights violations. But contemporary Chile is no stranger to the homophobic hate crimes exacted against openly gay citizens.
To some degree, You'll Never Be Alone feels crushingly familiar in tone and circumstance, reminding us of a hatred still fostered the world over. And while Pablo's character arc is painted in broad strokes (despite some explicit sexual sequences, which particularly strengthens the self-loathing of the Felix character), Anwandter provides a masterful opportunity for Sergio Hernandez, a familiar face to English speakers thanks to roles in Pablo Larrain's 2012 film No, and as the hopeless love interest wooing Paulina Garcia in Sebastian Lelio's Gloria (2013). His character's workplace environment, a mannequin factory, recalls a threaded metaphor used previously by Rainer Werner Fassbinder reflecting the eventual detachment of working with plastic lifeforms meant to embody the human form.
Following the incident, Hernandez singlehandedly commands the narrative as he navigates a grieving process, bonding with a friendly, emotionally aloof nurse played by Antonia Zegers (recently seen this year in Pablo Larrain's excellent The Club), whose constant refrain "I don't have children of my own" takes on a sort of hilarious charm.
But Anwantder closes on an extended close-up of Hernandez's desolation, followed by the flashback of an exchange giving weight to the film's poetic title. Previously known as a renowned musician, Anwantder (who also wrote and provides the score) succeeds with a debut professing to continue the conversation about not just one particular hate crime, but the countless others similarly affected by bigotry and prejudice.
Reviewed on February 16th at the 2016 Berlin International Film Festival – Panorama Program. 82 Mins.
★★★/☆☆☆☆☆