School of Crock: McQueen Turns His Eyes to the Stars in Final Anthology Installment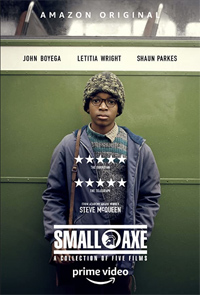 Across five films spanning a period of 1969 to 1982, Steve McQueen's Small Axe Anthology has charted snapshots of West Indian communities and their histories in London. Utilizing a wide range of tones and palettes, beginning with the levity of Lover's Rock (read review), he would turn to recuperations of trailblazers in the grueling court room drama Mangrove (read review), a true account of Black lives attempting to reshape the landscape of police brutality in Red, White and Blue (read review) and an homage to British novelist Alex Wheatle (read review), raised to fail as a youth born into social institutions. If there's any discernable pattern across these portraits, McQueen seems to be approaching these histories from a meta to micro trajectory, at least as these chapters segment Black lives struggling for equality rather than submissive assimilation to white power hierarchies. His fifth and final segment of the anthology, the succinctly titled Education, once more returns to the resuscitation of overlooked fortitude as a group of West Indian women highlight the secret segregation policy which funneled Black kids into subpar schools formulated as 'special needs' where children were denied proper education and locked into either a school to prison pipeline or doomed to a future of menial labor.

Twelve-year-old Kingsley (Kenyah Sandy) is fascinated with space, vocalizing his dreams about being an astronaut. His two white friends explain there's no such thing as a Black astronaut. At school, his rowdiness with his friends causes friction with the teachers, who label him a problematic child, and convince his distracted mother Agnes (Sharlene Whyte) her son should be placed in a "special needs" school where his needs can be correctly assessed. Initially, Agnes allows the transition despite Kingsley's protests. But the confirmation of her son's illiteracy after she's approached by a network of West Indian women led by Lydia Thomas (Josette Simon) and Hazel Lewis (Naomie Arkie) who inform her of a secret segregation policy wherein schools send Black children to 'subnormal' facilities finds her suddenly pushing back against the system.
Education opens at the planetarium, as we witness Kingsley awestruck at the spiral formation of the Andromeda Galaxy. McQueen captures the essence of childhood inspiration and how our wildest hopes and dreams are often immediately tempered by the false realities and limited expectations those around us try to administer. It's a heartbreaking slippery slope as we witness Kingsley's fate at the hands of careless school officials who take advantage of busy parents conditioned to believe these institutions have their children's best interests automatically in mind. McQueen slyly feeds into our expectations – we patiently wait for all the right cues leading us to the saving grace of some good white person somewhere in this mess, some ally who would immediately recognize Kingsley as a unjustifiably shuttered off to the wrong place. And initially we think this will happen in the form of Kate Dickie, a teacher at the special needs facility, her stern looks and pursed lips a disdain we initially believe she holds for her colleagues only to be crushed by her racist attitudes during a brief exchange with Kingsley.
But hope and salvation are born from within the resilience of the community, personified through a resplendent Naomi Ackie as Hazel, a psychologist posing as a journalist to glean the names of children passed off into these daycare traps, and her colleague Lydia, a firm Josette Simon. Newcomer Kenya Sandy is bright eyed and pitch perfect as Kingsley, but it's McQueen's attenuation to the women in Education which channels the poignancy, particularly with the epiphany of Sharlene Whyte as his mother.
There's a detrimental undertone to Education, beyond the obviousness of these struggles and this history of systemic racism, which aligns this segment with sentiments of French cinema. Not so much Laurent Cantet's The Class (2008), but more so something like Maurice Pialat's Graduate First (1978), how children and teens are, sometimes irreparably, shaped by the irresponsibility or carelessness of the adults in charge of them (the news of Issa Rae and Adam McKay teaming to adapt the podcast "Nice White Parents" about wealthy liberal white folks whose good intentions have the opposite effect on POC students in the New York public school system should make for a fitting continuing conversation on this particular subject and the need for proper representation in every communal system, good intentions or not).
McQueen ends his Small Axe anthology on a hopeful note, but leaves one wanting a continuation of this project and the lives in these communities beyond 1982 (the women hoping to find an ally in Margaret Thatcher, recently appointed as Secretary of State in this segment, is one ironic wink at the struggles which would continue). But as it stands, the anthology reigns as McQueen's shining hour of narrative filmmaking, uniting various aesthetics and tones with a potency and poignancy of contemporary lives and slowly shifting struggles for equality.
★★★½/☆☆☆☆☆