A Cliff Too Far: Yimou Navigates Tortured Times in Period Espionage Thriller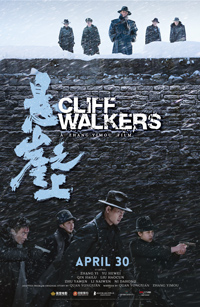 Arguably the most successful and prolific of the Fifth Generation of Chinese filmmakers, Zhang Yimou shows no signs of slowing down in nearly forty years of making films. While many of his cohorts from the Beijing Film Academy remain steadfast and relevant (including his Palme d'Or winning cohort Chen Kaige), the Golden Bear (Red Sorghum, 1988) and two-time Golden Lion winner (The Story of Qiu Ju, 1992; Not One Less, 1999) continues with a new spate of recent projects, including espionage period drama, Cliff Walkers (formerly known as Impasse).
While his 2019 film One Second was unceremoniously yanked from premiering in competition at the Berlinale over censorship issues (and was finally released last year in China), Yimou has gone on to develop three other projects. His latest hearkens back to a certain time and place, early 1930s Japanese-occupied China, specifically in the puppet state Manchukuo, eventually the Empire of Manchuria, land of the inevitable euphemism for sleeper assassin agents thanks to The Manchurian Candidate. However, the rudimentary thrust of a somewhat simple narrative feels a bit complicated by expected facets of the genre (double agents; murky allegiances), throwing its simplicity into chaotic splinters.

In 1930s Manchukuo, where occupied Japanese forces have set up secret concentration camps known as 'killing grounds,' four Communist emissaries who had been trained in the USSR parachute into the area to rescue a comrade who escaped one such compound, Wang. Zhang (Zhang Yi), Yu (Qin Hailu), Chuliang (Zhu Yawen) and Lan (Liu Haocun) are ordered to split up at the last minute, not realizing their identities have already been compromised by the tortured Xie Zirong (Lei Jiayin), who confirms there is a secretive mission called Utrennya (Russian for 'dawn') but is unsure of their exact aim. Section Chief Gao (Ni Dahong) and his protégé Zhou (Yu Hewei) are successful in thwarting the reunion of the two teams meant to rendezvous on the mission, and slowly, the rescuers find themselves in need of rescuing.
Yimou's trajectory has been a fascinating one, a festival circuit and arthouse darling who scored almost impossible critical acclaim and success at the US box office as a foreign language artist in the early 2000s thanks to Hero and The House of Flying Daggers. Inevitably, like many an international auteur, he'd run into rocky territory utilizing Western stars, like Christian Bale in The Flowers of War (2011) and then ruin his studio reputation on the back of Matt Damon in 2016's The Great Wall (despite being a commercial success overseas).
He's thrown himself into a frenzy with the return to his homeland, and Cliff Walkers bears a similar tone and vibe to the highly enjoyable Shadow (2018), a more action-oriented endeavor set in China's Three Kingdom's era. Like Kim Jee-won's recent The Age of Shadows (2016), which dealt with Japan's occupation of Korea decades earlier, and Lou Ye's Saturday Fiction (2019), also featuring comparable scenarios (wherein a famed Chinese actress doubles as a spy in the Japanese occupied portion of Shanghai in 1937), it's clear there are myriad of potential storylines from these historical impasses (to put it lightly). Yimou, working from a script by Quan Yongxian (who also penned a 2012 television series, Cliff, on the same subject), dials the energy down quite a bit for light bursts of torture and anxiety, with a handful of characters from the glibly defined Team One and Team Two all sort of scrabbled around without any real sense of characterization.
Eventually, several pertinent plot points are revealed, and focus pulls towards Zhou and Yu in oft interesting ways. Most of the film rests at a simmer as we follow the initial four communists as they fall into traps which will be their undoing, all while an old movie house playing Chaplin's The Gold Rush (1925) presides as a pseudo centerpiece. Where it boils over into full-fledged gear, such as an expertly edited train sequence and later, when Zhou is almost caught by Fei Fan's Meng, Cliff Walkers comes to vibrant life, only to cool quickly into a dispassionate inevitability. If anything, Yimou is deromanticizing the spy thriller for something a bit more hopeless, a bit cruel and cold blooded. But ultimately, we never really learn who makes it from Sumerki to Utrennya.
★★★/☆☆☆☆☆