Things Heard & Seen [Video Review]
Resident Evil: Berman & Pulcini Conjure a Satisfying Genre Throwback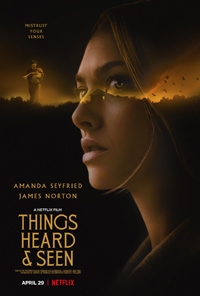 Studio output of the 1970s, during the golden age of New American Cinema, allowed for a particular breed of complex genre generating iconic templates also stuffed with peripheral weirdness which elevated them beyond mere exercise. In the ensuing decades, genre, like all cinema crafted to enhance consumerist 'needs,' has fallen into a similar stagnation of overtly glossy formula. So, it's with great pleasure to encounter an unexpected gem from American indie helmers Shari Springer Berman and Robert Pulcini in Things Heard & Seen, adapted from Elizabeth Brundage's 2017 novel All Things Cease to Appear.
A pulpy, even melodramatic assay on notions of good and evil, effusive performances and a stellar pace (even at a running time of two hours), it's also infused with subversive elements regarding gender norms, gaslighting, and historical traumas scattered against a backdrop of philosophical mysticism.
In the spring of 1979, unhappily married couple Catherine (Amanda Seyfried) and George Claire (James Norton) trade in the expensive ideal of Manhattan living and move to a remote town in the Hudson Valley when he accepts a position as an art history adjunct professor at Saginaw College. It's clear Catherine is putting her own dreams and desires on hold and will be tasked with caring for their young daughter Franny (Ana Sophia Heger) during this period of adjustment. The meager hope is the move will allow George to finally become a provider while Catherine can get a better handle on her secret regression into bulimia. Almost immediately, it seems there's something wrong with the house, and Catherine begins to see, hear and smell things. Naturally, the house, built in 1862, has encountered some considerable dysfunction thanks to previous inhabitants.
George doesn't believe in ghosts, but he's distracted by temptations at the university in the form of Willis (Natalia Dyer). His boss, Floyd DeBeers, takes an immediate liking to Catherine, as does colleague Justine (Rhea Seehorn). Floyd confirms he also believes there seems to be a spirit in the home trying to contact Catherine, and a séance is performed in George's absence. As Catherine searches for answers to what she's experiencing, she begins to discover troubling information about James, as do friends and cohorts. Even the realtor (Karen Allen) conveys information which relates to the identity of the young brothers (Alex Neustaedter, Jack Gore) she's hired as landscapers. It seems the trouble the couple is experiencing may be feeding into the residual energies of what's happened in the house, and Catherine attempts to escape what could potentially be a proscribed fate.

A far cry from the previous output of Berman and Pulcini, a pair of documentary filmmakers who came to prominence with their Oscar nominated narrative debut American Splendor (2003), before embarking on several easy going character-driven narratives (The Extra Man, Girl Most Likely To, and 10,000 Saints), their success in genre is truly unexpected.
For those who can appreciate the difficulty in packing so many variables and ideas into what stands as a psychological thriller with supernatural DNA, then Things Heard & Seen will likely seem an elegant creature, indeed, even if it does resort to some hoarier mechanics in its third act to really underline the significance of its final moments.
For those perilously conditioned to formula, its an exercise which may overwhelm, especially for those unable to appreciate all the wonderful references and details which assist in painting the ambience and psychological underbelly of its characters (the addition of Mozart's Lacrimosa requiem—a touch furthered by Abraham's casting, or Catherine reading Sylvia Plath's Ariel, for instance). Besides F. Murray Abraham, notables like Karen Allen, James Urbaniak, Michael O'Keefe and Rhea Seehorn ("Veep," "Better Call Saul") are joined by younger players like Natalia Dyer and Alex Neustaedter, who, all together make for an intriguingly varied cast.
Seyfried, fresh off her Oscar nod playing Marion Davies in Mank, once again proves what an asset she is, (something true even in the most throwaway of past vehicles). Resourceful and resilient, she assists in driving the film's energies to the vein of gender defined classics like The Stepford Wives (1975), or even Thomas Tryon's Harvest Home.
Most everyone else is playing a clearly defined purpose, all of which are successful (James Norton's George ends up feeling like the hetero counterpart of Patricia Highsmith's Tom Ripley). And, of course, there's the oddly captivating references to 18th century philosopher Emanuel Swedenborg and 19th century painter George Inness, literally the symbiotic 'words and pictures' conveying how death is parallel to birth, and how evil spirits can only commune with those who desire it, and vice versa. Of course, this is how we're meant to understand what potentially generates a repetitive cycle of fate.
Shot by Larry Smith (Eyes Wide Shut; Only God Forgives), it conjures the look and feel of a proper rural, demonic soap opera. Sure, there are shades of What Lies Beneath (2000) or Sinister (2012), but the narrative of Things Heard & Seen has the edginess of those pulp items from the period it's set in, where misogyny and homophobia created a subjugation which was cathartically and karmically balanced only by retribution from another realm.
★★★½/☆☆☆☆☆