With the first half of 2015 officially coming to a close, it's time for our mid-year list of best theatrical releases. As seems to be the trend, a bulk of these titles were selections premiering in the late fall circuit of 2014, a move sometimes granting offbeat art-house selections a bit more breathing room (though not always). Here's a glance at what represents the best of the year thus far, including two directorial debuts, one posthumous work, and one studio feature:
10. The Salt of the Earth – Dir. Wim Wenders & Juliano Ribeiro Salgado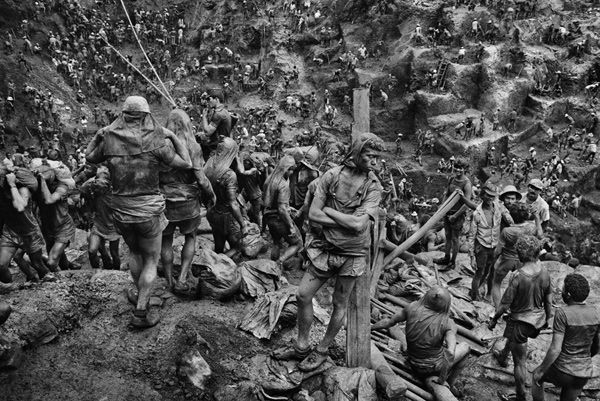 Premiering at the 2014 Cannes Film Festival, German auteur Wim Wenders explores the prolific career of Brazilian photographer Sebastiao Salgado, here with the help of his son, Juliano Ribeiro Salgado serving as co-director. Known for capturing catastrophic events in striking fashion, the documentary finds the artist in search of something positive after decades documenting human nature at its worst. Wenders creates a meditative, breathtaking gaze going far beyond a mere celebrative portrait of an artist.
9. Aloft – Dir. Claudia Llosa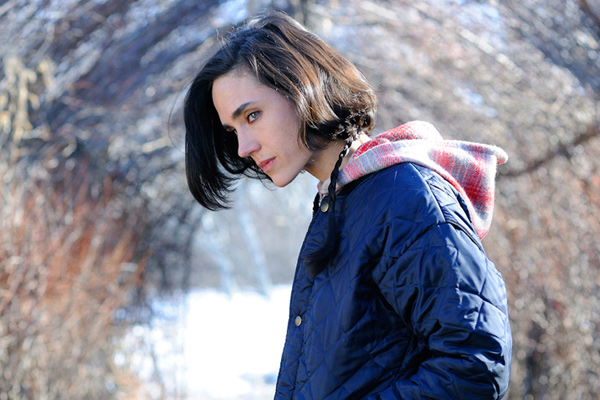 Representing the lone female auteur to make our theatrical list, this met with mostly derisive reviews upon its premiere at the 2014 Berlin Film Festival, but Claudia Llosa makes an emotional and mysterious English language debut with Aloft. The Peruvian filmmaker's previous titles were feted with notable critical acclaim, and she even scored an Oscar nod for Best Foreign language film in 2009 for The Milk of Sorrow. Had this latest mystical journey not been in English, perhaps it would have been less harshly judged. However, it's exactly the type of offbeat, innovative film due to garner recuperative efforts down the road. Jennifer Connelly and Cillian Murphy star in this oddly moving examination of faith and forgiveness.
8. Heaven Knows What – Dir. Ben Safdie & Joshua Safdie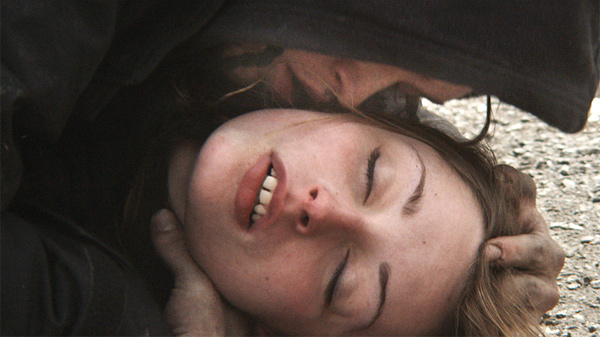 Uncomfortable and even nihilistic, a love story between two junkies eking out a barely sustained existence on the streets of New York fashions the narrative of this compelling film from the Safdie Brothers. You'll recognize Caleb Landry Jones in yet another go-for-broke galvanizing performance, but he can't top the presence of its lead actress, Arielle Holmes, upon whose experiences the tale is based. Boasting an excellent soundtrack and earning comparison to vintage 70s cinema like Jerry Schatzberg's The Panic in Needle Park, it's an eye opening take on what heaven actually allows.
7. Ex Machina – Dir. Alex Garland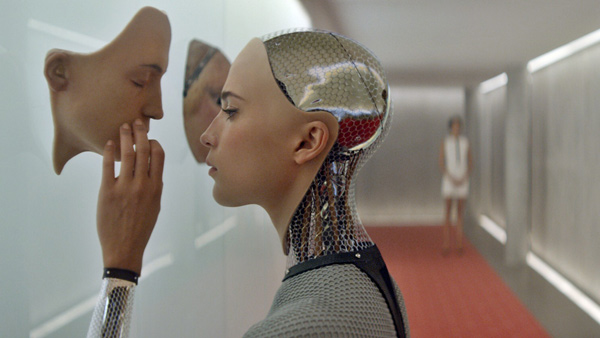 Making its US premiere at the SXSW Film Festival shortly before its theatrical release, screenwriter Alex Garland's directorial debut Ex Machina resuscitates the possibilities of exploration in 'artificial intelligence run amok' cinema. A mad scientist plays the imitation game with a book smart test subject, but ways of the flesh prove to be the vulnerable Achilles' heel. Smart, creepy, and well-performed, Garland's debut has all the elements overwhelmingly absent from overblown studio products treading similar territory.
6. A Pigeon Sat on a Branch Reflecting on Existence – Dir. Roy Andersson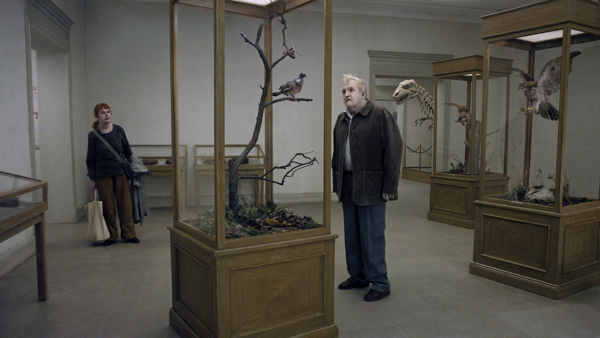 The Swedish auteur at last unveiled the cap to his celebrated "living" trilogy exploring the human condition at the 2014 Venice Film Festival, where the Alexandre Desplat led jury awarded it the Golden Lion. Following Songs from the Second Floor and You, the Living, Andersson has lost none of his dark humor in this playful, sometimes cruel portrait of human behaviors, with sins of the past physically interacting and informing the sterility of the present. Arguably the best chapter of these celebrated films, Andersson has stated he is in pre-production on a fourth chapter, About the Eternal. But if you've yet to catch up with his idiosyncratic set of melancholy films, you'll have plenty of time to do so before the fourth reaches fruition.
5. The Tribe – Dir. Miroslav Slaboshpitsky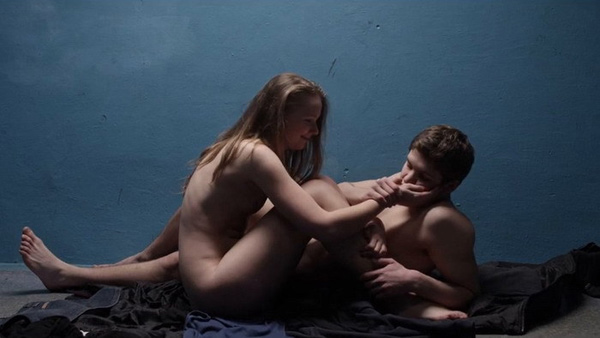 Taking home three major prizes after its premiere in the Critics' Week sidebar at Cannes 2014, including the top prize, Ukrainian filmmaker Miroslav Slaboshpitsky makes a notable directorial debut with The Tribe. Fascinating in its ability to communicate its narrative without subtitles or dialogue, the narrative is set within the confines of a boarding school for the deaf. Startling and increasingly violent, depicting an uncomfortable microcosm within its isolated adolescent group, the film is a unique cinematic experience and automatically marks Slaboshpitsky as a filmmaker of considerable note.
4. Mad Max: Fury Road – Dir. George Miller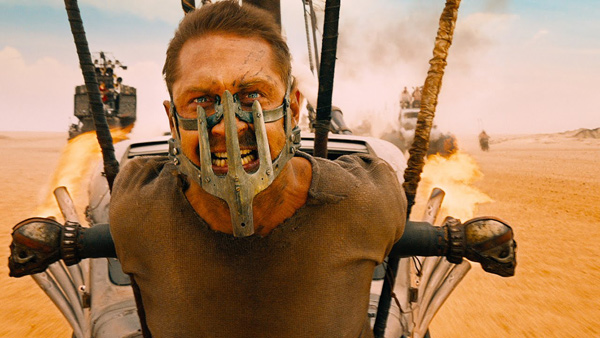 Australian director George Miller is responsible for one the year's greatest cinematic feats—resurrecting the hope in studio-based franchise filmmaking. The fourth entry in his Mad Max trilogy, the last being 1985's Beyond Thunderdome, Miller was allowed to create his latest vision without studio interference. Years in the undertaking, the final result speaks for itself as Miller has created the kind of high quality franchise filmmaking that's eluded auteurs for decades. A tense, pitch-perfect scream of a film, this is basically one extensive chase sequence, brimming with ideas, energy, and emotion. While this can't quite be hailed the 'feminist' action film many have suggested, it does bury its titular protagonist in a damsel-in-distress supporting role, allowing Charlize Theron to inhabit one of the best female characters to grace of a film of this ilk as she leads a band of rebellious women in revolt.
3. Clouds of Sils Maria – Dir. Olivier Assayas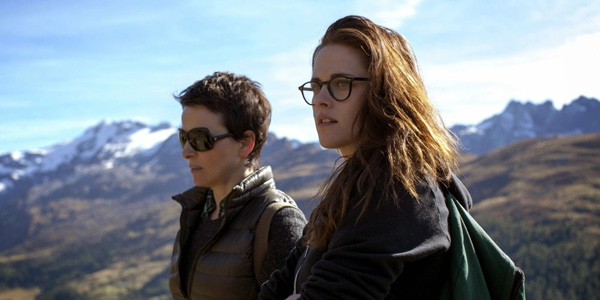 Described by many as All About Eve meets Persona, auteur Olivier Assayas crafts a stunning tribute for the talented Juliette Binoche in Clouds of Sils Maria, an offbeat, highly intelligent examination of filmmaking, celebrity, and the global conversation on women in film. Lofty, meta-commentary mixed with stellar, impressive performances, including Kristen Stewart in a Cesar Award Winning performance, those prizing Assayas' edgier works (like the celebrated Irma Vep and the underrated Demonlover) should certainly appreciate his latest, which premiered in competition at the 2014 Cannes Film Festival.
2. The Duke of Burgundy – Dir. Peter Strickland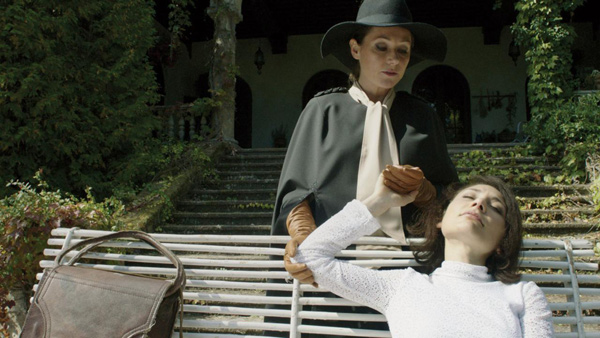 A seductive homage to 70's erotic cinema, this period relationship drama explores shifting power dynamics through the lens of S&M. Premiering at the 2014 Toronto Film Festival, where it was my personal favorite, director Peter Strickland continues to impress with this expressive third feature, following the success of previous features such as Katalin Varga and Berberian Sound Studio. Still without the rightful international renown he deserves, Burgundy received a limited theatrical release in the US earlier this year, though perhaps its Blu-ray and DVD release will eventually expand its cult following. Strange, beautiful, and emotionally engaging, if you missed this (or, for that matter, his other titles), make sure to seek it out.
1. Hard to Be a God – Dir. Aleksey German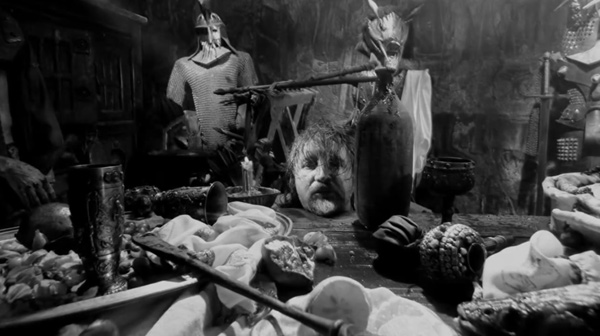 And the best film to be theatrically released thus far in 2015 is the posthumous masterpiece from Russian auteur Aleksey German. Fifteen years in the making and released at the 2013 Rome Film Festival, there's simply nothing else like it. Immersive, frustrating, and unparalleled, the film is currently available on Blu-ray if you missed its incredibly limited theatrical release.