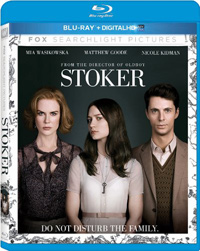 Receiving a rather chilly, subdued reaction after its premiere at the 2013 Sundance Film Festival, Park Chan-wook's English language debut, Stoker arrives on Blu-ray for further inspection. While the film certainly has some admirers, much criticism was aimed at the film's superficiality, and the film certainly doesn't engage in the same amount of visual pizzazz as the South Korean auteur's most celebrated titles. But now, moving past the messy ordeal of impossible expectations, the film has air to breath, and should be destined for a shelf life as peculiar as its somber, brooding subject matter. Recalling a heyday of cinema when dysfunctional and grotesque familial sagas were a flinty sub-genre all their own, Chan-wook's foray into the English language is meticulously crafted endeavor that has a multitude of accents that are easily missed in one viewing. This is cinema of motif, metaphor, and furtive yearnings of the darker kind, all unraveling in elegant fashion.
On her eighteenth birthday, India Stoker's (Mia Wasikowska) father Richard (Dermot Mulroney) dies in a terrible car accident, and she's left alone with her distant mother, Evie (Nicole Kidman). After his funeral, Richard's mysterious brother Charlie (Matthew Goode) appears, who only the housekeeper Mrs. McGarrick (Phyllis Somerville) uneasily seems to recognize. He ingratiates himself upon Evie and India, and seems to have a particular fascination with everything India does. A pale and precocious child that has a phobia of being touched, India seems alarmed and intrigued at the flirtatious interests of her uncle, and they both share a preternatural audio ability. On the other hand, Evie seems extremely warm to the advances of the handsome Charlie and barely notices when Mrs. McGarrick suddenly disappears, and doesn't seem suspicious when an unexpected visit from Aunt Gin (Jacki Weaver) also ends mysteriously. While India gets involved in a precarious relationship with Whip Taylor (Alden Ehrenreich), a boy at school, the mystery surrounding Charlie's dark past slowly start to surface.
Stoker owes most of its morbid beauty to the cinematography of Chung-hoon Chung, who regularly works with Park-wook. While their latest collaboration may feel less over-the-top than some of their flashier titles, like the insane visuals of Lady Vengeance (2005), it often has the tendency to feel overdressed for its own occasion. But even if by the time it wraps itself up, and it feels like no great mystery has been unearthed, the strengths of Stoker by far make up for any of its minor deficiencies.
Wasikowska is excellent as the quietly intense India and her interactions with the dashing Charlie are foreboding and creepy. Likewise, a predatory Nicole Kidman is excellent as India's distant mother, providing most of the film's slight comic relief with her bitchy behavior and the yearning sexual glances gracing her porcelain visage. Peppered with brief moments of blood and violence, spiders crawling between legs, an incestuous sexual bond laced with murder, multiple disappearances and hints of a deep rooted familial dysfunction, Park-wook's latest is the coming of age tale of a tantalizing and monstrous female.
Disc Review
For a film with carefully arranged frames, calculated editing and a meticulously crafted sound design, Stoker bodes extremely well in high definition, including a multitude of angled, chilly close-ups of an eerie Nicole Kidman. Outside of the theatrical experience, this is definitely the second best way to go. Plus, there's a nice crop of special features for the aficionados.
Deleted Scenes
Three extended sequences of existing scenes are available, each giving just a titch more visual and narrative detail.
Stoker – A Filmmaker's Journey
The most worthwhile extra feature is a short documentary about Park Chan-wook's journey to making Stoker with most of the cast members present for commentary. It's also an easy way to examine some of the exciting flourishes and motifs running rampant throughout (there's more bird symbolism here than Psycho), as well as the importance of the main staircase. Chan-wook comments that this film is a subverted coming-of-age story.
Photographs by Ellen Mark Page & London Theatre & Red Carpet Premiere
Two extra options featuring dazzling photo stills, and footage from the red carpet premiere is also available.
Final Thoughts
Stoker is an odd creature, its icy veneer warding off mainstream fanfare as equally as it does genre hounds. In other words, it's not a film designed for easy, palatable consumption. Sure, the initial mystery surrounding its narrative and dramatic action isn't terribly complicated, but the film is more of a visual puzzle, a dialogue light exploration of insidious, innate tendencies. Offbeat and engaging, Stoker may not have been the film many were expecting it to be. Time will hopefully dictate that it's a better piece of artistry than it's initial reception would seem to indicate.