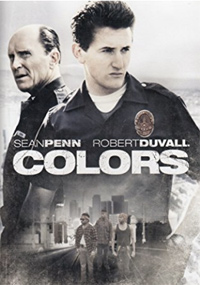 Trying to make a film like Colors (1988) today, told as it is from the privileged perspective of two white heterosexual beat cops fighting urban crime (i.e., black or Latino criminals) in South Central Los Angeles, would be nothing short of a fool's errand. Filmed and set in the late 1980s, the fourth feature from Dennis Hopper plays like a double edged time capsule, both as how acceptable (high profile) film narratives regarding racial tensions were told, and as a particularly notorious period regarding the L.A.P.D.'s historically atrocious treatment of black people, culminating infamously when it seized the nation's attention following the footage of the vicious and unconscionable Rodney King beating. Featuring two likeable lead performances from Robert Duvall as the grizzled but consummate professional tasked with keeping his overzealous and (mostly) well intentioned rookie sidekick Sean Penn in line, it's a tense but somewhat demure portrait of a subject matter whose importance isn't quite as articulately depicted as it should have been, something which time and distance certainly underline.
Veteran L.A.P.D. cop Bob Hodges (Robert Duvall) finds himself saddled with volatile rookie Danny McGavin (Sean Penn) as part of a new anti-gang unit patrolling the streets of East Los Angeles. Hodges, who is familiar with the lay of the land, is forced to contend with his new partner's overzealousness to arrest and capture, which leads to quite a bit of friction between them. Just as McGavin's attitude begins to be tempered, partially thanks to his budding romance with Louisa (Maria Conchita Alonso), he becomes a target by several gang members thirsty for vengeance when one of their own is accidentally shot and killed.
Colors remains most potent as a portrait of futility regarding a broken law enforcement system which tends to warp those who desire to make a difference into callous, sometimes inhumane harbingers of violence. The initial concept of Colors took place in Chicago, but the script was retooled for Los Angeles by Michael Schiffer (whose next screenplay was 1989's similarly problematic look at the helplessness of the public education system in Lean on Me), making this an interesting conversation piece with something like John Singleton's Boyz n the Hood (1991) only three years later. Besides the title track by Ice-T, Hopper's film is without a doubt, a white examination of urban issues, utilizing the usual juxtaposition of the ace and the rookie. Robert Duvall gives a customarily layered performance, a gruff but kind and streetwise cop who has a rapport and respect with the young men he comes across. Gruelingly frustrating situations abound, and the continual slaughter of young black men at the hands of police officers across the United States only reinforces certain moments in Colors with the sense of a noted lack of discernable progression.
As the hot-headed sidekick, Sean Penn probably made more headlines for his behavior during the filming of Colors rather than for his performance (having assaulted paparazzi, he served time in prison). But his Danny McGavin is given the evolving character arc, the one whose blinding 'us vs. them' ideals are finally challenged enough for him to recognize the need for empathy on the job, and to navigate a myriad of complexities not outlined in the sometimes convoluted directions of the law. However, it takes a romance with a beautiful racial other for him to unmask his unconscious prejudices. Despite a committed performance from Maria Conchita Alonso as his love interest, this subplot isn't allowed to develop cohesively in the time frame of the film. However, it does often feel like their relationship would have been the more tantalizing subject had Alonso's perspective been the lynchpin allowing for a more complex exploration of her reconciliation between her love for a man versus the despicable way he treats her people.
While Colors features several black characters (and a bevy of bit performances from recognizable faces), they're all too one-dimensional to differentiate. For a film meant to convey visibility to divisions defined by the colors their members wear, we don't get a sense of any interiority concerning their drives or desires. It's a pleasure to see a young Don Cheadle as the vicious Rocket and Leon Robinson as Killer-Bee, but the film hits some missteps with these approximations, mostly with Damon Wayans as T-Bone, who is arrested while wearing a diaper and causing a ruckus in a department store. Glenn Plummer (of Showgirls) actually has the most prominent and recurring role as a dealer who Duvall initially shows mercy to, but his characterization also feels like a wasted opportunity. There are a horde of another notable faces popping up in the film's fabric (Mario Lopez, Jack Nance, Seymour Cassel, Tina Lifford) enhancing the nostalgia factor, but Colors remains a controversial subject matter which doesn't push its issue hard or far enough to.
Disc Review:
Shout Factory presents Colors for the first time on Blu-ray (as part of its Shout Select series) and includes restored footage in an additional unrated cut of the film. Presented in 1.85:1 high definition widescreen with DTS-HD Master Audio, this is a notably cleaned up transfer, and DP Haskell Wexler's rendering of late 1980s East Los Angeles may be reason enough to revisit by itself. Hopper also managed a delectable soundtrack for the film, with Salt-N-Pepa, Big Daddy Kane, and Rick James sounding as vibrant as ever.
A Cry of Alarm:
Screenwriter Michael Schiffer is interviewed in this twenty-eight minute segment who discusses the creation of the script or Colors, with initial inspirations lifted from Gillo Pontecorvo's The Battle of Algiers.
Cops & Robbers:
This sixteen minute segment is an interview with Techincal Advisor/Ex-L.A.P.D. Gang Division member Dennis Fanning and his involvement with Colors.
Final Thoughts:
Not nearly as boundary pushing or controversial as it could have been, as Dennis Hopper's fourth (and last successful) outing as director, Colors is best observed within the context of the time and place it was made.
Film Review: ★★★/☆☆☆☆☆
Disc Review: ★★★½/☆☆☆☆☆