Night Moves (1975) | Blu-ray Review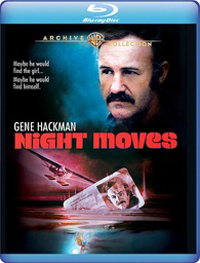 Released between a pair of revisionist Westerns (1970's Little Big Man and 1976's The Missouri Breaks), Arthur Penn's 1975 neo-noir Night Moves remains an unsung gem from the New Hollywood period, helmed by one of the era's progenitors and headlined by one of its most prolific actors—Gene Hackman.
An L.A. set mystery, informed specifically by the sprawling, infectious apathy of a disillusioned metropolis, screenwriter Alan Sharp models his convoluted narrative after the hard-edged prototypes developed by Hammett and Chandler. A one-time pin-up gal hires a quixotic private eye to track down her runaway teenage daughter, a promiscuous sort whose well-being insures her mother's access to the money left behind from her deceased movie mogul father. While finding the missing teenager results in a welcome escape from his troubled marriage, a more sordid, complex predicament unfolds as a black-market antiques ring fears exposure.
Harry Moseby (Hackman) is a loner private eye in Los Angeles, mostly handling banal marital squabbles as he avoids opportunities to join bigger and better organizations, which his wife Ellen (Susan Clark) suggests he segue into. In the middle of catching his wife in the middle of an extramarital affair, Harry is hired by Arlene Iverson (Janet Ward), an aging Hollywood starlet who's lost all her sex appeal but none of her seductive wiles in her attempt to secure his interests in finding her runaway daughter Delly (Melanie Griffith) as well as taking her to bed. Declining the latter, Harry tracks down Delly through a series of her love affairs, including with a smarmy mechanic (James Woods) and an airplane stunt man (Anthony Costello), who goads Harry into checking out the Florida Keys, where Delly's stepfather Tom Iverson (John Crawford) resides. Once he finds the flirtatious young woman, Harry finds himself enamored with Tom's girlfriend Paula (Jennifer Warren), but gets caught up in something stranger as he figures out how to take Delly back to Los Angeles.
Hackman filmed Night Moves prior to Coppola's 1974 masterpiece The Conversation, a film which took home the Palme d'Or and features Hackman in a similar lead role as an out-of-his-league paranoiac (he would be nominated for back-to-back BAFTAs in the Coppola and Penn titles). It was also the second of three prominent times Hackman would work with Penn, including in Bonnie & Clyde and later in 1985's Target.
Penn, who was still running on the reputation of Bonnie & Clyde (1967), which was one of the iconic gamechangers ushering in a new era of Hollywood filmmaking, changed gears considerably with this contemporary commentary of an industry in which long-time success remains impossible for mavericks (like Penn). Sharp's level of complex characterization is impressive in this nervous neo-noir, which finds Hackman's Harry Moseby still dazed by the missed opportunities of his glory days as a pro football player.
With only his dogged sense of integrity, which he uses as an excuse to remain a romantically inclined lone-wolf investigator, he isolates himself as a melancholic martyr. When his wife casually inquires who's winning a football game he's watching, he replies "Nobody. One side is just losing slower than other."
Penn takes pains to keep the audience wallowing in Harry's tangential marital woes (of the intimate neglect sort, not too far off from the Sinatra/Remick relationship in 1968's The Detective). Declining an invitation to see My Night at Maud's with his wife and her gay co-worker ("I saw a Rohmer film once. It was kind of like watching paint dry," he quips, to demean their cultural endeavor), he uses the opportunity to confirm her affair (with a sort-of young looking Harris Yulin), which spirals into some revelations about his familial history and its impact on his current profession.
It's this sense of despair and dread which further blinds Harry from realizing the sort of trouble he's uncovered during his trip to Florida, which drives him into the arms of Jennifer Warren's Paula, a rather self-deprecating sort who competes with teenager Melanie Griffith for the attentions of her lover, played by John Crawford, a man who confesses his attraction to his step-daughter. Commenting on her nubile body, he shakes his head, "their ought to be a law against it." "There is," observes Hackman.
Women's agency becomes an interesting, complicated subtext, both in their relation to men (in their exploitation of or by them) and other women (as agents of sabotage). Griffith, who makes her debut here, is a taxing sort, whose 'liberated' sexuality is as problematic (in how she uses her body to pit people against one another and as a minor sleeping with adult men) as it is progressively intentioned as a woman's ownership over her own body.
Sharp's screenplay also suggests a time-limited usefulness, specifically as seen through the narrowminded lens of Hollywood and the ripe, alcoholic harpy played by Janet Ward, a fading film star whose success in netting monied men outlasted her acting talents. As a positive counterpoint, Susan Clark as Moseby's wife, and Jennifer Warren as his lover, (both forced into playing codified games based on what they're either hiding or desiring), are interestingly conveyed characters. Both have intriguing conversations with Hackman, with sex acting as the conduit which drives him closer to more intimate truths about himself and his vulnerability. And if the women ultimately seem less smarmy than its cadre of libidinous men, Night Moves only really asserts a maxim pertaining to how good people often do very bad things, while it's hero is frustrated mix of fragile masculinity and altruistic futility.
Disc Review:
Night Moves was not a critical or box office success upon release, which explains why the title wasn't released on DVD until 2005. At last making its way to Blu-ray courtesy of the Warner Archive Collection, the title arrives in 1.78:1 with 2.0 DTS-HD Master Audio. Picture and sound quality are the best iteration yet of Night Moves, with DP Bruce Sertee's (who lensed a host of famed Clint Eastwood titles, including Dirty Harry and The Outlaw Josey Wales) sun-dappled Los Angeles and Florida setting replete with grungy, grainy glow.
Vintage Featurette – The Day of the Director:
This eight-minute archival feature is a behind-the-scenes glance at the making of the film, featuring Penn's voiceover detailing his approach to filming certain sequences.
Final Thoughts:
Despite sharing a name with a Bob Seger song/album and a Kelly Reichardt film, Arthur Penn's Night Moves has trouble in mind and remains uncomfortably tepid in its approach to a coterie of ambiguous characters.
Film Review: ★★★★/☆☆☆☆☆
Disc Review: ★★★/☆☆☆☆☆