Joe Versus the Volcano (1990) | Blu-ray Review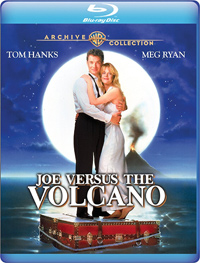 One of the most celebrated on-screen couples during the 1990s were Tom Hanks and Meg Ryan thanks to Nora Ephron's beloved 1993 title Sleepless in Seattle, followed by all three forces uniting for 1998's You've Got Mail. While Hanks went on to win back-to-back Best Actor Academy Awards and Meg Ryan eventually lost her American Sweetheart crown in the ensuing decade, many have forgotten their first of three cinematic pairings, 1990's Joe Versus the Volcano.
A wonky romantic fantasy, it was the directorial debut of screenwriter John Patrick Shanley, who was still fresh off an Oscar win for 1987's Moonstruck, and was the first to capture Hanks (who was a rising star thanks to Big and Turner & Hooch) and Ryan (who was basking in the major success of When Harry Met Sally…). A silly fable about love as the end product of seizing the moment and getting out of your comfort zone, it's a scenario as superficial as Shanley's Moonstruck was substantial, recycling clichéd stereotypes to maintain what it seemingly professes to be a magical, parallel universe.
The chronically ill Joe (Hanks) works for a dreary Staten Island corporation where he reports to his exceedingly unpleasant boss, Frank (Dan Hedaya). When he visits Dr. Ellison (Robert Stack) for his latest ailment, he's informed he suffers from a brain cloud, a psychosomatic illness brought on my residual emotional turmoil Joe experienced in his previous occupation as a firefighter. Given mere months to live based on this diagnosis, Joe quits his job and is promptly approached by an eccentric industrialist, Samuel Graynamore (Lloyd Bridges), who offers Joe unlimited resources for the next twenty days if he will agree to sacrifice himself by jumping into a fiery volcano on the Pacific island known as Waponi.
Once a century, the Waponis sacrifice a human volunteer to the fire god of the island, but seem to be having trouble finding a taker. By helping them find a candidate, Graynamore will then have access to a substance called bubaru, which he needs to make his superconductors and is native to the island. Joe, having nothing to lose, agrees to the proposition, but then falls in love with one of Graynamore's daughters, the comely Anjelica (Ryan), who is responsible for transporting Joe to the island.
A particular penchant for goofball whimsy is perhaps required to appreciate the tonal juxtapositions of Joe Versus the Volcano, which is something like the poor man's version of The Princess Bride as far as fantastical ambitions. Opening on a chain-gang like procession as Hanks trots along with a numbing throng into a Staten Island factory, which plays like the corporate gloom and doom version of Fritz Lang's Metropolis, corporate ennui configures Hanks into a Kafkaesque fable.
Dan Hedaya as a repetitive, onerous supervisor and Ryan (in her first of three iterations) as a mousy secretary promise the unfurling of a Metamorphoses type happening. But Shanley ushers his narrative quickly from Kafka to Capra on acid, setting both Hanks and the audience up on a labored con as the depressive lead learns he suffers from a "brain cloud" before embarking on a similarly lavish last hurrah as Queen Latifah in Last Holiday (2006).
Having accumulated a sort of cult status, in part due to its wildly mixed reception, which earned raves and demerits, Joe is perhaps most notable for its three characterizations from Ryan. Although her appearance as the secretary has no apparent purpose, her representation of 'half-sisters' Angelica and Patricia are the film's strong points. Her approximation of Los Angeles socialite Patricia, a self-professed "flibbertigibbet" has shades of slapstick Katharine Hepburn, while love interest Angelica is the sort of Hollywood eiderdown padding many a rushed, unbelievable cinematic romance.
A host of notable supporting turns in solo sequences also retains a bit of interest, including Robert Stack, Lloyd Bridges, and Abe Vigoda as the leader of the fictitious Waponis, a native people addicted to Orange Soda. Ossie Davis pops up as an affable limo driver in the sort of silver linings scenario many a black actor has imbued a white narrative with since cinema's inception.
Disc Review:
Warner Archive's on-demand label trots out Joe Versus the Volcano for the first time on Blu-ray. Picture and sound are serviceable in this 2.40:1 high-definition presentation with 5.1 Stereo Surround. Warner Archive includes a couple extra features on the release.
Behind-the-Scenes Documentary:
A four minute archival featurette finds cast and crew discussing the film, with Hanks describing it as an 'existential comedy with adventure and romance.'
Music Video:
The music video for Eric Burton's "Sixteen Tons" (which opens the film) is available as an extra feature.
Final Thoughts:
If absurdist heterosexual rom-com is your speed, Joe Versus the Volcano may be the answer to a humdrum afternoon.
Film Review: ★★½/☆☆☆☆☆
Disc Review: ★★★/☆☆☆☆☆