One, Two, Three | Blu-ray Review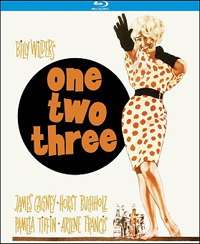 For as progressive and refreshing as his iconic 1960 Best Picture Winner The Apartment still feels today, Billy Wilder's 1961 follow-up One, Two, Three remains a dated product of first-wave Cold War politics. It wasn't the German émigré's first return to European fanfare, as there was Stalag 17 (1953) and an unforgettable Marlene Dietrich playing herself in swoozy flashback of bombed out Berlin in 1957's Witness for the Prosecution.
However, consumed by its own topicality in waffling back and forth between the cutthroat consumerism butting uneasily into early 60s West Berlin while the communist East side remained part of the insidious threat to America's capitalistic ideals, this remains one of Wilder's most tonally uneven features.
Featuring a bombastic James Cagney, the experience inspired the iconic actor to retire from cinema before reappearing decades later in 1981's Ragtime, the film was not well received in the US or Germany thanks to the construction of the Berlin Wall, which began when the film was in production and cast a prominent pallor over Wilder's comedic and political toils, his fifth of twelve collaborations with writer I.A.L. Diamond (adapted from a stage play by Hungarian playwright Ferenc Molnar).
C.R. MacNamara (Cagney) runs a Coca-Cola bottling company in Berlin, ambitiously angling to sell the brand to the Russians, a then unprecedented venture. His Atlanta based boss Wendell P. Hazeltine (Howard St. John) kills his hopes for selling soda to the communists and instead orders him to care for his socialite daughter Scarlett Hazletine (Pamela Tiffin), a man-hungry good-time gal who he just separated from her second fiancé.
Cancelling a long-planned vacation with his indulgent wife Phyllis (Arlene Francis), MacNamara takes the young woman in for a two week stay. But when she sneaks off into East Berlin and marries Communist Otto Piffl (Horst Buchholz), a man who abhors what his wife's family and MacNamara stands for, his career is suddenly in jeopardy. Worse, Scarlett is also pregnant, leaving annulment out of the question. Phyllis alerts Scarlett's parents, who immediately fly to Berlin while MacNamara must stop the couple from leaving and train Otto to resemble a fine young capitalist in order to save his own hide.
For as breathless a performance turned in by Cagney as soda executive C.R. MacNamara, it's often in vain, wasted on the increasingly zany screenplay or the subpar performances of several co-stars, particularly Horst Buchholz, the German star of The Magnificent Seven (1960) here resembling Olivier Martinez, playing a man who senselessly marries a young American socialite as banal as she is brainless.
Wilder's film often featured actresses who loomed as large as their male co-stars, but One, Two, Three compares to the latter The Fortune Cookie (1966) with its lack of any particularly prominent women with any real agency. Newcomer Pamela Tiffin has the thankless task of attempting to make socialite Scarlett Hazeltine appealing to both the audience and her communist lover but doesn't succeed at either.
Arlene Francis gets a few choice eye-rolls as Cagney's patient wife who is also constantly overlooked by her husband, distracted as he is philandering with his Russian secretary Ingeborg, played by Swiss actress Lilo Pulver, a woman freely exchanged between men to service them. The film's Americanized sense of European sensibility is as equally compromised here as Wilder's next film, Irma La Douce, in which Shirley MacLaine reunited with him to star as an unlikely Parisian prostitute romanced by Jack Lemmon.
Boiled down, One, Two, Three is essentially a comedy of manners in the vein of The Birdcage, in which a son-in-law's social ideologies must be masked for propriety's sake during an initial meet-and-greet with his in-laws. But Cagney's mania, paired with all the jarring energies of his co-stars, makes this Wilder film seem like half-baked slapstick sprinkled with a heavy dose of political commentary about the differences between capitalists and communists (which results in one of the film's most labored sequences wherein Buchholz must be trained in the ways of Western dinner etiquette though he insists on eating like a caveman in order to reject the established pretentiousness of hierarchical silverware). The film's most interesting element involves a rumor regarding Joan Crawford's dismay at Wilder's use of the Coca-Cola brand, the director apparently throwing her a wink in the film's closing moments.
Disc Review:
Kino Lorber presents this Wilder title in 2.35:1 as part of their Studio Classics label. With filming taking place in Berlin, and eventually in Munich after construction began on the Berlin Wall, One, Two, Three is an intriguing portrait of a troubled city in flux, although an upbeat score from Andre Previn would have you believe otherwise. Picture and sound quality on this transfer of the cult title are dependable, and film historian Michael Schlesinger provides optional audio commentary.
Wilder & Schlondorff:
This brief three minute bit features Billy Wilder discussing One, Two, Three with Volker Schlondorff, who summarized and introduces the segment.
Billy Wilder on Politics:
Wilder is featured in this six minute interview excerpt on the politics of One, Two, Three.
Final Thoughts:
A unique time capsule in several regards, One, Two, Three is otherwise all fizz—a dated farce, especially in comparison to Wilder's all-time greats.
Film Rating: ★★½/☆☆☆☆☆
Disc Rating: ★★★/☆☆☆☆☆