Disc Reviews
Tuesday Blus: Max Ophüls' Letter from an Unknown Woman, Nolan's Dunkirk & Bigelow's Detroit
This week's edition of Tuesday Blus includes the following titles: Dunkirk (2017) – Warner Bros., Detroit (2017) – Twentieth Century Fox, Letter from an Unknown Woman (1948) – Olive Film, JD's Revenge (1976) – Arrow Video, Dolores Claiborne (1995) – Warner Bros. Archives.
Dunkirk (2017) – Film Review:★★★½/☆☆☆☆☆ Disc Review: ★★★/☆☆☆☆☆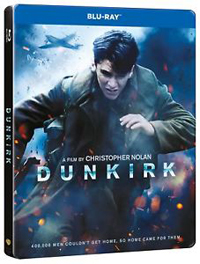 A major critical and financial success for Christopher Nolan (the Warner Bros. property nearly doubled its one-hundred-million-dollar budget at the box office), the WWII saga Dunkirk is poised to collect major accolades (recent Golden Globe nominations for Best Picture, Director, and Score from Hans Zimmer will most likely translate into Oscar nods in the same categories). From our theatrical review: "Immersive, especially in the lead up to its finale, Dunkirk is ultimately more an intriguing exercise from Nolan than it is a transporting or even unflinching wartime narrative."
Warner Bros. presents Dunkirk in variable high-definition 2.2:1 and 1.78:1 (for IMAX sequences). Picture and sound quality are impressive, though this doesn't match the experience of seeing the film theatrically in 70mm. In this three-disc set (Blu-ray, DVD, Bonus Disc) slew of extra features accompany the release, which includes a host of footage dedicated to the same division of the film (Land, Sea, Air) as well as a feature documenting the creation and conclusion of Dunkirk (which amounts to nearly two hours of footage).
***
Detroit (2017) – Film Review:★★★/☆☆☆☆☆ Disc Review: ★★★/☆☆☆☆☆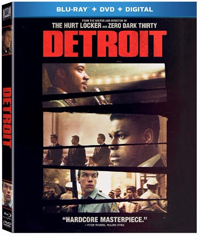 Arguably the most provocative venture from Kathryn Bigelow to date, Detroit is also one the auteur's least dynamic. Annapurna perhaps unwisely attempted to distant the exercise from possible awards courting by securing a limited theatrical release in August of 2017, but it would perhaps have been a more welcome player in the awards frenzy season, where its potential topicality would be re-examined on a greater scale. However, some fine performance from its main cast will most likely go overlooked, while the film only scored about half of its thirty-four million-budget at the domestic box office. From our theatrical review, "at the end of the day, Detroit plays like a first-wave artifact, a study in American Racism 101. It may outline where we've been, but implies nothing about where we're going, refusing to acknowledge the underlying issues which have been merely subverted into less easily defined form."
Twentieth Century Fox releases the film in widescreen 1.85:1 high definition with 5.1 Surround Sound. The standard release includes a smattering of extra features dealing with the historical context of the film as well as the film's cast. In The Truth of Detroit, two minutes of footage is dedicated to several key players who lived through the incident. In The Cast of Detroit several cast members, along with Bigelow, speak about the events and the film in a two-minute segment, while The Invasion of Detroit is also a two-minute feature which includes commentary from writer Mark Boal and some Detroit residents who recall this particular period. In The Hope of Detroit, Bigelow speaks about her hopes for the film in a one-minute segment, and lastly, a ninety-second deliberation called Detroit – Then and Now briefly examines differences between periods in the city. Algee Smith and Gary Reed discuss and perform the track "Grow," which is also a feature on the disc.
***
Letter from an Unknown Woman (1948) – Film Review: ★★★★/☆☆☆☆☆ Disc Review: ★★★½/☆☆☆☆☆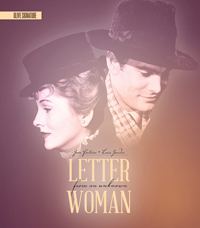 German born Max Ophüls, who inspired the likes of Stanley Kubrick and Paul Thomas Anderson with his signature tracking shots and a filmography which spanned several countries from the 1930s to the 1950s is best remembered for a handful of titles from the last decade of his life. Signature titles like Le Plaisir or The Earrings of Madame d… remain quintessential cinema classics while his early career languishes in obscurity. Immigrating to the US after the rise of the Nazis, Ophüls remained mostly inactive in Hollywood until shortly before returning to France. Of his three noted English language titles, which includes the noir The Reckless Moment (later retooled as The Deep End, starring Tilda Swinton), the most exceptional is his 1948 melodrama (often examined as a 'woman's picture') Letter from an Unknown Woman, adapted from a novel by Stefan Zweig.
Joan Fontaine stars as the eponymous woman, perhaps in what represents her finest hour of martyrdom (considering her knack for passive gamines, which ranged from a strong body of 1940s work including Rebecca, Suspicion, and, natch, Jane Eyre), who pens a letter to the love of her life, a narcissistic, self-involved pianist played by Louis Jordan (fresh off his own Hitchcock collaboration with The Paradine Case, 1947). As he's about to flee a duel circa 1900 Vienna, he catches a lengthy letter addressed to him by a woman he cannot remember…a woman whose demise is ironically the reason for his current predicament. For once, Fontaine's anguish seems justified, ensconced in Ophüls' signature tracking shots. Much like the weirdness of the William Dieterle's Portrait of Jennie (which was surprisingly released the same year), love, or the idea of it, becomes a torturous, melancholic trap, relayed with phenomenal finesse by Ophüls in a key climactic sequence, where a swirling circle of smoky reverie outlines a dramatic memory montage of a love eclipsed by the banality of selfishness (as Ophüls' classic 1950 title La Ronde would later dictate, what goes around comes around).
Part of Olive Film's new Signature series, Letter arrives in 1.37:1 in a transfer mastered from a new 4K restoration. Picture and sound quality are superb in this welcome new release of a title which is too often hidden behind the reputation of Ophüls' 1950s titles. Ophüls expert Lutz Bacher provides audio commentary (an essay from Molly Haskell is also a notable inclusion locate within the insert), while several extra features are available. Ophüls' son, the Oscar winning documentarian Marcel Ophüls is on hand for the interview "A Deal Made in a Turkish Bath," while Professor Dana Polan is interviewed in "An Independent Woman: Changing Sensibilities in a Post-War Hollywood." Cinematographer Sean Price Williams and Ben Kasulke respond on the title's influence in "Ophülesque: The Look of Letter from an Unknown Woman," and film scholar Tag Gallagher provides the visual essay "Letter from an Unknown Woman: Passion's Triumph."
***
JD's Revenge (1976) – Film Review:★★★½/☆☆☆☆☆ Disc Review: ★★★★/☆☆☆☆☆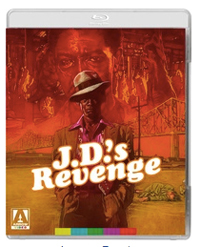 One of the most vibrant outliers in Blaxploitation cinema is the 1976 Arthur Marks' classic J.D.'s Revenge, a moody, genre tinged cult favorite which stars Glynn Turman of Cooley High and Oscar winner Louis Gossett, Jr. When Turman's decidedly passive law student Ike becomes possessed by the spirit of a vengeful spirit of 1940s gangster J.D. Walker (David McKnight), he becomes an abusive, chaotic force in the life of his girlfriend Chrisella (Joan Pringle). As J.D. is keen on looking to wreak havoc on the brother (Gossett) who murdered him in the midst of a tawdry, crumbling love triangle and has since become noted Reverend Elijah Bliss, sordid secrets are revealed. Marks, born into the film industry and eventually ascending to a director, segueing from television series (such as "Perry Mason") in the late 1960s to a staple of independent drive-in films by the early 1970s, is best remembered for Pam Grier entries like Bucktown and Friday Foster (both 1975), or his last film, the Yaphet Kotto comedy The Monkey Hustle (1976). However, his crowning achievement is J.D.'s Revenge—true, it's as viciously misogynistic as any of its brethren (as Ike, appropriately named it would turn out, begins to mercilessly beat Chrisella in fits of rage, his best mate explains how sometimes women need this sort of treatment—and likewise, in the end, all is rather easily forgiven on her part). But J.D.'s Revenge features a dynamic performance from Turman (who cranks it up as the archaic J.D. Walker) and is technically and narratively superior to other horror items in the Blaxploitation pool, such as the silly Exorcist rip-off Abby, or those famed Blacula films.
Arrow Video is the perfect label to bring J.D.'s Revenge to justice, presenting the title in a new 2K restoration from original film elements in 1.85:1 with 1.0 mono sound. The release includes a forty-six-minute retrospective documentary The Killing Floor, which details the making of the film and features screenwriter Jaison Starkes, Arthur Marks, editor George Folsey, Jr., and Glyn Turman. Actor David McKnight is on hand with the extra feature Here Lies J.D. Walker in a rare seventeen-minute audio interview.
***
Dolores Claiborne (1995) – Film Review:★★★½/☆☆☆☆☆ Disc Review: ★★★/☆☆☆☆☆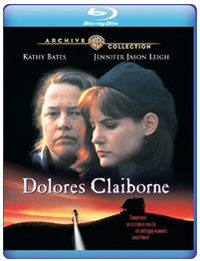 "Sometimes being a bitch is the only thing a woman has to hold on to," is the overarching refrain of Taylor Hackford's 1995 adaptation of Stephen King's Dolores Claiborne, one of the horror maestro's few non-supernatural narratives. Of course, notable for the second pairing of King and Kathy Bates, who took home the Best Actress Academy Award for her unforgettable performance in 1990's Misery, it is also an unsung accomplishment in the filmography of Hackford.
While the story of Claiborne's familial woes doesn't exactly yield anything wholly extraordinary, the performances from Bates, Jennifer Jason Leigh, and Judy Parfitt make for some exceptionally resilient characterizations of iron-willed women navigating the pitfalls of patriarchal injustices. Christopher Plummer as a hateful detective, John C. Reilly as a passive constable, and David Strathairn co-stars as an abusive alcoholic child molester (the Maine accents utilized somehow didn't warrant the same notoriety as those Minnesota drawls in Fargo only a year later) and Hackford assembles a commendable dark-hearted melodrama fixated on a troubled mother-daughter relationship bisected by class and expected gender roles (although it feels tangential, Leigh's toxic relationship with her boss represents a fantastic exemplification of how women are often forced to navigate unbalanced power structures in the professional workforce).
A fulfilling score from Danny Elfman and a well-rounded script from Tony Gilroy (who, disappointingly but perhaps wisely excised all of Vera Donovan's vibrant fears of dust bunnies from King's novel) are met with some superb juxtapositions ranging from the dreary, drab present overshadowed by the events from a rose-tinted past, which culminates in the excitingly shot climax of the dark events which transpired over one infamous six-minute eclipse.
Warner Bros. Archives thankfully brings Dolores Claiborne for the first time to Blu-ray, presented in 2.4:1 high definition with 5.1 Surround Sound. Picture and sound quality hold up well in this on-demand transfer, particularly the exaggerated palettes of DP Gabriel Beristain's flashbacks. A commentary track from Taylor Hackford is the only extra feature.