2019 NEXT Section Sundance Trading Card Series: #17. George Rush – Give Me Liberty
Producer George Rush from Give Me Liberty is among the voices, faces and creative folks that are a part of the ten films selected for our favourite section at the Sundance Film Festival. Added to the fest at the beginning of the decade, over time, the NEXT section (formerly referred to as "<=>") has unearthed some of the best voices in micro American indie film projects with the likes of Sebastian Silva, Josh Mond, Rick Alverson, Anna Rose Holmer, Andrew Dosunmu, Craig Zobel, David Lowery and Janicza Bravo. We return with Sundance Trading Card Series focusing on the 2019 NEXT section selected films and personalities. Tonite is the world premiere date and so we're stoked to present this producer.

Eric Lavallee: Name me three of your favorite "2018 discoveries".
George Rush:
1. The works of Adam Curtis. I had seen Hypernormalization and The Power of Nightmares, but decided to binge watch all of his films. He is the only documentarian that comes to mind that I consider a true visual artist. His theses sometimes seem borderline conspiracy theory as he outlines a cruel and cynical world, but he tells them with such beauty they are almost hopeful.

2. Paddington 2. I take my kids to every kids movie, and even the best is usually cinematic garbage. Paddington 2 is an actual great film that I still think about frequently. I agree with Paddington that if "we're kind and polite the world will be right."

3. Cal football's stout defense: I am a Cal football fanatic, which is as quixotic as a fandom can go. For years their defense has been like Swiss cheese and they have seemed outmatched and psychologically defeated before every game. This year led by the brick wall linebackers of Jordan Kunaszyk and Evan Weaver, and shutdown defensive backs, Cal's defense was a force to be reckoned with and struck fear in the rest of the PAC-12. In addition to this development being incredibly satisfying, it is shocking based on recent history. Now they just need an offense and we're really in business!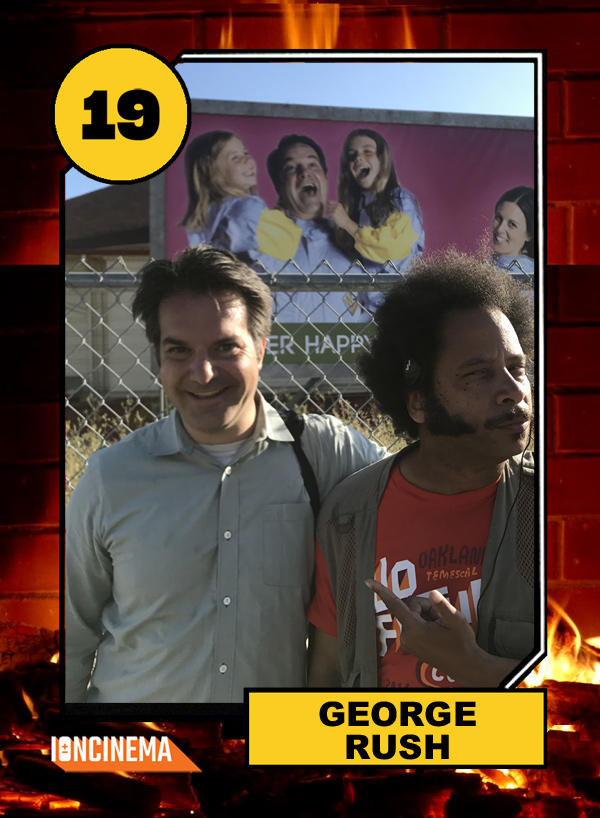 Lavallee: Could you discuss your own creative ideas and/or passions or interests matched the filmmaker in terms of how their artistic choices, POV and/or vision for the project..
Rush: I had worked with DP Wyatt Garfield on Michael Tully's Don't Leave Home and remember him telling me that basically he was putting his life on hold so he could make this film with Kirill Mikhanovsky and Alice Austen called "Give Me Liberty." I really admire Wyatt's work, and that meant this would be something at the very least aesthetically interesting. When I met Alice and Kirill, I realized I wanted to be involved as they seemed to have a unique process. I always look for three things in a project–1. good script/story, 2. good, trustworthy people 3. strong and unique aesthetic style. I think that third one gets lost a lot because the first two are so hard. Most films have a crisp, competent style and is forgettable. Film is a visual medium–I want to see something nuts or different visually–that's what makes it cinematic. And Kirill's voice has that in spades.
Lavallee: Expect the unexpected is a mantra we could use for every production. Is there a happy accident anecdote that actually enhanced the film's DNA?
Rush: I got involved late and helped raise the budget. There was an earlier version of this film that was larger budget, maybe would have had well known cast, etc, but that fell apart. So the big opportunity didn't happen, but in scaling back the budget, there was something liberating, and in a way, a more exciting opportunity. The team we assembled on a smaller budget were all committed to Kirill's vision, not necessarily to making Little Miss Sunshine 2. By doing that, I think we made something really special, about communities seldom seen on screen.
Click to expand!