2019 NEXT Section Sundance Trading Card Series: #9. Anna Margaret Hollyman – Sister Aimee
Actress Anna Margaret Hollyman from Sister Aimee is among the voices, faces and creative folks that are a part of the ten films selected for our favourite section at the Sundance Film Festival. Added to the fest at the beginning of the decade, over time, the NEXT section (formerly referred to as "<=>") has unearthed some of the best voices in micro American indie film projects with the likes of Sebastian Silva, Josh Mond, Rick Alverson, Anna Rose Holmer, Andrew Dosunmu, Craig Zobel, David Lowery and Janicza Bravo. We return with Sundance Trading Card Series focusing on the 2019 NEXT section selected films and personalities.
Eric Lavallee: Name me three of your favorite "2018 discoveries".
Anna Margaret Hollyman:
1. "Trinity" a Novel by Louisa Hall
2. Tap Dancing
3. Rediscovering my intense love for Bjork's "Post"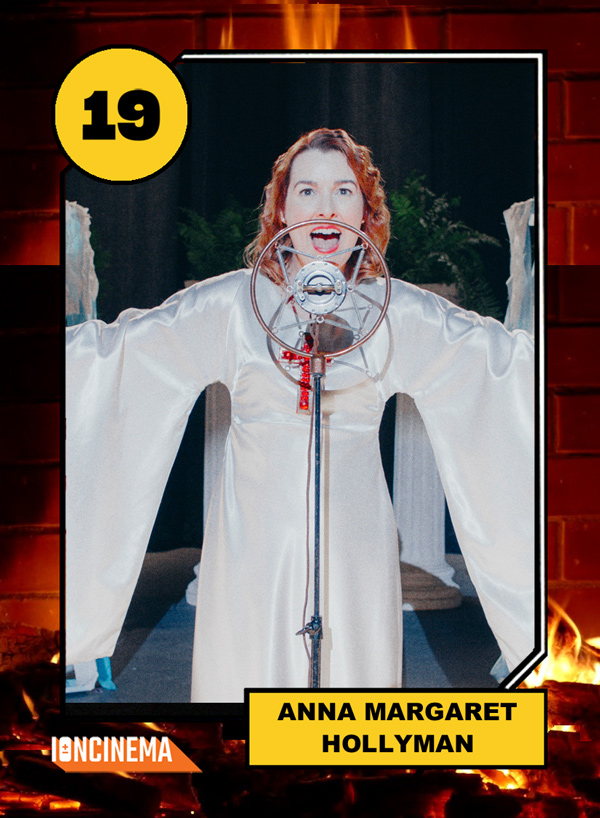 Lavallee: Prior to or during production, did the filmmaker offer you specific real life, film, literary or visual references in order to better grasp the world in which your character inhibits?
Hollyman: Sister Aimee Semple McPherson is an actual historical figure and so Sam and Marie (co-writers/directors) had a variety of visual references pulled as a launching off point. We aimed to capture her essence more than anything else, which meant taking weekly singing and tap dancing lessons, and dying my hair a fiery red a week before production as the real piece de resistance. I did attempt to go inside the Angelus Temple in Los Angeles (Sister Aimee's megaphone shaped church in Echo Park) but alas, there was a service in session.
Lavallee: How did coiffe, costume design, speech, mannerisms, the character's place of origin/setting or even lighting/spacing, mise-en-scene inform you about your performance?
Hollyman: It was surprising to see how dressing as a woman in the early 1920's informed a lot of my character's actions (and reactions). Working against the restriction of heels. stockings and long dresses in the middle of the Texas heat or New Mexican desert gave me a greater appreciation of what Aimee had to endure environmentally and emotionally as a woman navigating the world at that time. You can look back on images of women since the dawn of photography and admire them for being able to endure the elements despite their dresses, petticoats, corsets, etc., but I gained a much more intense appreciation for these women once I was outside in 100 degree heat in full period dress. The difference between me and Aimee is that she wouldn't have blinked an eye (or needed so many hair and make up touch ups)
Lavallee: Could you describe the character's universe in terms of how they relates to the close relationships, supporting characters or the antagonistic forces.
Hollyman: Aimee is at battle with herself. She has the deep rooted desire to perform and the need for a constant audience, all grounded in the belief that she was called upon by God to do the work that she does. But she also is ready to throw it all away and disappear completely. She's a woman of extremes, everything in her life comes down to stakes and her decisions are defined by her passions or impulses which are greater than the average citizen's.
Click to expand!