Film Festivals
Maren Ade's Toni Erdmann, Aquarius, Elle & Paterson Top our 2016 Cannes Critics' Panel
Yesterday's George Miller led jury pronounced Ken Loach's I, Daniel Blake as the best from the 2016 competition of twenty-one films, and they gave equally high honors to Xavier Dolan's It's Only the End of the World (Grand Prix) and to Andrea Arnold (who must have established some sort of record) winning her third Jury Prize with American Honey. No one in the three thousand press core would have picked this placement and as a result the passionate cinephiles who took in the majority of the comp titles are a tad dismayed (read Justin Chang leading the charge of backlash commentary). The consensus, top film of Cannes according to our panel of sixteen film critics selected Maren Ade's third feature film Toni Erdmann (4.0) as the clear cut favorite.
And if we were to hand out our own Grand Prix and Jury Prize silver and bronze medallions fierce, fresh and innovative films in Kleber Mendonça Filho's Aquarius (3.6), Paul Verhoeven's Elle (3.6) and Jim Jarmusch's Paterson (3.5) were admired across the board with several critics stamping the titles with four and five star ratings. Not to be outdone, Bruno Dumont's Slack Bay (3.4) and Cristian Mungiu's Graduation (3.4) had their supporters as well.
In the well-liked, admired range Park Chan-wook's The Handmaiden (3.3), Jeff Nichols' Loving (3.3), Alain Guiraudie's Staying Vertical (3.2), Cristi Puiu's Sieranevada (3.1), Pedro Almodóvar's Julieta  (3.1) and finally, Loach's Palme winning I, Daniel Blake (3.0) received your average score or better while the Dardenne's The Unknown Girl (2.9)
Asghar Farhadi's The Salesman (2.7), Arnold's American Honey (2.7) Olivier Assayas' Personal Shopper (2.5) and Dolan's It's Only the End of the World (2.4) drew strong supporters from only a few in our group of sixteen.
Falling by the wayside, Nicole Garcia's From the Land of the Moon (2.1) Nicolas Winding Refn's The Neon Demon (2.1) Brillante Mendoza's Ma' Rosa (2.0) and the lowest ever graded film in our six years doing this chart in Sean Penn's The Last Face (0.4) will have at least gotten some international exposure.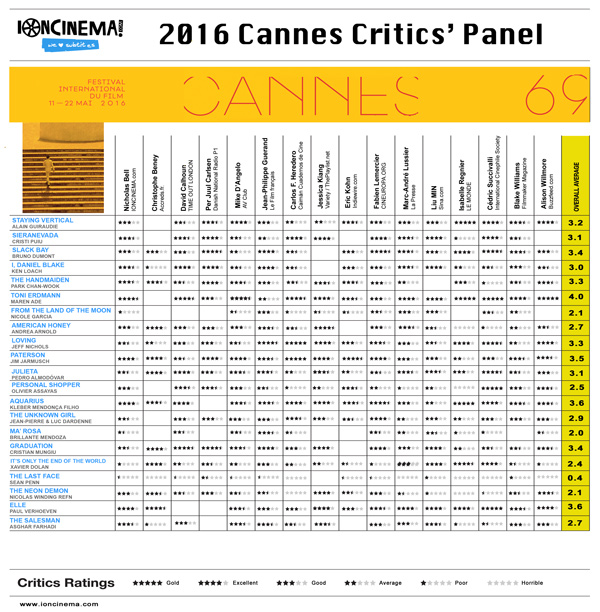 Related Topics:
2016 Cannes Critics Panel, 2016 Cannes Film Festival, Alain Guiraudie, American Honey, Andrea Arnold, Aquarius, Asghar Farhadi, Bruno Dumont, Cristi Puiu, Cristian Mungiu, Elle, From the Land of the Moon, Graduation, I Daniel Blake Ken Loach, It's Only the End of the World, Jean-Pierre Dardenne, Jeff Nichols, Jim Jarmusch, Julieta, Kleber Mendonca Filho, Loving, Luc Dardenne, Ma' Rosa Brillante Mendoza, Maren Ade, Nicolas Winding Refn, Nicole Garcia, Olivier Assayas, Park-Chan Wook, Paterson, Paul Verhoeven, Pedro Almodovar, Personal Shopper, Sean Penn, Sieranevada, Slack Bay, Staying Vertical, The Handmaiden, The Last Face, The Neon Demon, The Salesman, The Unknown Girl, Toni Erdmann, top-stories, Xavier Dolan
Eric Lavallée
Eric Lavallée is the founder, CEO, editor-in-chief, film journalist and critic at IONCINEMA.com (founded in 2000). Eric is a regular at Sundance, Cannes and TIFF. He has a BFA in Film Studies at the Mel Hoppenheim School of Cinema. In 2013 he served as a Narrative Competition Jury Member at the SXSW Film Festival. He was an associate producer on Mark Jackson's This Teacher (2018 LA Film Festival, 2018 BFI London). In 2022 he served as a New Flesh Comp for Best First Feature at the 2022 Fantasia Intl. Film Festival. Current top films for 2022 include Tár (Todd Field), All That Breathes (Shaunak Sen), Aftersun (Charlotte Wells).