Married Life: Sachs' Latest a Subtle Portrayal of Love, Marriage, and Familial Bonds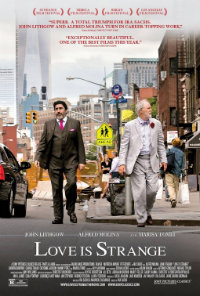 Following on the heels of his 2012 film, Keep the Lights On, which documented a rather tumultuous and sometimes toxic relationship between two gay men over the course of a decade, director Ira Sachs delivers what is perhaps his most heartfelt and warmly observed film thus far. While many of the central relationships depicted in Sachs' works are marked by melancholy and discord, whether that be the arresting loneliness of the superb Dina Korzun in Forty Shades of Blue (2005) or the dark comedy underpinning the extra-marital affair in Married Life (2007), here with Love is Strange, we are graced with a couple played by John Lithgow and Alfred Molina, partners of nearly forty years that have finally taken it upon themselves to exchange overdue marriage vows.
After thirty nine years of living together, Ben (John Lithgow) and George (Alfred Molina) have decided to tie the knot, inviting their many friends and family members to their ceremony. However, not long afterwards, George, who is a music teacher at a Catholic school, is informed that because he married his same sex partner in official and open acknowledgment, the diocese has determined he must be let go, effective immediately. Because of this, Ben and George are no longer able to afford their apartment, where they have been living for two decades. In an effort to stay afloat, they request assistance from their closest loved ones to put them up until George can find a new job. George goes to stay with a couple that lives in the same building, Roberto (Manny Perez) and Ted (Cheyenne Jackson), who are both policemen (affectionately referred to as 'the policewomen' by their friends), while Ben stays with his nephew's (Darren E. Burrows), family, including wife Kate (Marisa Tomei) and son (Charlie Tahan). Quickly, the close proximity causes moments of strain and awkwardness between close friends and confidantes whose private spaces have been exposed.
Love can certainly be described as many things, and perhaps strange is a perfect and affectionate umbrella that captures its confusing, legitimizing, and necessary presence. In reference to Ben and George, who aren't without their issues, their relationship is depicted as more stable and less rigid than several others they get to know more intimately in their peculiar predicament. The strangeness of love is that because of certain commitments made in the name of it, sometimes the circumstances this creates are less than ideal. Sachs, and screenwriter Mauricio Zacahrias (who also penned Sachs' previous feature) have written a wonderfully observed portrayal of not only knowing friends and loved ones a bit more than we'd like to when forced into close proximity, but also a lovely (not to mention little seen) long term, respectful relationship between two men.
There is actual chemistry between Molina and Lithgow, both masterful performers of stage and screen, here feeling instantly authentic, both in their small gestures and tics as well as several more poignant moments after their predicament begins. It's Lithgow's time crashing in his nephew's apartment with the uptight Marisa Tomei that strongly recalls Ozu's classic film, Tokyo Story (1953), in which an old couple travels from the countryside to visit their uninterested children, though Sachs steers clear of abject sorrow.
In one of the film's most hilarious scenes, shared between the frustrated Tomei and a chatty Lithgow, anyone who's ever tried to write something while being interrupted should be able to instantly relate to her frustration. And Tomei is at the head of a fine supporting cast, including engaging turns from Cheyenne Jackson and Charlie Tahan. For as finely wrought and enjoyable as Love Is Strange is, it's final moments feel a bit truncated, a surprise nonchalantly revealed that may leave some begging for an additional scene or two. That's not to say its closing moments are out of place or absent of a certain kind of rewarding catharsis—it's just unexpected. But, in life and love, the unexpected is to be expected.
Reviewed on January 18 at the 2014 Sundance Film Festival – Premieres Section. 98 Mins.
★★★★ /☆☆☆☆☆