Reviews
A Birder's Guide to Everything | Review
Bird is the Word: Meyer's Debut a Well Meaning But Slight Observation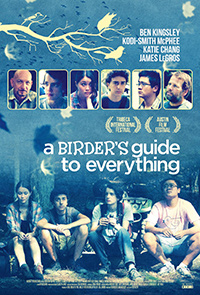 Bird watching seems to be something of a recent cinematic inspiration, though has yet to show much potential in the narrative realm thus far, with David Frankel's 2011 comedic misfire The Big Year now joined by Rob Meyer's directorial debut, A Birder's Guide to Everything. Grappling with loss, strained familial relationships, and coming of age essence, various dilemmas congeal into a mostly light-hearted effort that seems to feel genuinely about its cluster of characters, even though, beyond the crux of its protagonists' snazzy and oft unexplored hobby, Meyer and his cast can never mold the narrative into anything more than a standard affair. A few acute observations aside, it's a slight film that feels most effective when utilizing the heavy hitters in its supporting cast.
David Portnoy (Kodi Smit-McPhee) is a 15 year old birding fanatic and is a key member of his high school's birding club (of which there seem to be only two other members, currently). We soon realize that David's insistent interest in birding may be something of an escape, a nostalgic pastime that keeps the memory of his dead mother alive and well. Having grown distant from his father (James LeGros), their unsaid tensions seem to be reaching a head because his dad is about to remarry and his step-mom happens to be the woman that was his mother's nurse while she was ill. When David thinks he has discovered an extinct species of duck, of which he snaps a hazy picture, David and birding friends Timmy (Alex Wolff) and Peter (Michael Chen) consult a local birding guru (Ben Kingsley), who confirms that the picture could very well be that of the long gone Labrador duck. A day before his dad's wedding, David takes off with his friends, a cute love interest in tow (Katie Chang), as they begin an adventure to find the prized duck.
Obviously utilizing its birding theme as a metaphor for approaching life, we get a couple conversations explaining the difference between 'watchers' and 'listers' as types of birdwatchers, and David considers himself to be a watcher, one who actually engages with nature and the world through his act of observation. While Meyer takes pains to avoid ridiculousness or overt melodrama, there's something that feels a bit too pat and plain about the film's motif, while David's epiphany seems truncated, a resolution arriving just in time to make for a pleasurable ending.
Smit-McPhee already has an interesting filmography, and audiences may recognize him as the young boy in the 2010 remake, Let Me In, and he's often in offbeat and somber film projects. While his Daniel Portnoy may be a change of pace, it's a characterization that does little for him, along with the other adolescent actors, such as Alex Wolff from HairBrained and Katie Chang of The Bling Ring. Instead, an entertaining Ben Kingsley pops up for a few sequences, and there's certainly a feeling that had he been used to greater effect, the film would have been infinitely more memorable. Likewise, James LeGros, as always, is a grounding and effective screen presence playing a sympathetic character that could have greatly benefited from some extra fleshing out.
Well-meaning but unremarkable in every regard, A Birder's Guide to Everything has a much more limited scope than its title promises, and still, as hard as it tries, can't quite seem to convey the draw of (or passion for) its titular, peculiar hobby.
★★ / ☆☆☆☆☆