Dog Eat Dog: De Felitta's Entertaining Take of a Take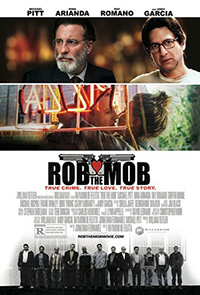 After the success of his 2009 indie feature, City Island, Raymond De Felitta turns to a scrappy 'based on a true story' vehicle with Rob the Mob, a film that manages to override predispositions and assume an energetic momentum that is both rewarding and engaging. An interestingly varied cast, populated by a several faces instantly recognizable from either "The Sopranos" or various Martin Scorsese films, provides the film with immediate likeability, an entertaining mix of mafia history and character study.
In 1991, while the Gotti trial holds everyone's rapt attention, Tommy (Michael Pitt) is paroled after getting busted for holding up a floral shop with girlfriend Rosie (Nina Arianda). While Rosie has kicked drugs and a life of crime to clean up her act, she now works as a star performer at a collection agency run by Dave Lovell (Griffin Dunne), a friendly employer that grants Rosie's request to hire Tommy as well. But Tommy has found a different inspiration.
Visiting the courtroom where the Gotti trial is transpiring, Tommy learns that the mafia has an agreement that no guns are allowed in their social clubs where they gather to drink and play cards. A necessity to pay their bills finally sees reluctant Rosie agreeing to drive the getaway car while Tommy holds up the social clubs with an Uzi, and soon the two are rolling in dough, though they've now attracted the attention of the Feds, a tenacious press journalist (Ray Romano), and a major mob boss, Big Al Fiorello (Andy Garcia). But the apparent saving grace of the couple (who come to be known as "Bonnie & Clyde") is that they've acquired a list which exposes the mafia's organization, information that would prove harmful if the FBI were to acquire it.
Focusing less on the period details of 1991 New York City, Rob the Mob instead invokes the ambience of retribution and shifting power struggles, a media firestorm that enhanced the vulnerability of underground operations as inspiration for Tommy and Rosie's unique crime spree. It's an intriguing tale, made all the more vibrant by a winning performance from Michael Pitt, man of the same haircut no matter what era or occupation. It's a down and out character he's able to expertly embody (a refreshing turn after his unbelievable stint as a scientist in this year's I Origins).
De Felitta and screenwriter Jonathan Fernandez spend the most time developing Tommy's character, fleshing out his troubled backstory with a pair of scenes that see him returning to his estranged surviving family members, including a younger brother and angry mother (Cathy Moriarty, ever the excellent screen presence, in an underutilized supporting role). But as good as Pitt happens to be, the consistently underrated Nina Arianda is magnificent as the charming and effervescent Rosie. Arianda consistently lights up the screen, as effective here as a Queens native as she is playing any varied composites, whether they be Russian émigrés or bit supporting players.
Other cast members are typecast but serviceable, like Michael Rispoli and longtime character actor Burt Young. And then of course, De Felitta reunites with his City Island star Andy Garcia, who's a remarkably gentle and level-headed mob boss. While it's not slick or ingenious film, (even those wholly unfamiliar with Rosie and Tommy can readily predict where their story will end), Rob the Mob does, at certain moments, provide some memorable visual sequences, including a red-hued, bullet riddled, glass shattering kiss sequence that seems more in line with DP Chris Norr's previous titles, such as Sinister.
★★★ /☆☆☆☆☆