Lost in Translation: Chaumeil's English Language Debut a Wretched Operation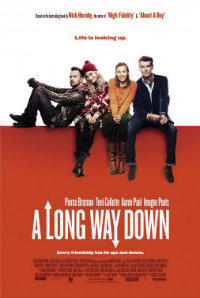 While his 2010 feature debut, Heartbreaker, which starred Vanessa Paradis and Romain Duris, managed to breathe an essence of effervescent charm into an already overproduced narrative, director Pascal Chaumeil followed up with the execrable Dany Boon rom-com Un Plan Parfait. Somehow, he's managed to top the ineptitude of that with his first dip into English language with A Long Way Down. Butchering its Nick Hornby based source material (the author behind such works that would become films like High Fidelity, About a Boy, and An Education), the end result is an aggravating chore to sit through, a series of awkward and falsely staged interactions, leaving one to sift through multiple ironies in relation to the end product and the unintentionally apt title.
One cold New Year's Eve in London, four depressed people meet on a rooftop they all plan on jumping off of that evening. There's Martin (Pierce Brosnan), a famed talk show host; Maureen (Toni Collette), a lonely spinster; Jess an unlucky in love party girl (Imogen Poots); and failed musician cum pizza delivery man/American import, JJ (Aaron Paul), who has cancer. After their 'meet cute,' the foursome chats away till sunrise and concocts a pact to stay alive until the next major suicide holiday, which happens to be Valentine's Day. They have till then to better their lives by making necessary adjustments. But when the media gets wind of their pact (which they sign their names to on the back of Maureen's suicide note), the foursome take a vacation together.
As is usually the case in Hornby's work, unforgivably self-deprecating and staunchly unlikeable characters litter the milieu. Here we have four incredibly pathetic examples of hyper privileged types that are smart enough to realize the emptiness of their lives but efforts to relieve their distress are retarded by their own willful assertions of their own superiority over basic human needs. Rather than mine the darkly comic potential of the scenario, Chaumeil's film feels grossly off-putting in its exploration of suicidal tendencies, their Valentine's Day self-massacre a perverse notion reduced to a silly plot gimmick.
It would be easy to lay the blame completely on Chaumeil or Jack Thorne's queasy screenplay adaptation, but disingenuous performances from its four leads factor into this poisonous offering, positioned as they are in a sort of Playing By Heart poster pose. Brosnan bears the brunt of the awkwardness, a performer whose striking inability to emote makes him a consistently grating casting choice in indie fare (for another example, catch him in 2009's The Greatest).
Imogen Poots and Aaron Paul, a romantically inclined couple in another 2014 release, Need For Speed, somehow manage to have even less chemistry here, though charm is hard to come by in this motley crew of pitiable fools. Toni Collette (who has appeared in a fair share of indie quirk, including a depressed mother in the Hornby adaptation of About a Boy) is a dowdy frump here, saved from suicidal tendencies, seemingly, by a breezy vacay.
A 2013 Swedish film from director Lisa Langseth, Hotell, bears a striking resemblance to A Long Way Down, as it concerns a group of depressed individuals striking out on their own in a sort of interactive therapy mission, and manages to deftly navigate through it's difficult subject matter with the right balance of charm and melancholy empathy. None of the characters in Chaumeil's film are presented as realistic people, much less characters we grow to care about in any regard, resulting in a mean spirited will for that V-Day deadline to hurry up and arrive so we can finally reach the film's best moment, when the credits finally roll.
½/☆☆☆☆☆