Reviews
Kingsman: The Secret Service | Review
Eggsy's Game: Vaughn's Hyperviolent Reinterpretation of the Super Spy Caper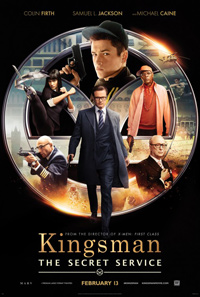 While a release in February doesn't speak highly of Twentieth Century Fox's hopes for the beginning of a new, lucrative franchise, it seems the studio is attempting a bit of reverse psychology with its release of Matthew Vaughn's clumsily titled Kingsman: The Secret Service. Bringing back farfetched ridiculousness to the super spy genre, Vaughn is going for a dirty, sexy, funny version of the antics usually on display in James Bond (and it features two cast members from Tinker Tailor Soldier Spy….though comparison with that title ends there). Viciously, even shockingly violent at times for a studio feature, there's a certain amount of refreshment to be had from Vaughn's decidedly adult treatment of material that was originally the comic book "The Secret Service." But its inescapable layers of self-awareness, paired with its tendency to embrace the spectacle of extreme violence for endless pleasurable consumption tends to stifle the film's possibilities. Despite these alarming tendencies, Vaughn's script, co-written by regular collaborator Jane Goldman, is often entertaining when operating with its seasoned cast members. But like many onslaughts, the talent and charisma of the youthful newcomers, formulaically trained to carry the weight of the grand finale, pale in comparison, and to detrimental effect.
During a classified military exercise, the member of a super-secret spy organization known as the Kingsman, sacrifices his life for the safety of his team, who honor his loss by awarding his widow (Samantha Womack) a mysterious medal, and instructions about the use of a one time phone call should she ever find herself in a sticky wicket. She rebuffs this offer, presented by Harry Hart aka Galahad (Colin Firth). But seventeen years later, when the son of his dead comrade, Eggsy (Taron Egerton), finds himself in a legal bind, the phone call is placed, and Galahad comes to his rescue. It turns out that a nefarious plot mysteriously being concocted by multimillionaire Richmond Valentine (Samuel L. Jackson) has resulted, inadvertently, in the death of another Kingsman that had sought to rescue a kidnapped professor (Mark Hamill). Therefore, there's a slot to be filled in the elite team, which finds Eggsy issued forth, sponsored by Galahad. While Eggsy struggles through the elitist training with a group of white collar peers, Galahad and colleague Merlin (Mark Strong) attempt to infiltrate Valentine's secret circle.
Classism is the issue at the heart of Kingsman, which does feature a farfetched yet extremely topical dramatic scenario, wherein the evil, idiosyncratic magnate has a devious plot conspiring to stave off global warming. Vaughn and Goldman make logical use of current, technological obsessions, uniting the world at all times, but the insidious downside to constant accessibility is playfully teased in the increasingly crazy third act. There's a chilling sequence utilizing Lynyrd Skynyrd's "Free Bird" which features a hyperviolent scene of carnage that rivals anything out of a recent horror film, and viewers will either embrace Vaughn's bravery or damn him for it. There's more where that comes from for the finale, but this seems more cartoonish comeuppance for the elitist one percenters that believe money can secure a slot on what equates to veritable ark (not unlike the classist trappings of the survivors in Roland Emmerich's 2012).
The alarmingly well preserved Colin Firth is charming and entertaining, though the same care isn't administered in the characterization of his young co-star Taron Egerton, who resembles a square-jawed version of Ryan Philippe. This is partially the fault of the script, which brings Eggsy from slightly imbecilic to aggravatingly cocksure in the space of two hours, with rudimentary charisma in-between.
Other cast mates, including notables like Mark Hamill (an in-joke for fans of the comic) and Michael Caine, are mere figureheads, while Samuel L. Jackson is strangely enjoyable as the lispy, violence phobic baddie. However, Vaughn persuasively juxtaposes his two plot strands with intense vigor, and there's an adept prowess to the generation of actual tension from both narrative sources.
This is particularly surprising for a mainstream property, especially in comparison to the glut of mediocre examples to compare it to, since Kingsman is surprisingly bold and daring in a few sequences. Eschewing political correctness, Vaughn blatantly appeals to aggressive fantasies, and though it was a struggle to retain the inclusion of his Free Bird piece de resistance, like it or hate it, it's a jarring, bristling provocation well worth discussing.
★★½/☆☆☆☆☆