The Parent Trap: Krasinski Explores a World on a Wire in Tense, Derivative Monster Movie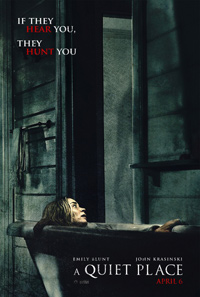 "If they hear you, they hunt you," declares the tagline of actor John Krasinski's third stint as a director with the intense and often thrilling genre film A Quiet Place. Co-starring opposite real-life wife Emily Blunt in this post-apocalyptic styled survival saga of a family desperate to outlive the preternatural creatures which have decimated the human population but can only eat you if they hear you, one imagines this sometimes novel scenario to have been born out of actual parental wish fulfillment (who wouldn't, at times, wish their children would have no other choice than to be quiet?). A long way from the ungainly melodrama of his 2016 indie film The Hollars, Krasinksi proves an astutely skilled study in genre and manages to administer the difficult balance of emotional depth and high anxiety throughout the course of a simplistic metaphor on parenthood.
Three months into a catastrophic extraterrestrial takeover, parents Evelyn (Emily Blunt) and Lee (John Krasinski) forage quietly through the remains of a desolate pharmacy in search of medication for their oldest son Marcus (Noah Jupe). Using sign language to communicate, which they are well-versed in due to daughter Regan's (Millicent Simmonds) deafness, they are some of the presumed final surviving humans who have been decimated by ferocious creatures with unparalleled audio ability. As they head back to their isolated farm in the countryside, a tragedy befalls their youngest son Beau (Cade Woodward). Over a year later, Evelyn is pregnant again, and the family silently and methodically prepares an underground lair for her to raise the baby when the time comes. The creatures still rule their existence, but discord over Beau has begun to hamper the once close-knit familial unit. Against all odds, they attempt to bring new life into a world where human existence has become impossible.
More delicate than the bombastic marketing campaign would suggest (which reduces the film to its Rotten Tomatoes score, a detail which is bound to court the usual issues associated with overhyping something), A Quiet Place plays like the mainstream version of Trey Edward Shults' It Comes at Night (2017), which similarly features a family facing off against mysterious creatures in the wilderness following the collapse of civilization. But Krasinski does sink into a rather repetitive catch-and-release rhythm by the film's final stretch, satisfying all those textual tangents between its characters pertaining to guilt, unconditional love, and sacrifice.
Some emotional islands betwixt the terror, such as a meaningful if conveniently timed reconciliation between Lee and his daughter (Millicent Simmonds, an impressive screen presence here as in Todd Haynes' Wonderstruck), recalls Bryan Bertino's The Monster (2016), in which Zoe Kazan must protect her child from a menacing creature whilst stranded, Cujo-like in her unresponsive motor vehicle. But for all its strengths, A Quiet Place doesn't land perfectly on all fronts.
If you can forgive another rendition of vaguely conceived otherworld creatures (yet another reason to mourn the days of design frequented by H.R. Giger or Carlo Rambaldi), other jarring elements present other egregious sticking points. A more daring director/screenwriter would have explored some complexities with Evelyn and Lee, such as their decision, whether accidental or purposeful, to have a child under such impossible circumstances. Infanticide or abortion, themes too impossibly dark (yet plausible) for the film's intended mainstream appeal, are never considered.
Alternative options are never even directly addressed, instead in favor of a dialogue exchange between the parents about their purpose and abilities in the wake of being unable to effectively protect their young. But even those who loathe Herbert Spencer and his theories on natural selection should question these characters and their motivations, whether motivated by guilt or a sort of perverse white supremacist ignorance. Another questionable item concerns how humans were able to deduce the creatures' limitations prior to their rampant depletion (at least if tabloid fodder is any indication)…so the film's resolution feels a bit like M. Night Shyamalan's Signs (2002) and those hydrophobic aliens trying to colonize a planet mostly made of water (and speaking of printing techniques, how Evelyn has a calendar to mark her due date well over a year into isolation also seems suspect).
As an exercise in intensity, A Quiet Place certainly has some superb moments of highly orchestrated dread—but like a jagged nail used as a key set piece used repeatedly to generate anxiety, it exists unmoored from both a certain cohesiveness and plausibility which would guarantee effectiveness beyond just the first viewing.
★★★/☆☆☆☆☆