Showboating: Schneider Sinks Ships with WWII Historical Action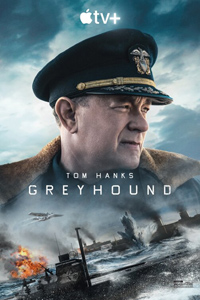 Cinema is littered with war-time submarine action epics, a claustrophobic setting which taps into universal anxieties and fears, and a new addition to a dwindling subgenre is Greyhound, the sophomore effort from Academy Award Winner Aaron Schneider, last behind the camera with the droll dark comedy Get Low (2009).
Written by and starring Tom Hanks (it's the actor's third feature script following That Thing You Do and Larry Crowne, and notably the first he hasn't himself helmed), the exercise is an adaptation of the 1955 novel by C.S. Forester (Captain Horatio Hornblower; The African Queen) and it's an efficiently paced, straightforward film the bulk of which hustles through an intense 48 hour period without any narrative frills or fuss.
Set in the North Atlantic in February of 1942, first-time U.S. Navy Capt. Ernie Krause (Hanks) is charged with commanding a convoy of 37 supply ships attempting to make way their way to Britain. However, a 'wolf pack' of Nazi submarine U-boats are accosting them, and despite some early mistakes in eluding them, Krause and his crew are tasked with holding the convoy together whilst staying afloat until they can get to necessary air cover to complete the journey.
Premiering on Apple TV+'s streaming platform, perhaps some of Greyhound's visual and aural splendors get hampered outside of projection on a large screen. DP Shelly Johnson, no stranger to big-budget spectacle (Captain America; The Wolf Man) seems best served in the cramped confines of the boat. However, the CGI-laden action sequences and an appropriately rousing score from Blake Neely still lures the audience into an anxiety-laden journey wherein the men aboard the titular ship face one crisis right after another as they elude the nasty Nazis, giving chase in the aptly named throng, Grey Wolf.
The obnoxious taunts of the Germans, whose accent-laced English sometimes break growl over one of their channels may be over-the-top, but Hanks also wrote them dialogue which manages to aptly convey menace. The same cannot be said for exchanges with off-screen Canadian and British captains in Krause's convoy, dialogue which tend to feel equally stereotyped but on the generically schmaltzy side. Hanks himself is a calm eye in the storm, and the actor's presence generates a sense of resiliency and hope. Retaining the commander's deep seated Christian beliefs from the novel, oft-referenced, assist in channeling the heroism of studio era Hollywood efforts, and Hanks' kind but restrictively rigid persona as Krause is sometimes reminiscent of the Christian sacrificial lamb played by Edward Woodward in The Wicker Man (1973).

At the same time, Hanks towers omnipotently over a gaggle of notable supporting players, many who simply have nothing to do (Lee Norris, Devin Druid), or others who are heavily featured but are merely cogs in the operation (Stephen Graham, Karl Glusman). Rob Morgan, as Cleveland, manages to stand out thanks to the moments of mutual respect both men seem to have for one another, his death allowing for Krause a brief snippet of emotional poignancy not related to the constant terror of eluding the Nazis. But poor Elisabeth Shue as Evie, Krause's lady-in-waiting, is entirely wasted, a symbol of the life he yearns to return to, even if their presentation would suggest his character was intended to be played by someone younger.
An interesting comparison to Hanks as a more modern ship's commander in Captain Phillips (2013), the old-fashioned universality of Greyhound, a WWII thriller boiled down to its most basic components, is not far off from the Noel Coward scripted debut of David Lean in 1942's In Which We Serve.
★★★/☆☆☆☆☆