The Wolf of Snow Hollow | Review
The Moon is a Harsh Mistress: Cummings Returns with Cops and Neurotics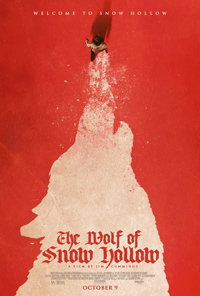 When one mentions werewolves, the notion of cinematic innovation seems moot. We've our gold standards, from the heights of the John Landis classic An American Werewolf in London (1981), and other beloved offerings from the decade like Joe Dante's The Howling (1981) or the adaptation of Stephen King's Silver Bullet (1985)—and then a whole lot of various outliers, including, of course, the 1941 Lon Chaney Jr. classic and its woebegone 2010 remake.
At one point, it was the special effects transformation which generated immediate interest, something the onslaught of CGI only ruined, despite the success of franchises like the Underworld and Twilight series. Lycanthrope lore is also seemingly more straightforward than, say, vampires, in the arguable avenue of backstory, characterization, curses, etc. Rarely are they melded with meaningful cultural subtexts (however, Marco Dutra & Juliana Rojas' brilliant 2017 film Good Manners is an exception), and almost always we can predict the motions of the werewolf narrative. Not so with the sophomore feature from Jim Cummings, the delightfully weird and low-key murder mystery/character study The Wolf of Snow Hollow, which, like Landis, depends on the power of its protagonist rather than the scourge of its antagonist.
A small mountain town in Utah finds themselves the target of a brutal murderer who rends the bodies of young females to shreds every full moon. Local law enforcement, led by Sheriff Hadley (Robert Forster) and his son John Marshall (Jim Cummings) find themselves flummoxed as the body count mounts with increasing evidence suggesting, to some, it could be the work of a werewolf. Resisting such a ludicrous hypothesis is Marshall, whose tenuous grip on sobriety begins to fray, exacerbated by his toxic relationship with ex-wife. Distracted by dealings with his teen daughter Jenna (Chloe East), the 'wolf' suddenly hits too close to home, leading Marshall, and his partner Officer Julia Robson (Riki Lindhome), into the belly of the beast.
Every so often, an indie filmmaker actually conjures the essence and the intrigue still viable in nostalgic genre staples. Eric Red's underrated Bad Moon (1996) was one of these, as was Adrian Garcia Bogliano's Late Phases (2014). Without giving away the significant secrets of Wolf Hollow, it's safe to say Cummings has produced something altogether different. While it features a handful of characters, much like his blazing 2018 debut Thunder Road, our eyes are focused intensely on him. A tense, emotionally fragile recovering alcoholic, Cummings seems perversely attuned with masculine neurosis. Each line suggests a man (again a law enforcement officer) on track for a nervous breakdown, something with which Cummings finds the potential hilarity every time. If his previous film wowed with its underlying poignancy, his John Marshall plays like a purely entertaining shift in this paradigm.

Cummings is backed by the late Robert Forster in his last onscreen appearance, here playing his father, the heart murmur suffering Sheriff committed to his profession. In the film's rather breathless running time, it would have been beneficial to see a little more of the dynamic between father and son, as it becomes clear a bit too late how this is the man whose footsteps Marshall is desperately trying to fill. Riki Lindhome (Knives Out, 2019) is a calming salve as his fellow officer, while Jimmy Tatro is equally dynamic in the film's opening catalyzing murder. The finesse of creating these character accents as both memorable and beneficial to the story underlines Cummings' abilities, at least within the confines of a small community, like a neurotic Thornton Wilder. DP Natalie Kingston assists in capturing the essence of an eerie winter vibe, while the film's subtle special effects are also effective. Though enjoyable for genre fans, The Wolf of Snow Hollow has a lot more going on underneath its snow blanket than horror tropes.
★★★½/☆☆☆☆☆