Padre Pio | 2022 Venice Film Festival Review
In the Name of the Father: Ferrara Explore Infamous Saint with Guerrilla Branded Biopic
Like many of Abel Ferrara's projects hobbled by various production issues, an arduous journey from conception to screen results in a sort of exceptional catharsis by the time it's finally delivered (like sins being expiated). Having touched upon the controversial Catholic Saint Padre Pio of Pietrelcina previously in part of a 2015 documentary series, Ferrara at last unveils his feature length Padre Pio, a hybrid biopic and cultural portrait of post WWI Italian politics.
Filmed on location in Puglia and shot in English, Ferrara boldly casts Shia LaBeouf as the stigmata suffering saint, whose presence is both a blessing in attracting curious audience members and an authentic deriding curse (though more so the latter for cementing the production's staginess since it would been more appropriate for an actor who can speak Italian). A much larger scale project for Ferrara considering the pared down Willem Dafoe starrers Tommaso (2019) and Siberia (2020), not to mention his pandemic thriller Zeroes and Ones (2021) featuring Ethan Hawke in twin roles (which won him Best Director at the Locarno Film Festival), it's also one of the auteur's least effective explorations of political corruption and mystical fascinations in faith.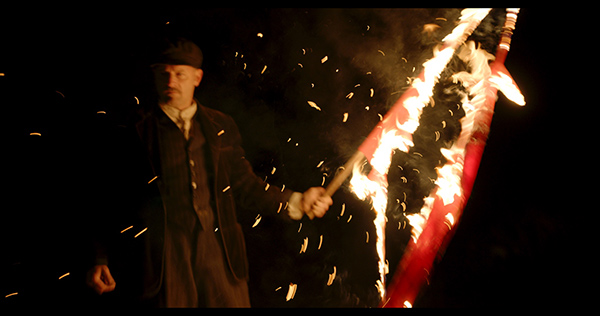 In the town of San Giovanni Rotondo post WWI, where a young priest named Padre Pio (LaBeouf) was battling his own personal demons regarding health issues which precluded him from serving on the frontlines during the war, a local election is about to commence. Fasisct landowners who work their employees to death are wary of a rising Socialist party demanding better pay and working conditions. As local leaders attempt to quell the rising tide with violence, the free election sways control to the new party. However, the current mayor and his cronies decry the election was rigged, refusing to abdicate. As violence descends upon the town, Padre Pio is visited by Jesus Christ, inheriting the wounds of the stigmata for which he would be infamously known.
Previously, noted Italian directors have starred in productions as Padre Pio, including Sergio Castellitto and Michele Placido (both in different television productions from 2000), suggesting an eternal fascination with the saint even decades after his death in 1968. Strangely, LaBeouf seems to take a backseat to a film essentially about an imperiled election as a microcosm for the stymied socialist uprising during Italy's fascist regime.
Plagued with guilt at the suffering of his fellow countrymen during WWI, which is supposedly how he invoked the stigmata as an effort to absorb the anguish of the fallen, Ferrara avoids the most infamous facet of Padre Pio's story until a metaphorical visual in the narrative's denouement. Until then, LaBeouf, despite his usual arduous method preparation, which meant living as a monk and a friar's pilgrimage during pre-production (perhaps a welcome isolation thanks to his blacklisting in the US after widely publicized allegations of abuse by ex-partner FKA Twigs), pops up intermittently for interactions which veer from benign to histrionic (including perhaps the film's most perverse moment featuring Asia Argento—-though it's hardly as eye popping as when Ferrara had her French kiss a rottweiler in 2007's Go Go Tales, it's still in the vein of Ferrara's tradition of cinema bizarre).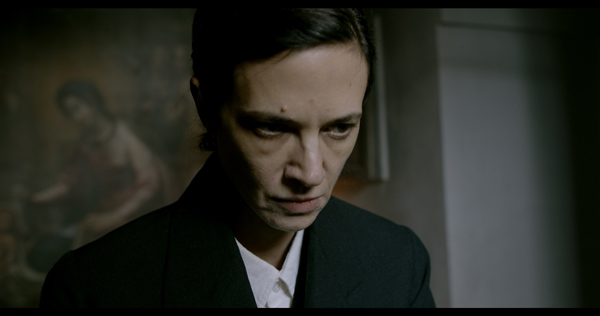 Those checking in for LaBeouf might be sorely disappointed as most of the film's energy is devoted to the working class socialist uprising in what we're told is the first free election resulting in a predictably deadly massacre. In essence, this makes Padre Pio play like many an aging auteur's reenactments of politically motivated bloodshed, but this feels more like Mike Leigh's misstep Peterloo (2018) than Konchalovsky's Dear Comrades! (2020) in more recent cinematic comparisons.
Although making excellent use of Puglia, and even including many moody interior sequences from DP Alessandro Abate which meld nicely with a customarily recognizable 'Ferrarian' score from usual composer Joe Delia (even though it features the same riffs as Zeroes and Ones), it's a dreary cinematic experience. While the essence of Maurizio Braucci's (Martin Eden; Scarlet) overtly somber script isn't necessarily the problem, forcing the mostly Italian supporting cast to speak in English makes everything feel ludicrous and impossible to take seriously, highlighting the rigidity of Braucci's approach, as well. Previously, Ferrara has been able to sidestep such authenticity issues, at least enough to escape into the film's fabric, such as his Willem Dafoe led Pasolini (2014), while his interests in religious figures have also been more persuasive in previous efforts, like the kooky Mary (2005), featuring Juliette Binoche as mythology's most famous virgin. Interesting for completists but hardly as interesting as the figure or material it depicts, Padre Pio isn't so much a biopic but a mutated chimera of jarring cinematic elements.
Reviewed on September 2nd at the 2022 Venice Film Festival – Giornate degli Autori. 104 Mins.
★★/☆☆☆☆☆