Baptism by Water: Unrequited Longing & Fear Found in Le Bon's Simmering Debut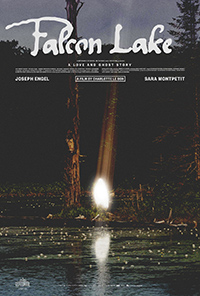 In a perfect swirl of the uninitiated and inhibition, in her directorial debut, actress Charlotte Le Bon moves the pendulum beyond just pre-adult hormonal shifts. Mixed in with the sounds of the cicadas and lakeside lay of the land, in the graphic novel adaptation of Une soeur by Bastien Vivès we find a highly rousing discourse on sufferance, sexuality and the exploration of self and power dynamics by way of the gaze. Both a brutal and kind portrait on adolescence, with an assured gripping aesthetic handle, Falcon Lake stokes the matters of the heart with genre elements making certain that no one is left unscathed.
Beginning with the unsettling, crack of dawn shot of a lifeless body floating in a lake in what could be a potential bookend or foreshadow for the film, Le Bon pushes the notion that playful summer vibes and ennui will be accompanied by some noir. The Harold and Maude prank wink works as a disclaimer that things might get a little weird. A French family of four from France bunker up at a cabin in wooded cottage country in Quebec. It's not their first time at this specific dwelling – as the human traffic that will join them make remarks about the visible growth spurts for our pre-teen protagonist Bastien, played by Joseph Engel who we've seen in from a pair of recent Louis Garrel directed films. A curious, inexperienced but not totally out of his place 13-year old will become a curiosity object for 16-year-old Chloé. Played by Sara Montpetit (the stoic lead in Maria Chapdelaine) — she has a taste for the macabre, and has been adulting for a while now. Le Bon and co-scribe François Choquet place the focus on this pair as the adults in the room (or cottage) are something on the periphery — actress-director Monia Chokri among them. What then follows is a mutual attraction that works on different plains — there are fleeting moments, a lawlessness of inhabited behaviour and raw intimacy punctuated by contests and willingness to experiment and an overall larger sense of discovery even more enhanced by the natural backdrop.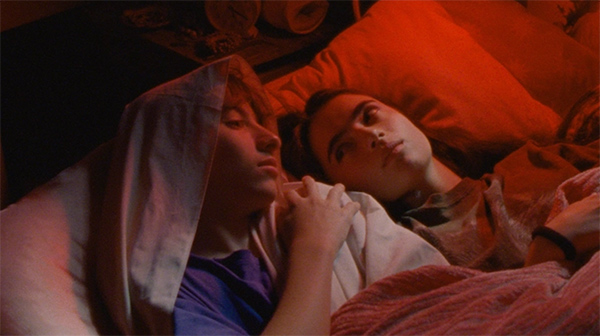 Falling in love when you are a teen is a bloodspot. There might be a couple of years apart them, but for all intents and purposes – it might as well be decades. And so what Falcon Lake proposes is that power comes not necessarily by age or by experience, but by utilization of the gaze — peering into someone else's soul is just has flustering as that same look being culled and pointed elsewhere. Of course, despite his gradual acceptance among Chloé's older friends, Bastien is the younger, inexperienced of the two and is more culpable of not knowing how to assess someone else's disinterest. And that's not to say that Chloé is cold hearted – in fact, there is comfort in knowing that the character does have a caring side — those gender dynamics come awfully close to what we find in And Lee's The Ice Storm.
The intent behind her need to control Bastien is to perhaps stave off his growth — not keep him at bay as a plaything, but prevent him fully losing that naiveté that she lost ages ago. And so, this special connection gets tested, they get closer (one bathtub sequence superbly captures the nurture and the nuance in their attraction) and naturally her pursuit of older boys means there'll be a self imposed distance.
Falcon Lake hinges on the performances of these co-leads and they don't disappoint – and Le Bon superbly dials into their internalized chaos. For a film that is playful in its suggestion of genre elements — cinematographer Kristof Brandl makes the shimmer on the lake and sizzle in bonfire teen parties all the more souvenir orientated and brandishing what we expect in youth — a bit more volatility. Like how everyone involved with keep this memory incased in their souls, Le Bon's debut will linger on and on.
Reviewed on May 22nd at the 2022 Cannes Film Festival – Directors' Fortnight. 100 Mins
★★★½/☆☆☆☆☆