Storm Drain of the Century: The Disaster Film Gets a Retrofit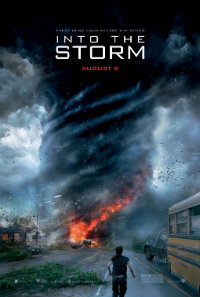 It's unclear if there's any real point to the rather silly conception of the seemingly overtly serious Into the Storm, a retrofitted disaster flick that mimics the narrative of Twister sans the notable cast and pesky bits of extraneous detritus, such as character development. From the director that brought you Final Destination 5 comes this rain soaked little windstorm that will evaporate from your memory as soon as you return to meteorological reality. You're bound to see films that are much worse this summer, but maybe few that seem as keen to prey on the base notion that there's a sizeable audience out there wanting to pay stiff ticket prices to see stuff get blown away. Since it is rated PG-13, you aren't going to witness any of the real carnage that such natural events tend to wreak on mankind (except for a surprise fiery death that will only moderately appease the gore hounds). Funny, though, that these strong winds harangue denizens of the Bible belt and no one's crying out about sublime punishment from some superior being (though a hint of faithspeak sneaks in there towards the rebuilding phase referenced after the final showdown).
In the small Oklahoma town of Silverton, on a day when teens gather for the formative rite of passage known as graduation, a single and stressed father, Gary (Richard Armitage) tries to reign in sons Donnie (Max Deacon) and Trey (Nathan Kress), who are charged with filming the event. Meanwhile, a team of storm chasers filming a documentary, led by cantankerous Pete (Matt Walsh), are hungry for some footage. They haven't hit a storm in over a year and are sore at missing a recent tornado that killed some teens just the other day. Blaming their meteorologist Allison (Sarah Wayne Callies), Pete is about ready to give her the boot when some readings of weather patterns reveal a storm to be coming their way. Attempting to guess where they'll most likely run into it, Allison's instincts tell them Silverton. Luckily she's right and Pete has the chance to capture the sacred footage of the eye of the storm, but it may come at the cost of taking the lives of hundreds of innocent teens.
Jumping right into its global warming informed disaster escapades as a deadly tornado takes several lives, Quale and screenwriter John Swetnam (whose other 2014 credit is Step Up All In) rather rudimentarily rake their man vs. nature narrative into a Fast and the Furious-like spectacle, whereby mother nature seems akin to a legion of demons in supernatural fury. Related almost exclusively through the point of view of handheld cameras and whatever other miscellaneous filming devices these characters can get their hands on, it's a film that aims to bring the disaster event film to the YouTube generation's bridled attention span. However, it's exactly these flourishes that cheapen the effect of the sometimes dazzling special effects, which will quickly date the film, in the long run. But in an age where only a studio's opening weekend numbers are all that matters, no one seems to care that this will stale faster than theater popcorn.
Performances are about as good as could be expected considering the material, though some fare better than others. The team of storm chasers, headed by character actor Matt Walsh and "The Walking Dead" star Sarah Wayne Callies come across as the least lazily construed, though Callies' sympathetic mother comes off as a bit ridiculous considering she's been speeding across the Midwest praying for a storm and then recoils in horror as soon as they find one. But of course, this ends up being the weather sensation of a century as a new tornado conveniently appears to buttress us through a roller coaster series of winds to the final credits.
But there's never really any sense of the magnitude achieved by the final fatty of a cyclone which spreads across the screen like a Godzilla cocoon. And then, unfortunately, we're tethered to the human interest portion of the story, a gaggle of graduating teens that get to use the storm to reinvent how they see themselves in the world, and a stern single dad (Richard Armitage of The Hobbit films in real soap opera mode) grows closer to his sons through the life threatening peril.
The teens, populated from various television series and Final Destination 5, Quale's previous directorial effort, are all entirely forgettable. Still, they're less annoying than the comedic relief meant to be generated from the rednecks scrabbling drunkenly through the storm so they can get videos to post on YouTube and make it rich. A fair amount of tension generated from the storm related violence is reached, which shouldn't be surprising since Quale has worked as visual effects supervisor and second unit director on Avatar (2009) and Titanic (1997). Clearly, he knows something about utilizing special effects. On the other hand, he hasn't seemed to master any other aspects of filmmaking required to make a film more than just somewhat serviceable.
★/☆☆☆☆☆