Arrested Development: Katz's Debut an Affectionate Familial Dramedy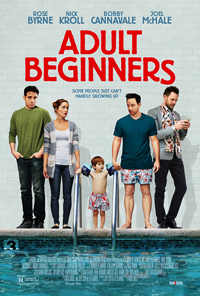 A familiar yet generally charming vehicle that impressively utilizes a pair of actors known mostly from a mainstream comedic realm, Adult Beginners is a low-key dramedy assembled from unpredictable voices. Premiering at the 2014 Toronto Film Festival before making its US bow at SXSW earlier in 2015, it serves as producer Ross Katz's feature debut (previously he directed the 2009 television drama Taking Chance, starring Kevin Bacon), with Nick Kroll credited with the story, and a screenplay penned by Liz Flahive ("Nurse Jackie") and Jeff Cox (Blades of Glory, 2007). Neither as broadly comedic or serious minded as the credits would seem to indicate, the title serves as an estranged sibling reunion film that plays like the lighter, rosy faced cousin of last year's The Skeleton Twins. Produced by the increasingly philanthropic Duplass Bros., the film displays the sort of vibrant charm often evident in their own titles.
Jake (Kroll) is a high flying New York City businessman, and he's just developed a new fancy piece of headwear about to be launched to the public. We meet him in the midst of a huge celebratory party, amongst his smarmy friends (Joel McHale) and several financial investors (Mike Birbiglia). But before the party ends (or the opening credits have had a chance to unspool), news about the inability to produce a necessary part for the product automatically enables the invention DOA, causing many to lose the large sums of money they invested in his product. Broke and ashamed, Jake heads to the suburbs to visit his estranged sister Justine (Rose Byrne).
Expecting her second child and more annoyed than pleased at finding her fair-weather brother at her door step, Justine agrees to let him crash for a few months after her husband Danny (Bobby Cannavale) concurs, just as long as Jake will watch their three year old Teddy (Caleb and Matthew Paddock) for $300.00 a week salary. In the midst of selling their home, which happens to be the house Jake and Justine grew up in, we begin to learn a bit about the siblings' relationship. Dad (Jeffrey DeMunn) lives in Florida with his second wife (Celia Weston), whom neither of the siblings seem to care for. Justine is tired of her job as a teacher, engaging in inappropriate (but brief) behavior by allowing a star female student a sip of alcohol. Oh, and on a lonely trip for frozen yogurt, Jake accidentally spies Danny in what seems an adulterous relationship with a pretty blonde.
Beginning rather blandly with Jake's fall from grace and wrapping up all its loose ends way too conveniently, there's a little too much of Adult Beginners that unfolds formulaically. Likewise, tangents not involving the siblings and Danny seem uncomfortable, such as a bitchy children's swim teacher played familiarly by Jane Krakowski, and Paula Garces (The Maid's Room) as a kinky fellow babysitter that gets down with Jake on her tour through the local circuit. Likewise, Joel McHale's broadly played irresponsible Manhattanite, and Bobby Moynihan as a creepy high school peer of the siblings seem like forced bits of comic relief. So, despite all these false notes, the chemistry between Kroll and Byrne is quite enjoyable, and since they're the bulk of the scenario, it's easy to ignore all the extra distraction.
Byrne's an increasingly notable talent, at first waving her way through a variety of studio drek in the first phase of her career (Wicker Park; Troy), before generating notice for supporting work in Bridesmaids and Neighbors. An Australian native, she's often cast as that next-door gal that's never made it out of Dodge, and her Justine seems similar to her part in 2014's This is Where I Leave You. Here she gets to be much more substantial, so it's a pity that the third act can't examine how she really feels about her husband's adultery. Bobby Cannavale, as usual, is generally affable, and Danny feels like an actual character rather than mere distraction until we crack down into inevitable resolution mode. Kroll and Cannavale prove to be a winning combo here in an affectionately rendered familial relationship usually left untouched in these kinds of vehicles. But the energy lags when Kroll isn't interacting with either of these actors.
The title is in reference to the swimming class Jake and Justine take Teddy to, an effort to make up for the mistakes their own parents made by not teaching them how to swim. It's a motif meant to make their movements into new directions more tangible, but perhaps it wouldn't feel so obvious if those swimming lessons didn't have to be visually rendered as well.
★★★/☆☆☆☆☆