Staring into the Known: Smoczyńska Offers Low-key, Uncompromising Sophomore Feature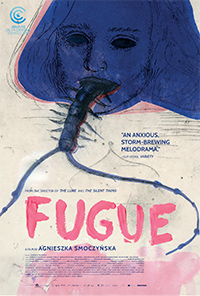 Surely not the follow up effort audiences might have had in mind from the creator of 2015's mermaid horror musical The Lure, perhaps – and yet Agnieszka Smoczyńska's Fugue is striking in its understated and discomforting in its elegance. The story of a woman resurfacing from the darkness of a Warsaw underground tunnel with no memory of her previous life as a wife and mother in the Lower Silesia region of Poland, Fugue will surely frustrate those looking for the same extravagance that made with her Sundance hit debut The Lure (read review). This is a harder, more radical investigation of womanhood, with venom pulsating through each sequence and this despite the subdued appearance of its domestic drama setting.
If The Lure was fueled by a certain playful curiosity, Fugue is the opposite: Smoczynska can be proud of having captured such elusive emotions as reticence and hostility and having built the film around them. She shares that pride with Gabriela Muskała, who in addition to playing the main role of Alicja also serves as screenwriter and first driving force behind the project. The inspiration comes from the image of a woman on a TV show, whose identity is waiting to be 'claimed' by someone in the audience due to her amnesia. That's exactly how the film starts, with a syncopated succession of scenes skipping over a few more years, in which Alicja is found, tested, observed, and finally put on display by a world that doesn't know what to do with her and with her defiant stare (the key visual motif of the film in the early going).
Once her father recognizes Kinga – the daughter he thought he'd lost – in Alicja, the entire family shows up to help reintegrate the woman into her previous life, with her husband Krzysztof (Łukasz Simlat) and son Daniel (Iwo Rajski) waiting in a perfectly calibrated mix of resentment, affection and befuddlement. Despite trudging along a familiar path, the film always finds unique ways to scoff at its own premise: it's as if all the characters were aware of being in a drama about memory loss, while Alicja didn't get the memo. Especially in the beginning, the way Muskała positions her body is a masterclass in domestic resistance – her frame painfully at odds with both other people in the shot and with the remarkable architecture of the locations (the films is largely set indoors, but Smoczyńska makes the most of the simultaneously unspecific and strangely distinctive Polish rural houses).
It's a time-travel of sorts for her, and yet another filtered look at different stages of womanhood for a director who already proved she can use weird gimmicks and visual flourishes to illuminate the strangeness of those transitional times (becoming a woman in The Lure, and becoming a mother again in Fugue). Interestingly, the result of these negotiations is never taken for granted, and the film admirably unearths sharp, pointed reminders of their impossibility along the way. Sometimes quite literally so, like when Alicja's son puts pins in her bed and for a second you're not sure she's not going to retaliate in similar fashion. And sometimes in less obvious but still painful ways, like during the beautiful turquoise-tinted dance she shares with her former husband in a restaurant, long after closing time.
Michelle Gurevich's Lovers are Strangers (which makes another appearance over the credits and calls back to the brilliant use of music in Smoczyńska's previous film) plays in the background, the chairs are turned upside down on the tables. Waiters are lost in their own embrace, and the couple's friends are so drunk they can barely stand.
It's too late into the night for Alicja and Krzysztof, but they give it their all for the space of one song, letting their guard down in disbelief. Fugue is too committed to the void between them, and completely disinterested in making concessions – and at least one person in this dance knows it.
Reviewed on August 2nd at the 2018 New Horizons Intl. Film Fest. New Horizons International Competition. 100 Min.
★★★★/☆☆☆☆☆