Sole Surfer: Affleck Revisits Impetus of Landmark Shoe Line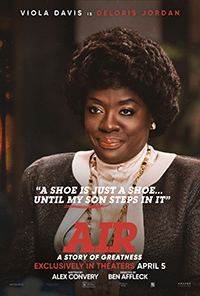 It's difficult to ascertain where Ben Affleck's storytelling interests lie even as he's slowly but surely amassed acclaim as a director over the past fifteen years. His 2012 Argo won Best Picture despite the Academy overlooking him for a nomination as director, a film much like his others, staying somewhere in the realm of glossy genre-tinged thrills such as Gone, Baby Gone (2007), The Town (2010) and Live By Night (2016). His first foray into a peripheral sports drama arrives with Air, penned by first time scribe Alex Convery, suggesting a sense of mellowing and maturation even as it aligns Affleck's own filmmaking approaches with someone like the early bounce-arounds of James Mangold.
His latest is a tale of Black excellence as told through a white lens, so it plays like one of those familiar feel-good crowd pleasers of yore in many ways. Although it doesn't take pains to scratch too deep, it's really about how a pleasant enough white shoe salesman wedged an entry through a gate which would enhance the percentage of what athletes could actually earn off their own talent.
Nike's basketball shoe division was on the verge of obliteration by 1984, lagging significantly beyond the market shares of Adidas and Converse, mostly due to the cultural impression of who was wearing them. The pressure is high for talent scout Sonny Vaccaro (Matt Damon) to find a new Nike spokesperson, and Marketing VP Rob Strasser (Jason Bateman) aims to share their yearly budget between three players from the 1984 NBA draft.
While he's considered well out of their price range as third pick, Michael Jordan (Damian Young, only appearing from behind, like the Destiny's Child composites in Ang Lee's Billy Lynn's Long Halftime Walk, 2016) is the talent Vaccaro wishes to pursue, urging CEO Phil Knight (Affleck) to allow him to offer Jordan their entire annual budget. Knight begrudgingly relents, but the deal can't be offered in writing, which means Jordan's agent (Chris Messina) won't set up a business meeting. Risking his career, Vaccaro leaves the Oregon office and visits Michael's parents, Deloris (Viola Davis) and James (Julis Tennon, Davis' real-life spouse) at their North Carolina home. Vaccaro's tenacity and impassioned plea moves Deloris, who promises a meeting with Nike, even though it's known her son has absolutely no interest in their brand. As Vaccaro scrambles to create something specific to Michael with their designer Peter Moore (Matthew Maher), Deloris throws a last minute complication when she requests Nike's offer include her son receiving a percentage off every shoe sold with his name on it.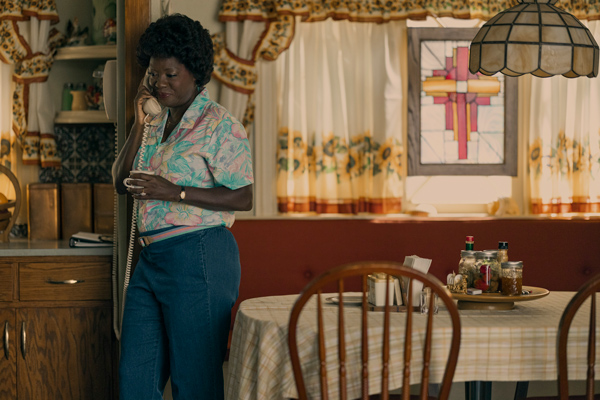 In many ways, Air is a bit of amiable nostalgia porn, as suggested by its opening credit montage of notable cultural items from 1984. An original potential title was Air Jordan, and then the rather unpleasant poster art presented a tagline which attempts to be part of the title, Courting a Legend. Unfortunately, this doesn't really make much sense, considering the narrative plays like a prologue to the icon Michael Jordan would become, part of which would include his namesake shoe line.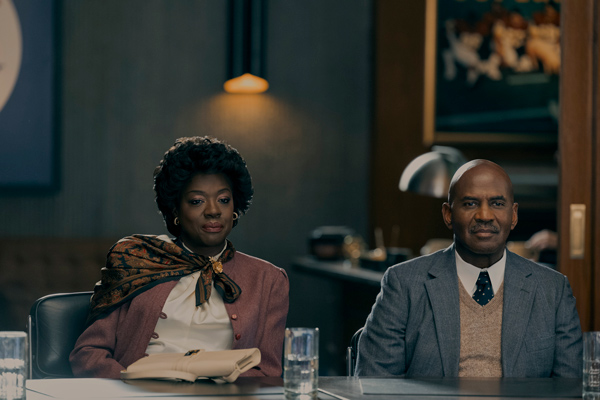 Affleck inserts himself as the Nike CEO who doesn't much care for wearing socks and shoes at the office and spends his free time jogging in form fitting athletic wear. Damon, while somewhat milquetoast and characteristically undefined beyond a penchant for gambling and good eating, spends most of the film bouncing around between office colleagues, mostly pleasant (Chris Tucker, Jason Bateman, Matthew Maher) and some not (Chris Messina's smug agent). But it's his scenes shared with Viola Davis as Deloris Johnson which really injects the film with some gravitas, if mostly because Davis knows exactly how to add wisdom and solemnity between the lines. Without her, Air would feel egregiously sterile.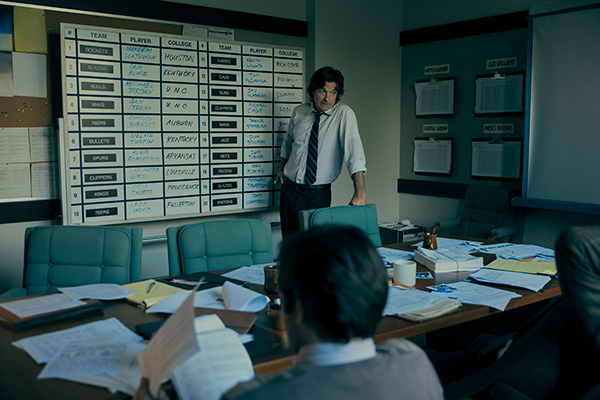 A handful of peripheral notables pop up, including Jay Mohr, Barbara Sukowa, and Marlon Wayans as Olympic coach George Raveling (supposedly the man whose mentorship allowed Vaccaro to think he should pursue approaching Deloris Jordan), while the great Robert Richardson, Scorsese and Tarantino's favored DP (who also shot Live By Night for Affleck), does what he can with the rather prosaic, antiseptic interiors and indeterminate exteriors. Convery's script strikes a likable balance between comedic camaraderie and the auspicious unity of idolatry, but it's Davis who elevates this beyond a modified version of how talent is capitalized.
★★★/☆☆☆☆☆