Nobody's Hero (Viens je t'emmène) | 2022 Berlin International Film Festival Review
We Don't Need Another Hero: Guiraudie Gets Kooky in Political Comedy of Errors
Alain Guiraudie migrates from rural perversity to urban calamity in the comically inclined Nobody's Hero (Viens je t'emmène), wherein a handful of (mostly) colorful characters grapple with uncomfortable realities in contemporary France. Utilizing the microcosm of Clermont-Ferrand, straddling old-world ideals confronted with a new world order, Guiraudie glides into another farce of sexuality with mixed results, somehow embracing the possibility of hopeful camaraderie in a world where nothing is certain, as paranoia and desire commingle deliriously.
Considering the esoteric queerness which has defined Guiraudie's body of work, this is certainly a new frontier for the provocateur, who has spent the last decade enjoying international acclaim for being brazenly defiant in mining the precariousness of sexual desires. Defying and resisting the temptation of satisfaction, for both his audience and his frustrated characters, as a comedian Guiraudie is assuredly an acquired taste, and while entertaining, feels less assured than his previous cinematic offerings.
While jogging through the streets of Clermont-Ferrand one day, Mederic (Jean-Charles Clichet) has a chance encounter with middle-aged sex worker Isadora (Noémie Lvovsky) and is instantly smitten. Declaring his disdain for sex as commerce, since he doesn't believe in using people, Isadora seems intrigued by his ardor, inviting him for a rendezvous after her shift ends. During their encounter, a terrorist attack interrupts their pleasure, and Isadora's jealous husband Gerard (Renaud Rutten) comes to collect her.
Her continual attempts to meet are thwarted by her spouse, while Mederic is simultaneously confronted by Selim (Ilies Kadri), a young, homeless Arab he invites to stay in his apartment. With one of the assailants at large, Mederic suspects Selim's involvement in the attack, calling the local authorities, who haul Selim in for questioning, only to release him. As Mederic's relationship with Selim becomes more involved, courting the mixed reactions of various neighbors in his apartment complex, Mederic's day-to-day existence quickly becomes as chaotic and unhinged as the vitriolic cityscape around him.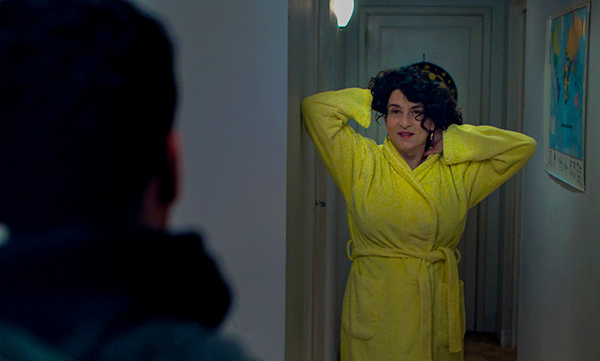 Few films have successfully straddled the titillation and terror of queer desire as deftly as Guiraudie's 2013 breakthrough Stranger By the Lake (read review) which plays like the heyday of Claude Chabrol's Hitchcockian inspos (namely Le Boucher). And 2016's Staying Vertical (read review) was a continuation of his particular bizarre fascinations with the endless potential of strange possibilities benefitting from isolation. But his latest feels like an attempt at making a direct statement on the state of the world through circuitous interventions, which sometimes falls apart because it turns on one of his least interesting characters to date with the hapless Mederic, played by Jean-Charles Clichet, whose dull buffoonery lands in a sort of Francois Damiens shadow world.
At its comedic heights, Nobody's Hero plays best with its Bunuellian attempt at coitus between Mederic and Noemie Lvovsky's amorous sex worker Isadora, who seems to be satisfying an endless compulsion for cunninlingues, accompanied by the most fantastically exaggerated moans (a rendezvous in a confessional booth ends up being the film's most transgressive sequence). Lvovsky, whose talents as both actor and director remain underrated in the English speaking realm, is her most outrageously vibrant since her equally entertaining turn in Jacky in the Kingdom of Women (2014), a sort of update on Egalia's Daughters. She's so entertaining as the comedic catalyst, Nobody's Hero tends to lag whenever she's offscreen ("that's what whores are for," she proudly spouts, declaring her sexual abilities as the release Selim needed from his religious conditioning). Surprisingly, Guiraudie tends to feel a bit bashful and overtly ambiguous in his handling of the muted desire between Selim and Mederic—-of course they share a refracted desire, but apparently neither of them recognize this at the right time, and are, in fact, interrupted by the insatiable Isadora.

If Isadora feels like the comically inclined version of Breaking the Waves (1996), this plays like a distraction from the underlying fears of Mederic's Islamophobia, whose neighbors, strangely, eventually seem more protective of the troubled Selim. Eventually, Nobody's Hero builds on a sense of communal responsibility, and Guiraudie's crescendo leads to a warm, incredibly inviting sense of camaraderie between several characters thrown together after the climax. Resisting resolution and avoiding grand statements, Guiraudie's focus seems to be how easily we're infected by false information and stereotypes especially when we're distracted by dogged pursuit in satisfying our base desires. The film often reaches an interesting simmer, but ultimately isn't as provocative sexually or politically as it could be.
Reviewed on February 10th at the 2022 Berlin International Film Festival – Panorama Section. 100 mins.
★★★/☆☆☆☆☆