Tiger, Tiger Burning Dim: Yang Unveils a No-frills Yarn on Relationships, Regret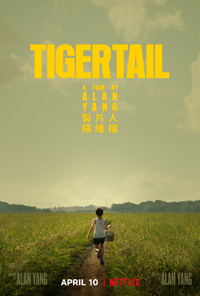 Producer Alan Yang ("Parks and Recreation," "Master of None") presents a highly personal, partially autobiographical directorial debut with Tigertail, so titled for the name of Huwei, a township in the Yunlin County of Taiwan (also known as the Sugar Capital).
Familiar in its depiction of intergenerational estrangement due to significant cultural differences within an immigrant family defined by displacement, Yang's debut hovers within (and is smothered by) the same emotionally subdued terrain.
Though it's a straightforward, no-frills homage to his own father's odyssey from Taiwan to New York, Yang's approach falters on its own monotony despite the efforts of its notable cast. And though it celebrates a reintroduction to culture and heritage, the film's energy wallows in a turgidity it neither breaks out of or invites the audience to participate within.
Pin-Jui (Hong-Chi Lee) is a young Taiwanese factory worker raised by his mother. Though he's involved romantically with Yuan Lee (Yo-Hsing Fang)), he grabs at the opportunity to move to New York, which includes marrying the factory boss' daughter Zhenzhen (Kunjue Li). Years later, Pin-Jui (now Tzi Ma), is a shadow of the man he once was. As his loveless marriage finally crumbles when Zhenzhen (now Fiona Fu) leaves him, and his mother dies in Taiwan, Pin-Jui makes an effort to reconnect with his estranged children, including Angela (Christine Ko), who is having a difficult transitional period herself.

Leading Tigertail is the noted actor Tzi Ma as the grown Pin-Jui. Though his performance is a subtle shift from an embittered, closed-off patriarchal figure to nostalgia inspired reinvented parent, his presence is a glaring reminder of his recent turn in Lulu Wang's The Farewell (2019), which straddles similar juxtapositions of culture and generational conflict with supreme aplomb.
Christine Ko as Angela gets saddled with some of Tigertail's more stilted narrative shifts, and her exchanges with characters outside of Ma (including a moment of wooden dialogue with her mom's new boyfriend, played by James Saito) is underdeveloped, stuck playing a catalyst for her father's reawakening.
The marvelous Joan Chen (of "Twin Peaks," Lust, Caution, 2007) has little to do besides appear as the beautiful woman she is, the older version of Yuan Lee, Piu-Jui's Otis Redding obsessed love interest who slips through his fingers. DP Nigel Bluck (The Peanut Butter Falcon, 2019) does a notable job of texturing the frames to denote different places and periods (the 1970s portion of New York is quite striking, along with the film's closing frames).
Familiar in tone to something like Mike Mills' Beginners (2010), in which an aging father and his son attempt to reconcile despite the former's bid for happiness and personal fulfillment, Tigertail isn't enigmatic or potent enough to elevate its personal inspirations, and can't quite differentiate between the cultural significance of Taiwan or New York of the 1970s.
Unfortunately it's a prosaic debut which serves as a reminder of its potential for potent cultural representation—for instance, intergenerational conflicts and significant social upheaval within China provides the backdrop for two families in Wang Xiaoshuai's So Long, My Son (2019) across thirty years, and though a much broader palette (and longer running time), evidence of the continual vibrant potential withing a dearth of unique and familiar narratives which evoke and compel.
★★/☆☆☆☆☆