Strawberry Mansion | Review
In Dreams: Audley & Birney Conjure a Candy Colored Clown They Call the Tax Man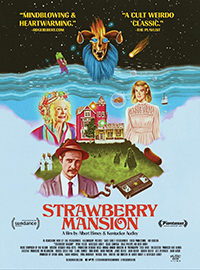 A shimmering, nostalgic daydream which plays with parameters of the past and logical concepts of the future, collapses such sentiments into an eventual Lynchian tinged nightmare with Strawberry Mansion. A strange mixture of prophetic Orwellian invasiveness and bubble gum pop pulp, it's like a marriage of Philip K. Dick and the metaphysical plane of Kate Chopin in what should seem like an illogical bit of fanciful low-fi sci-fi but somehow doesn't.
Weird but far from indiscernible, the odd romantic tone struck by directing duo Albert Birney and Kentucker Audley (who last directed 2017's Sylvio) should certainly appeal to those who desire universal themes explored innovatively, and while none of its somewhat shellshocked seeming characters court obsessive interest, in its entirety the film is a rather demure slice of weirdness which succeeds in shaking up the doldrums of cynical expectation.
In the year 2035, the state has become so invasive our own dreams are subject to taxation. A self-proclaimed "atmosphere creator" and innovative artist Arabella "Bella" Isadora (Penny Fuller, a character actress who appeared in All the President's Men, among many other projects since the early 1960s) invites government agent James Preble (Audley) to her isolated, strawberry colored home, which contains 2,000+ VHS tapes of her past dreams which have yet to be taxed. Insisting Preble stay at her home during the completion of his "audit," the mild-mannered man begins to feel invested in Bella's dreams, eventually falling in love with her younger self (Grace Glowicki). When Bella suddenly passes away, her son (Reed Birney) and his family descend upon the home. It appears her son oversees the movement which has allowed for a current state of normalcy wherein our own memories and consciousness are infiltrated by advertisements. Eventually, Preble becomes too wrapped up in his affections for Bella, which causes her son to take drastic actions…
Audley concocts one of his best personas thus far as James Preble. A regular in Alex Ross Perry and Amy Seimetz's work, it's his most demonstrative performance since Sun Don't Shine (2012), this time around as a tweedy Richard Dreyfuss type who falls in love within a dream. It's interesting to see how his chemistry with the younger version of Bella is perhaps only possible (or believable) thanks to the affinity which transpires with Penny Fuller, who invited him to her home in what eventually feels like a ruse to showcase the insidious machinations of the state, personified in her own progeny (an unconventionally sinister Reed Birney).
Eventually, this feels like pure Philip K. Dick territory in assertions of digital criminals consuming and controlling the realities of an analog past. Reverence for old technology in its semblance of VHS tapes as a sort of sacred recording of untampered histories feels so potently romantic one wants to project themselves into this same idyll, far removed from the constant influx of pervasive and superficial forms of media rife with subjective ideations about normalcy defined by consumerism.
As the younger Bella, Grace Glowicki may solidify the catalyst of romance, but Strawberry Mansion feels most innovative in the moments where Preble interfaces with Fuller after his attraction has become evident. It recalls the gentle playfulness and subversive nature of Hilary Brougher's 1997 indie classic The Sticky Fingers of Time, with a Day-Glo sheen like the weirdly perverted suburbia of Greener Grass (2019).
A delightful synth score from Dan Deacon underlines the film's strange energies, and between turtles named Sugar Baby, creepy big-headed frog waiters and chilling figures called Blue Demons, Strawberry Mansion is a romantically inclined nightmare, and one whose imagery and narrative palette seem designed to seep into the subconscious.
Reviewed on January 29th at the 2021 (Virtual) Sundance Film Festival – NEXT Program. 90 Mins.
★★★½/☆☆☆☆☆