Pacifiction (Tourment sur les îles) | 2022 Cannes Film Festival Review
Tropical Malady: Control is an Illusion in Serra's Colonialist Quagmire
Literally and figuratively, Pacifiction (Tourment sur les îles), the latest from the cerebral Spanish director Albert Serra, concerns the cancer of colonialism in a tropical Tahitian paradise. One of Serra's most robust narratives in quite some time, his focal point is the white suited Benoît Magimel, a figurehead meant to keep a semblance of order between locals and clandestine political maneuverings behind the scenes. Sifting through the loquacious commiserations of various characters surrounding him, darkness looms as rumblings of renewed nuclear testing on a nearby Polynesian island suddenly come to fruition, revealing the futility of his position. Serra experiments with thriller tropes as the background for increasingly paranoid, eventually fraught conversations in an experimental blend which lulls the audience as much as its characters into the submission of inevitability.
In modern day French Polynesia, the top ranking French official, Mr. De Roller (Magimel), has managed to become something of a well-liked, if awkward part of the community. Basically a prefect, he charms the locals as well as visitors, constantly engaged with local business, future endeavors, and nightly pleasure at the local bar. He's somehow been made aware of rumors for nuclear testing to resume in the area, the first time in twenty years, when the devastating health effects on the islanders finally stopped it. However, once affable personalities, including a gay Admiral who pops onto the island quite often, suddenly become closed off, calculating.
Benoit's High Commissioner of the Republic, a powerless emissary who spends most of his time talking about his privilege, abilities and connections, has ingratiated himself into the community enough to be considered a friend—but he's irrefutably an eternal foe, even though his presence has been normalized by almost all except for a new representative amongst the locals. The sudden disappearance of a character named Jacques has created a less than affable replacement who will be staging a fake protest in response to the rumored testing to obtain media coverage.
Balking at the affront, De Roller instead throws himself into distraction, such as the celebration of a French author who's visiting and a rather tentative romantic relationship with a member of the hotel staff. The locals are putting on an interpretive dance symbolizing a cock fight. "It's beautiful to see such violence," he proclaims. In Serra's first contemporary narrative, Magimel impresses as an impotent puppet, who looks like he's melting into his white suit. Huge chunks of dialogue, which initially seem meandering, eventually reveal the complexity of this pompous persona, who may be well-intentioned, but is hopelessly patronizing (and don't dare try to lecture him on geostrategy).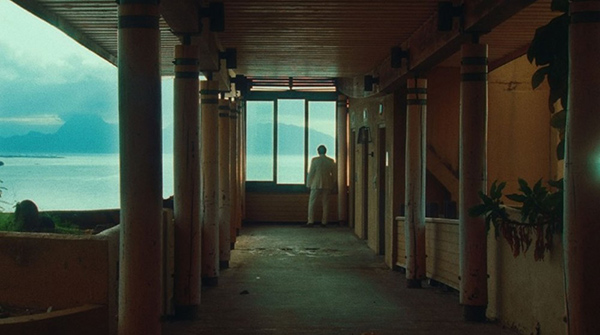 Soon, he's unable to ignore strange signs, like the secret presence of marines on the island and a nightly dinghy filled with local young women floating out into the ocean at night, returning in the morning worse for wear. While he tries to appeal to the mayor, who is confident at being reelected in the upcoming weeks, these flaccid attempts are clearly futile.
Serra's DP Artur Tort (who lensed the libertine sexcapade Liberté and Roi Soleil for Serra) volleys between expressive landscapes and moody interiors. The local dance club, Paradise Now, (run by a gold shirted Sergei Lopez), featuring scantily clad male and female staff to appeal to every client's fantasies, is host for striking, mostly bizarre dance scenes, including an extended sequence in the third act which looks like surveillance footage. Curiously, Serra foregoes ambiguity to provide a definitive conclusion.
Brooding and paranoid, it's a film about placeholders staving off chaos in lands exploited for their goods, their people plundered for pleasure, and all recklessly abandoned for the pissing contests between world powers. It's Joseph Conrad at The White Lotus for the nuclear age.
Reviewed on May 26th at the 2022 Cannes Film Festival – Main Competition. 162 Mins
★★★½/☆☆☆☆☆