Sick, Sick, Sick | 2019 Cannes Film Festival Review
Lover, Come Back: Furtado Hearts Hemoglobin in Sinister Debut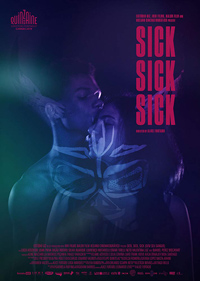 The heart is a lonely killer in Brazilian director Alice Furtado's apprehensive narrative debut Sick, Sick, Sick (Sem Sue Sengue, the literal translation being Without Your Blood). An innocent tale of first love gets a perverted voodoo twist in a film which contends love, above all, is a merely selfish thing. As its main protagonist asserts in her omniscient narration, "Things happen as they should" and "the heart wants what it wants," suggesting the soapy tropes of classic, angst-ridden melodrama. And yet Furtado's hybrid sidesteps expectations of her blended genres, concocting an introspective exercise in the powers of suggestion and the all-consuming dimensions of desire and obsession. An electro-tinted soundtrack from Orlando Scarpo Neta and neon-lit nightmares from first-time DP Felipe Quintelas meld beautifully with Furtado's lush juxtapositions of the menacing heart of darkness beating deep in the primeval thick of the jungle.
Teenage Silvia (Luiza Kosovski) finds her reserved existence disrupted when Artur (Juan Paiva) becomes a new student at her school. The handsome, mysterious stranger is followed by a troubling reputation, having been expelled from every other school in the vicinity. Her interest in him is awakened during a poetry recitation in class, and Silvia finds herself following Artur. Their attraction is mutual, and blossoms quickly into a hothouse romance, while Artur is further exoticized for Silvia due to his hemophilia. However, his condition lends itself to tragedy, and Artur bleeds to death after an accident one day. Devastated, Silvia is thrown into an emotional tailspin and she retreats from the world around her, unable to function socially in school or feed herself. As Artur's absence causes her to be emotionally and physically ill, Silvia's parents decide a change of scenery might do her good, and they vacation in a remote cabin in the wilderness. Once there, Silvia finds herself fantasizing about voodoo rituals to bring back the dead…rituals which promise resurrection if only a few violent steps are followed.
Furtado's blood motif mixed with the distressing sacrifices required to resurrect the dead allows Sick, Sick, Sick to straddle a divide between the intense devotion of something like the vampiric couple in Claire Denis' Trouble Everyday (2001) and the outlandishness of B-movie horror (Stephen King's Pet Sematary certainly comes to mind). Furtado's presentation of first love is that of a transformative sickness, first presented as an addiction, and upon its swift absence, a withdrawal inducing toxin leaving the body. As the English language title suggests, there's a three-act structure to this slippery slope, leading to Silvia's madness and a perversion of the natural order.
Newcomer Luiza Kosovski remains a contemplative, brooding presence as Silvia, the actor recalling Hafsia Herzi at several points. Blood lust takes on new dimensions, as solidified by a key conversation Silvia has with one of Artur's relatives after his death, suggesting love at its most devotional equates to complete absorption, even if romanticizing the notion of sharing a disease (Artur apparently inspires an unhealthy "bug-chaser" mentality in his loved ones). Furtado makes furtive (and eerie) references to William Seabrook's The Magic Island, an eyewitness account of voodoo practices in 1920s Haiti (a text which established the concept of the zombie upon its publication in America).
Argentinean actor Nahuel Pérez Biscayart (the lead from Robin Campillo's BPM, 2017) is on hand to suggest the dangerousness of Seabrook's bizarre book, a cookbook which leads Silvia down a road of depraved practices and mass animal sacrifice. Because we do not see much of what's entailed or demanded of Silvia to resurrect Artur, Sick, Sick, Sick plays (or preys) on the imagination, instead focusing on a number of stellar visual cues (including a reenactment of one of Silvia's dreams), and wink-wink nod to the biblical character Eve, as she chomps on an apple while her best laid plans are about to reach their dastardly fruition. Furtado ends on an effectively chilly note—even as it suggests, even when one believes they're acting out of love, one must be careful what one wishes for.
Reviewed on May 23rd at the 2019 Cannes Film Festival – Directors' Fortnight. 100 Mins.
★★★½/☆☆☆☆☆