Do You Hear What I Hear?: Talbert's Holiday Themed Dramedy Features Talented Cast in Contrived Scenario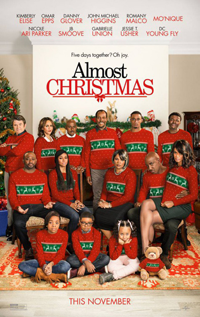 One of several connotations with the popularized subgenre of the holiday themed film is the ripe possibility for melodrama. Estranged family members, contentious rivals, skeletons in the closet, intergenerational feuds, mortality, and infidelity all play predictable roles in the DNA of the clan assembled by David E. Talbert (Baggage Claim, 2013) for his latest tapestry. Commanding a phenomenal cast of notables, this somewhat declawed and defused rendition prizes schmaltz and lazy resolutions for all of its bluntly administered messages, but it isn't without moments of manic comedy in this contemporary portrait of the dysfunction junction specific to garden variety familial discord. Nearly a year after the death of the family matriarch, her lonely husband and four affluent children reunite for their first Christmas without her as each of them face a particularly difficult situation in their own lives. Warmly familiar and not without a notable degree of poignancy, it's disappointing to see glimpses of the strength this scenario and cast could have commanded if Talbert's script didn't circulate almost exclusively in obvious beats and, even worse, rely on a stack of cringing contrivances impossible to ignore.
Widower Walter Meyers (Danny Glover) does his best to revive himself from an emotional slump he's been in ever since his wife died ten months prior so he can welcome his children for Christmas at his Birmingham, Alabama residence. A last ditch attempt to find his wife's recipe box is merely the first of many snags as he decorates, awaiting his children and their families to arrive five days before the holiday. First on the scene is the loudmouthed diva, Aunt May (Mo'Nique), who commits to cooking the first family meal for her brother-in-law and his family, including eldest son Christian (Romany Malco), who is running for Congress, a full-time ordeal frustrating his wife (Nicole Ari Parker) and their two children. Meanwhile, elder daughter Cheryl (Kimberly Elise), a successful dentist, arrives with a passel of her own problems, including a loveless relationship with husband Lonnie (J.B. Smoove), who is obsessed with his failed football career, which has he pursued by migrating his options to Croatia. A brooding conflict with younger sister Rachel (Gabrielle Union), a single mother who has made more than one career change and is now struggling to pay for law school, immediately sets everyone on edge when they both arrive. And lastly, youngest brother Evan (Jessie T. Usher) finds himself addicted to pain pills he no longer needs in recuperating from a recent football related injury. As his children sort through various conflicts, Walter has his own surprise he's reluctant to divulge.
Although it arrives as the first holiday themed film of this year's season, the benignly titled Almost Christmas is significant for several more prominent reasons. First off, this is a holiday film sporting an all-black cast not delivered by the perennial Tyler Perry (Madea chose to stump Halloween this year instead), and, more importantly, isn't delivering or courting the staunchly religious core of older black audience members who usually seem to be the intended ticket buyers for films deemed or defined as 'black' entertainment. Talbert's characterizations feel undoubtedly modern, especially compared to the embarrassing near-infantilism afforded similarly themed ensembles, like Malcolm D. Lee's successful The Best Man Holiday (2013), the second in what will eventually be a trilogy utilizing the same cast and characters. Over the five days in which this film's narrative is set, prayer and a solo outing to church are featured, but Talbert uses the moment to validate other perspectives when Gabrielle Union suggests this institution is no longer a part of her reality.
But if Almost Christmas feels somewhat progressive in its characterizations, the narrative rhythm is borrowed from any number of holiday dysfunctional family movies, although slightly more hopeful on the scathing scale. Easy comparisons to George Tillman Jr.'s 1997 film Soul Food (centering on a Sunday dinner after the death of a matriarch) and Doug McHenry's Kingdom Come (2001) should enhance the nostalgia factor in these types of scenarios ready-made for understandable dramatic conflicts. Inevitably, the weight of everyone's combined woes tends to churn this into the realm of the soap operatic.
A stilted romantic reunion between Omar Epps and Union feels unnecessary, while the troubled marriage of Kimberly Elise (who is an underdeveloped shrew for no apparent reason) to J.B. Smoove is swallowed by the charismatic comedian's usefulness as the film's other major comedic relief. His dalliance with a grocery store clerk played by Keri Hilson (despite being a bit too striking for such a profession, she's a surprising touch) sets up the catalyst for the film's entertaining but highly unlikely blow-out over Christmas dinner, a scenario which could have been bolstered by something a bit less illogical yet equally dramatic. Romany Malco and Nicole Ari Parker (who looks too amazing to be so underutilized here) are on hand to administer the film's main irony revolving around a thematically omnipotent homeless shelter, while younger sibling Jessie Usher gets a pill-popping after-school special thrust.
It's unfortunate to see Talbert unable to resist temptation by injecting an ignorant, cookie cutter white stereotype here, the task fulfilled by John Michael Higgins as Malco's campaign manager (he's about the same speed as Julie Bowen in 2011's Jumping the Broom). Undoubtedly, the film's shining star is Mo'Nique as an abrasive aunt and sister-in-law, a successful back-up singer who loves her liquor. At times over-the-top, she supplies the film with enough zest to inject the oftentimes monotonous beats with priceless entertainment, veering from aggressive outbursts to a slurred piano recital weird enough to make you wish she was the center of the film. The consequence of this imbalance reduces Danny Glover to an incredibly prosaic central figure, drowned out by his own gloppy attempts at re-creating his dead wife's sweet potato pie recipe (itself a bookend symbol in the opening montage and a symbol of closure in the finale). Better than the marketing campaign would suggest, at best Almost Christmas is inoffensive escapism and refreshingly absent the usual religious proselytizing accompanying many a pandering holiday themed film.
★★½/☆☆☆☆☆