Future Perfect: Villeneuve Crafts a Poetic Close Encounter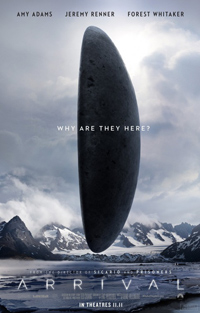 Using language and communication as a fertile metaphor, Denis Villeneuve situates complex ideas into streamlined composition with Arrival, a poetic examination of extraterrestrial contact and the problematic limits of mankind's abilities to perceive. Echoes of 1970s studio era auteurs float through this latest conversation piece from the formidable French Canadian who continues to modify basic pulp materials with a passionately realized zest, from kidnapping thriller Prisoners and drug cartel odyssey Sicario, to a graceful science fiction poem which will precede the director's appropriation of the highly anticipated Blade Runner property. Collaborating once more with composer Johann Johannsson, who this time concocts an arresting compendium of dread mixed with a symphonic thrum of melancholy strings, Villeneuve is the latest auteur to benefit from the visual artistry of DP Bradford Young, who creates a series of subtle visual ellipses within the narrative's distinctly annular framework.
Following the devastating death of her daughter, Dr. Louise Banks (Amy Adams), a linguistics professor and expert, is recruited by the military to help establish a clear line of communication with a mysterious space craft which has touched down in rural Montana. Eleven other similar space crafts have touched down in other various places on Earth, forcing international leaders into a frenzied investigation to determine if the beings in these crafts have come in peace or pose a threat. Dr. Banks is joined by scientist Ian Donnelly (Jeremy Renner) at the Montana site, and they're forced to report to no-nonsense Colonel Weber (Forest Whitaker) and CIA representative Agent Halpern (Michael Stuhlbarg). As the two professionals work together to communicate with these beings, jettisoned daily into the spaceship to develop a painstaking common ground, panicked nations begin to resort to uncivilized atrocities in anticipation for the worst.
The most obvious reference would be Spielberg's 1977 classic Close Encounters of the Third Kind (1977), but Villeneuve's aim is much more elegiac. From the moment we glimpse the mysterious hovering spaceships, hulking ominous masses shaped like brown blood clots as envisioned by Dali, it's clear this is to be a more surreal treatment of extra-terrestrial interaction. If Hal Ashby had remade The Day the Earth Stood Still it might look and feel something like Villeneuve's treatment. Although Eric Heisserer's screenplay (based on a short story by Ted Chiang) isn't always on par with the significant visual artistry of the film (particularly in its glossy, broad handling of the Renner and Whitaker characters), as a vehicle for Amy Adams forlorn linguist, Arrival is particularly graceful. In many ways, it shares certain energy with something like Daniel Petrie's enigmatic 1980 title Resurrection in this regard, even with significant handholding in a third act which insistently spells out the rationale for these other beings and the obvious meaning of their circular, symbolic language.
The creatures themselves may be something of a letdown, mostly shown behind a see-through partition into the foggy netherworld of their cavernous ship. With massive phalange-like appendages communicating in inky, watery pools, they're a mixture of the face-huggers from the Alien franchise and the mysterious arachnids littering the skyline of Villeneuve's own Enemy (2013). But the point of Arrival manages, at least, to resonate beyond the limitations of these imagined extraterrestrial characterizations, and the narrative expertly uses language as the limited, cross-culture barrier dissociating nations from one another.
For all the script's particularly pointed dialogue, its passages concerning how learning new languages can change the brain's chemistry remain particularly resonant. If only all of Arrival could have managed to be as poetic as its eloquent, simplistic ideas, since it embodies perfectly a passage from "Four Quartets" by T.S. Eliot, "For last year's words belong to last year's language/And next year's words await another voice."
★★★/☆☆☆☆☆
Reviewed on September 12th at the 2016 Toronto Int. Film Festival – Gala Programme. 116 Minutes