Perdidos en la noche (Lost in the Night) | 2023 Cannes Film Festival Review
Night Moves: Escalante Cultivates a Moody, Capricious Mystery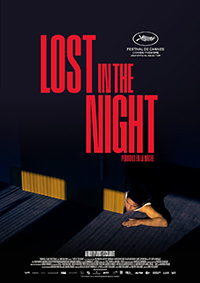 Replete with a slew of customary features encountered in a fatalistic film noir, Amat Escalante's fifth feature, Perdidos en la noche (Lost in the Night), begins with a missing woman and then splinters off into unexpected directions. Part of the film's intrigue is in how it resists our expectations, embracing Escalante's penchant for corruption and nihilism but not without a sense of salvation. While the film's narrative has more in common with Escalante's Heli (2013) than his extravagantly perverse The Untamed (2016), it's a genre film with a mind of it's own, even if it resists a gratifying sense of catharsis. Bold, but lacking any real ambiguities in its dogged condemnation of both the elitist realities of artists and the unethical inevitabilities of law enforcement, the real discomfort exists in the precariousness of seeking justice in a world hellbent on denying it.
In a rural Mexican town, residents are protesting the decision to implement a new mine. On one hand, this could revitalize the area economically and provide locals with jobs. But it would also be detrimental to their health and the environment. At an outdoor town hall of sorts, Paloma (Vicky Araico) leads the charge for those opposed to the mine. Upon leaving the event, she's hunted down by the police, and along with her cohorts, disappears. Three years later, her eighteen-year-old son Emiliano (Juan Daniel Garcia Trevino) is determined to find evidence his mother was murdered by the police. The mine is now fully operational, and he's developed a physical tic whenever he's reminded of it. A chance encounter with a perilously wounded policeman in the hospital gives Emiliano his first real clue, leading him to the estate of Carmen Aldama (Barbara Mori), a popular singer who has relocated to the outskirts of town with her Spanish boyfriend, controversial artist Rigoberto Duplas (Fernando Bonilla). Along with them are her daughters, including Monica (Ester Exposito), a moody, beautiful teenager who's popular on social media. Emiliano asks for a job on their property, made possible because a local religious group has seen fit to persecute Rigoberto, resulting in various, increasingly troubling happenings, from broken windows to the poisoning of their dogs. Emiliano is determined to find the evidence he needs on the estate, which he suspects also contains the corpse of his dead mother.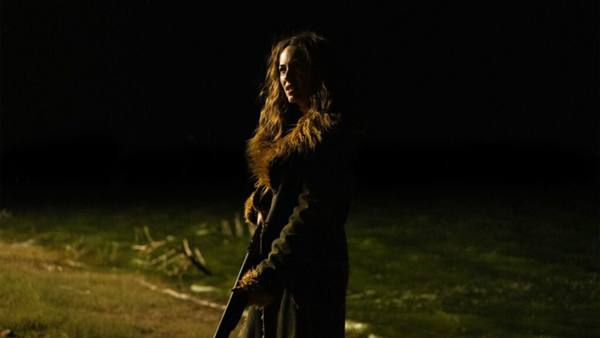 DP Adrian Durazo (Robe of Gems, 2022) makes excellent use of the film's main focal point, an isolated palatial estate jutting out of the landscape like a jagged fortification from a modernist fairy tale. The bits and pieces of installations from Rigoberto speak directly to a sense of cultural decay, where every kind of debauchery can be funneled into a provocative, but ultimately toxic definition of artistry. Early on, Escalante allows a glimpse at one of his influences with Barbara Baranowska's famous poster art of Zulawski's Possession (1981), a film highly referenced in The Untamed. There's nothing quite so out of rational bounds in this storyline, which comes together quickly with its simmering tensions. As Emiliano, Juan Daniel Gracia Trevino is quite alluring, assisted by his girlfriend and older sister (Mayra Hermosillo) in attempting to uncover the truth about their mother's disappearance.
Unfortunately, Emiliano doesn't have the keenest abilities as a detective, while the local police chief, Ruben (Jero Medina), not to mention all the local community members, know all about his intentions to locate his mother. And it's at the point where Emiliano's jig is up where Lost in the Night begins to rove momentously, dependent upon both the guilt of Rigoberto and the sympathies of Monica in order for the film to reach a semblance of just desserts. But like the adage states, revenge is a dish best served cold, and Escalante brings his sun soaked thriller to a somewhat icy finale. One wishes we had a bit more of the vaguely culpable Carmen, played by the captivating Barbara Mori, as well as the dysfunctional relationship she's developed with her daughter, whom she saved violently from rape but also appears to be competing with, though in ways she maybe can't quite articulate yet.
Escalante's menacing, troubling tone eventually gets tangled up in the crosshairs of a third act flight for survival, leaving behind the tangy telenovela tendencies of the Aldama family. Some third act surprises, which include a beautifully shot climax, might not satisfy those requiring a real sense of retribution, but Escalante utilizes a rectification for two young lovers in the tradition of Paul Schrader, recalling the final moments of American Gigolo (1980) and The Card Counter (2021), where a pane of transparent glass remains the last barrier to be lifted.
Reviewed on May 19th at the 2023 Cannes Film Festival – Cannes Premiere section. 120 Mins.
★★★/☆☆☆☆☆